High Productivity. Enterprise Strength.
No Constraints. No Limits.

OutSystems Virtual Learning Lab
September 11-18 | Inspired by Gartner Catalyst
There were so many great sessions and conversations at Gartner Catalyst this year.
Our Learning Lab sessions were standing room only, and those of you who attended requested repeats or how to share them with colleagues. So, here's our answer…
Introducing the AI, DevOps, and Low-Code Virtual Learning Lab
In three webinars across three days, our low-code gurus will be giving live, encore presentations of their sessions from the OutSystems Learning Lab at Catalyst. Register and view them live or watch them on-demand later. You can also share them with colleagues and ask additional questions.
Full-Stack Dev with Low-Code and No Limits
September 11, 2018 12:00pm EDT
Presented by Stacey Levine
Come to this session to see a low-code platform specifically designed for full-stack dev and delivery live, up close, and in action. (No marketing talk, we promise!) Sprint 0 is a whole lot shorter when you don't have to rethink security, scalability, integration, traceability, performance, or the other NFRs for each release or product. While you are here, ask the OutSystems experts all your high productivity and low-code questions.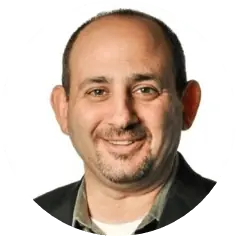 Director, Developer Advocacy at OutSystems
Alter Ego: The High-Productivity Assassin
Stacey has worked on the technical side of the IT industry, delivering applications to support industries ranging from retail music to utility billing. Over more than 20 years, he has seen the shift from client-server and desktop applications to web and mobile.
DevOps + Low-Code: The Road to Continuous Delivery Nirvana
September 13, 2018 10:00am EDT
Presented by Phil Bartholo
The software industry is the most artisanal industry in the world. It is time to ditch manual coding and orchestration, and automate low-value IT. Join this session to see how the extensibility of the OutSystems low-code platform allows you to use tools like Jenkins to make daily releases and form a continuous delivery pipeline. With zero configuration and unbreakable deployments. No, really! Come and see for yourself.
Senior Solution Architect at OutSystems
Alter Ego: Low-Code Baller
Phil developed his technical chops while slinging code and building gnarly Java and .NET solutions at Oracle, IBM, and Capital One. He now spends his time helping his customers achieve low-code nirvana on their mobile and web apps.
Channel the Power of AI into Your Apps in Minutes
September 18, 2018 12:00pm EDT
Presented by Andy Pemberton
AI is evolving fast, and new ways to embed it and new platforms are popping up all the time. It can bring huge value to your organization, but how fast can you implement new use cases to get at that value? Join this inspiring, interactive session to see in person how you can incorporate and use world-class AI tech, like Azure AI, in minutes with the OutSystems low-code platform.
VP, Solution Architecture at OutSystems
Alter Ego: Dr. Low-Code
A long-time consultant and former DevOps and API engineering leader at Capital One, Andy leads OutSystems solution architecture and demo teams. Andy writes regularly and contributes to various open source projects, including the OutSystems Forge community.
The #FutureOfCoding starts here.
Andrew Peterson the CIO for the City of Oakland, spoke about how he renewed his organization and achieved some amazing business results with OutSystems during his Catalyst Session: Accelerating Digital Transformation with a Low-Code Digital Factory.
If you want to learn more about what Andrew and the City of Oakland have achieved together, you can check out their story and video here.
If you are looking for a way to get similar results with a low-code digital factory at your organization, you should definitely give the Accelerate Digital Transformation With a Low-Code Digital Factory playbook a read.
See you next year at Catalyst!