The age of digital transformation has placed incredible pressure on the shoulders of IT. Application development trends - from integrating existing systems to developing new web apps to the accelerating need for mobile computing - are putting greater demands on IT for custom application development.
To find out how IT professionals are dealing with this pressure, we surveyed more than 3,200 developers, architects, and IT managers from around the world. We asked them about their biggest challenges and what they're doing about them.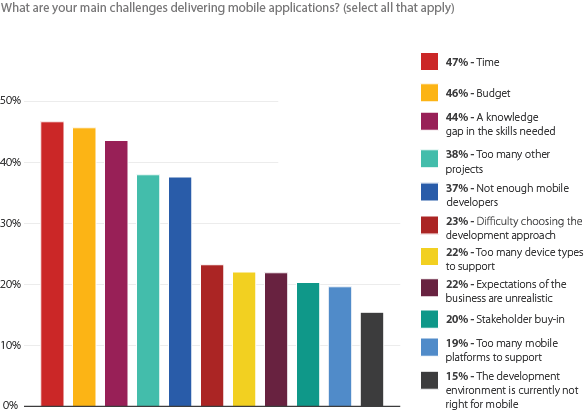 The results of the survey are published in "The State of Application Development: 2017 Research Report," which takes a hard look at:
The major challenges facing IT teams today
The growth in demand for enterprise application development
Highest priority application types, systems and development approaches
Skilled developer shortages and the rise of citizen developers
Approaches to accelerating development and adoption of low-code platforms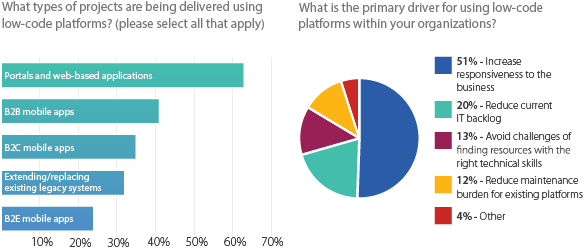 By the Numbers
Our survey respondents ranged from IT managers to architects to developers. Here are a few interesting stats based on their answers:
62 percent reported a backlog of apps, some with more than 10 waiting to be developed.
76 percent responded that custom application development takes more than three months, with 11 percent noting that it takes over a year.
88 percent said that mobile functionality is required or very important to their current and future applications.
43 percent said that they're either using or considering using low-code or no-code platforms.
20 percent of those using low-code platforms are likely to develop their mobile apps in less than six months, and that these platforms resulted in a 10 percent reduction in their use of outsourced IT.
What these answers indicate is that digital transformation is incredibly difficult for many. Often there is a lack of time and budget compounded by a growing skills gap and growing app complexity.
A Silver Lining
The good news is that our survey showed a growing number of companies are finding new ways to address these challenges. IT teams are adopting new, high-performance approaches to app development that are faster and more effective. Get the full story behind the numbers and learn how IT organizations are handling the demands of digital transformation.