Rui Afonso, OutSystems Channel Manager at Hyfas, presented the pitfalls they faced at Refrige when re-engineering their business processes.
Refrige had a very complex material creation process that spanned across 7 distinct departments. Communication was made by email and Infopath, and at the end of the process the IT department would copy the gathered information into SAP and BASIS. The IT department had to confirm all the data, and sometimes this resulted in requesting missing inputs from information owners.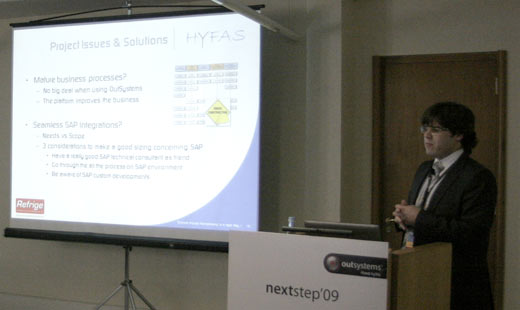 Hyfas considered both SAP and OutSystems technologies to implement their solution. They picked OutSystems because it was faster (twice as fast as working with SAP, according to Rui), provided a reusable framework for future projects, and because everyone was talking about OutSystems and how well their applications worked.
Rui talked a bit about how the project went and mentioned that even though the process was still under construction, using OutSystems made this a non-issue. He also pointed out that the main trouble with the project resided in the integrations with SAP, and gave the audience some very good advice for such integrations. The advice included making sure that you have an SAP expert available, checking all the SAP processes and BAPIs both inside and outside the SAP environment, and being very careful with custom SAP developments.
For wrap-up Rui showed some screenshots of the application and explained how they extended the information available in SAP to overcome some shortcomings of the old system. He also share his experiences on using OutSystems, and gave some highlights on how it improved the final product:
End users had their requests met in hours
Bug fixing was much more effective
A number of issues were fixed before some users noticed the issue was there!
Central change management, without having to call or email the development team
Rui then gave the mic to Sérgio Almeida, Project Manager at Refrige, for his customer testimonial. Sérgio emphasized once more that SAP expertise is paramount. He also mentioned that he was very pleased with Hyfas commitment in, not only delivering a solution, but a solution that works really well for the customer. Sérgio ended up stating that the project went really well and shared some of his experiences with an Agile project. He finished up by staying "if it's up to me, I'll continue to do projects in OutSystems."