Mike Jones and Carlos Alves of OutSystems got the audience's brains thinking with a discussion on "The Changing Economics of Application Development" with a set of questions:
"Can a company really innovate in today's economic environment?"
- they think "yes", and gave examples of how new ideas are coming up from the business, they are small but they are making a significant difference to business success - however, they may need custom built software (not packages) due to the need for speed and flexibility.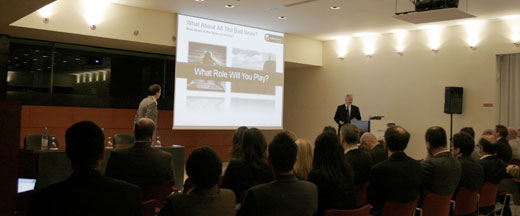 "Is it all doom and gloom?"
- the guys argued that NOW is the right time to innovate and get Agile. They challenged IT teams to be ready for whatever comes next with the economy -and suggested that the only way for the Audience and their businesses to not only survive but thrive, is to get more Agile.
"WTBWITD?"
- Mike joked with the audience that this wasn't really easy to pronounce and needed some marketing spin - but "What The Business Wants IT Delivers" Carlos said, is the essence of Agile which is basically "a systematic approach to accommodate innovation
"What is Lean?"
- the process to making sure IT delivers what the business needs - Agile is the secret to becoming Lean.
"What is Agile and how is OutSystems different?"
-Industry agile projects: iterative development with 4-6 week sprints, continuous business participation and deliver vertically integrated solutions at the end of each sprint.
-The OutSystems Agile Approach: able to pre-size the project with high accuracy; time-box principle, smaller up-front analysis and more prototyping; 2 week sprints that deliver vertically integrated solutions at the end of EACH DAY. Leverage SCRUM practices.
A great question came from the audience about "how to become MORE agile when your team is on the other side of the world and difficult to reach"- they are doing 3 month sprints...which is not Agile, its waterfall.
- Answers from the OutSystems team: The first issue is likely to be the lack of commitment from the business side to attend the regular weekly sprints. The second is that they need to have a business sponsor with authority who attends the regular sprints. Final suggestion - to ensure that an Engagement manager is local to the business-team, and that the Delivery Manager and the Engagement Manager are in constant communication.
Wrapping up, Mike and Carlos challenged the audience on "What role will you play in today's economy?"
- You have two choices: put your head in your hands and hope it all goes away or take the opportunity to embrace change and innovate."
Wise words that we can probably apply to all our lives in these uncertain times.