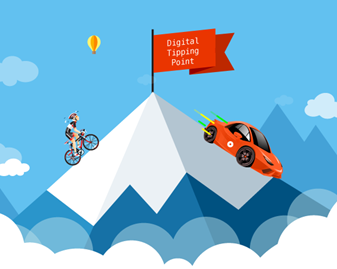 We've reached a digital tipping point.
Last week, the 2016 CODiE Awards were announced. Of course we're thrilled to win the Best Mobile Development Solution award, because it recognizes the craftsmanship of our hundreds of engineers as well as the innovative customers who have inspired us. Who doesn't like a nice trophy?
But there's something much bigger brewing. The CODiEs, the latest Forrester Wave on low-code development platforms, and the upcoming Gartner research on mobile development platforms are all pointing to one big thing.
We're witnessing a turning point in the market - one where the demands for digital transformation in the enterprise have far exceeded the capacity of IT teams to deliver. The only option is to re-think, re-tool and re-engineer how technology gets delivered.
Why now? Although we've seen elements of this change in small pockets around the globe, we're now seeing a perfect storm of three big themes:
Mobile development is crippling - Building and delivering enterprise-grade mobile apps requires a complex set of technical skills and is an exercise in extreme change.
Expectations from business are accelerating - Disruptors are lurking around every corner and every company faces the threat of being Uberized.
IT is hitting the productivity wall - Traditional tools and methodologies fall short in today's digital era making the days of the big-bang software project dead.
Although these challenges can seem overwhelming, they are propelling innovative companies like AXA, Liberty, Prologis, Georgia Tech, ATC, and many more to embrace low-code platforms as a central part of their strategy… building complex enterprise apps and driving real results. (You can check out some of the innovation awards from our latest customer conference here.)
Are you ready? The digital tipping point is here and for many of you, it's a time to dig in and explore the trends and technologies fueling the next wave of digital transformation. To make things easier, we've compiled the "greatest hits" research from the last few months in one bundle we're calling 5 Essential Digital Tipping Point Resources.