This article originally appeared on the Intellyx BrainBlog, Feb. 9, 2016
Enterprises across all industries are in the midst of difficult, bet-the-company changes we call digital transformation. And yet, there remains broad confusion about the scope of the word digital.
While the rise of mobile technologies are the impetus for many such transformations, digital goes well beyond the choice of user device. In fact, digital transformation reflects the fact that customer preferences and behavior are driving enterprise technology decisions – and such technology decisions impact the entire organization, from innovative, customer-focused efforts all the way to the traditional IT organization.
With such transformation, however, comes a large measure of risk – the risk that the slow, traditionally run IT organization won't be able to keep up with the faster, customer-facing digital efforts. This bimodal pattern can lead to shadow IT challenges and poorly governed, redundant efforts across lines of business.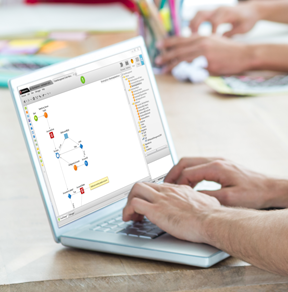 Some people advise IT decision makers to let traditional IT focus on efficiency at the expense of agility. However, expecting the digital effort to move quickly while allowing traditional IT to move slowly is a recipe for failure for the organization's digital efforts broadly and its application development challenges in particular.
In fact, how enterprises build and deploy applications must undergo its own transformation in order to avoid this digital dilemma: spin off an innovative digital team who can quickly crank out customer-facing code while allowing traditional IT to plod along, or build end-to-end digital apps, even though traditional IT processes and technology might get in the way?
Enterprise digital transformation efforts face this digital dilemma every day. But what if you could rapidly build digital apps that connected to your systems of record via a simple drag-and-drop interface?
Beyond Rapid Application Development
Building end-to-end applications simply and rapidly is a challenge every digital initiative faces. However, rapid application development (RAD) is a well-worn 1990s term that typically yielded inflexible code that didn't play well in an enterprise environment.
Today, in contrast, next generation 'low code' application development platforms from innovative vendors like OutSystems are redefining rapid application development for the digital era – enabling both the business-driven, innovative, customer-facing application development needs while also empowering IT to support the end-to-end digital effort without slowing it down.
In fact, such application platforms are part of a larger trend toward self-service capabilities. Self-service is finding its way into all corners of the organization. For example, enterprise app stores are springing up, delivering all manner of capabilities to an increasingly broad audience, who are now just as accustomed to using mobile devices to access IT-based services as computers.
Also part of the self-service movement is the 'citizen' trend. Integration tasks are shifting to self-service, as citizen integrators take the helm. Citizen analysts are leveraging big data tools as data analysis shifts to self-service. Even citizen developers are leveraging the self-service capabilities in low-code application platforms to build applications. Such developers may have little or no traditional coding experience, yet are able to leverage platforms like OutSystems' to build robust, customer-facing applications.
The Rise of Citizen Developers
Business users have been trying either to build their own software-based solutions or customize existing solutions for years now, but with limited success. Not only did RAD not live up to its promise, but subsequent approaches like model-driven development and enterprise mashups typically overpromised and underdelivered on the ability for business users to build or modify their own applications.
Today, however, such 'citizen developers' – often with little or no programming experience – are able to leverage a combination of trends and technologies to augment their ability to create increasingly sophisticated applications.
Standards have matured. RESTful APIs are now ubiquitous. And low code platforms like OutSystems are able to resolve many of the enterprise challenges the citizen developer faces as they seek to build and deploy applications in a secure, governed enterprise environment.
In fact, the rise of citizen developers as part of the self-service trend is an important indicator of how to best resolve the challenges of bimodal IT. OutSystems eases the integration, governance, and security responsibilities that form the core duties of transformed IT organizations.
In other words, enterprises that implement platforms like the one from OutSystems are well-positioned to accelerate change, all the way from the customer to the previously hidebound IT organization.
The Intellyx Take
The bimodal trap represents a disconnect between the 'old' way of doing IT and the 'new,' more innovative and customer-focused approach that digital efforts require. With OutSystems, IT organizations now have a way forward.
From the citizen developer perspective, the numerous roadblocks that traditionally impede progress are no longer an issue. It's possible to roll out new, fully functional applications without worrying about the minutiae of server configurations, dependency checks, or compiler settings. And best of all, management can rest assured that proper security and compliance constraints are in place.
In the final analysis, 'self-service' is in essence an abstraction that separates easy-to-use, business-oriented capabilities from the underlying technical complexities that make the magic happen. IT has traditionally struggled to rise to the challenge of properly supporting such an abstraction – but with platforms like OutSystems', the self-service vision for enterprise IT is now well within reach.
To try OutSystems Platform, sign up for a free personal environment.
OutSystems is an Intellyx client. At the time of writing, no other organizations mentioned in this article are Intellyx clients. Intellyx retains full editorial control over the content of this article.