When I talk about OutSystems, the term "visionary" invariably comes up. The idea of a rapid application development platform was visionary in 2001 when we started OutSystems, just as our decision to offer it as an application platform as a service (aPaaS) was three years ago.
So of course we are ecstatic that Gartner has again recognized our vision. What's more, we have moved from Niche Player to Visionary in their recently released Gartner Magic Quadrant for Enterprise Application Platform as a Service, Worldwide, 2016. This news also comes right on the heels of The Forrester Wave™: Enterprise Public Cloud Platforms, 2015 report that also ranks OutSystems as a leader. To me, this means we're conquering a nice share of the market.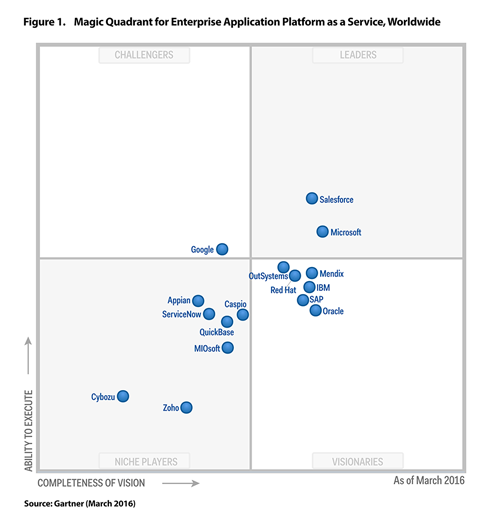 Gartner defines Visionaries as "Innovators that drive the market forward by responding to emerging leading-edge customer demands and by offering the businesses of their customers' new opportunities to excel." I really like what this means - that we are in the business of making our customers truly successful by innovating fast using revolutionary technology.
Having 600+ customers that continually renew their subscriptions proves that we are one of the most trusted enterprise-grade rapid app dev platforms in the market.
But now what makes this market position more meaningful is that Gartner's Magic Quadrants are based on rigorous analysis, backed up by highly structured methodology. Being ranked as the Visionary with the highest ability to execute validates the value OutSystems Platform delivers to our customers.
Companies are being driven to accelerate the creation of enterprise mobile and web apps for customers, partners and employees. Application platform as a service unlocks innovation and expands development ability across business teams, helping reduce IT backlog. OutSystems Platform is the fastest full-stack platform for creating, deploying, changing and managing custom enterprise mobile and web applications, whether in the cloud or on-premises. With a shortage of skilled developers combined with the high demand for mobile applications, achieving digital transformation requires IT to fundamentally transform the way applications are built and delivered. OutSystems speeds "time to solution" making digital transformation a reality.
To put it simply, Gartner has recognized OutSystems for providing our customers with an aPaaS that unlocks innovation stuck in the IT backlog to expand business innovation to all business teams. And with that, our vision and our visionary approach to rapid application delivery live on.
Experiment with OutSystems Platform first hand with your own Personal Environment.