Google recently announced a new low-code solution for developers and we welcome them to the market! They join OutSystems and other vendors (see Oracle earlier in 2016) who recognize that IT teams are struggling with huge backlogs and resource challenges and need a faster, better way to deliver apps.
As a result, the low-code market is booming, and ZDNet predicts it will be a $10 billion industry by 2019. But let's not celebrate too quickly.
Unfortunately, hot tech markets attract a wide variety of providers and posers, so it's no surprise that things get a little confusing. In fact, more low-code platform choices might sound appealing, but a closer look reveals that many products are a far cry from what most enterprises need. Think of the electric car - there's the Kid Trax Cool Car 12V and then there's the Tesla.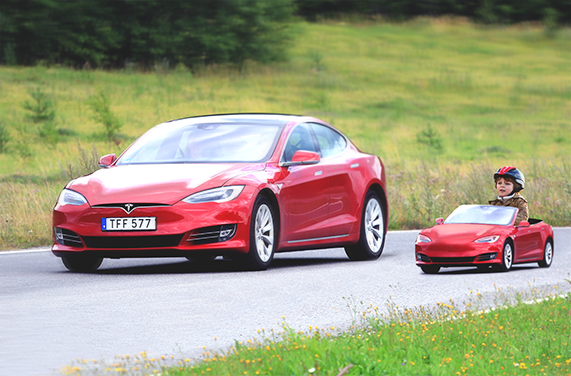 What Is Needed Is Some Clarity Around the Definition of Low-code Development
We'd like to share a perspective based on our 15 years experience in the market as well as reference the people who originally helped coin the category and low-code term (Forrester).
Forrester defines low-code platforms as "Platforms that enable rapid delivery of business applications with a minimum of hand-coding and minimal upfront investment in setup, training, and deployment."*
In their 2016 report on the low-code landscape, "Vendor Landscape: The Fractured, Fertile Terrain Of Low-Code Application Platforms," Forrester does an excellent job of outlining five subcategories for low-code offerings, based on functionality and scenario flexibility.
Let's start in the lower left section of the graphic with tools focused on departmental and database apps. These apps are small, with limited scope, scale, and security. Although they may replace a paper process or crusty old Access app, they are not for transforming businesses.
The other end of the Forrester spectrum is where we find general purpose low-code platforms that can address everything from complex mobile applications to web applications to mission-critical core systems that run the business. Just recently, Vopak went live with a Terminal Management System that replaced their entire ERP system, and it was completely built with a low-code platform.
An Alternative Perspective and Avoiding the Wall
Although we really like the Forrester explanation, we'd like to offer another perspective to help readers understand the low-code landscape based on the heritage of the platforms in it. This may seem like an odd way to think about development platform vendors, but it turns out to be very important. Let's take a look:
Niche: Vendors who are focused on a specific app-dev challenge - A better way to capture and store data. A simpler way to define business processes. An easier way to create a mobile front-end. This is where you'll find QuickBase, Appian and AgilePoint.
Ecosystem: Vendors whose motivation is to provide a low-code solution to create greater value within their primary ecosystems. The giants are here: Salesforce, SAP, Oracle, Microsoft, and now Google.
Purpose-built: Platforms architected from the very beginning to address any kind of custom application development needed with a low-code approach. This is where OutSystems lives.
Why Purpose-built Is Important
The problem with niche players and those focused on their own ecosystem is that, inevitably, a time comes when the solution built with the platform needs to be evolved in a direction that isn't supported. At this point, organizations are forced to either add another platform to plug the gap or resort to coding by hand and attempting to integrate. Very quickly, the benefits of low-code are lost.
We see this frequently as many of our customers come to OutSystems after they have hit this wall with another platform - and often it can happen very quickly. The reasons are varied, but we hear things like:
"Yes, our current platform supports online mobile app development… but we need it to create apps that work offline too. It doesn't do that."
"We are not able to integrate with our identity management system."
So, why can't more solutions get organizations over this wall effectively? Because it's really hard to build a low-code development platform that meets the actual needs of customers. It takes time, not flash-in-the pan tactics, to make sure that IT teams never hit a wall.
The Problem Low-code Platforms Should Be Solving
Almost every day we hear about organizations that are the victims of digital disruption - cue the Blockbuster, Kodak, and taxi industry references. To do this, not only do business strategy and IT strategy need to be in lockstep, but IT must be able to deliver solutions at the speed business demands. Imagine if the business minds behind Uber were told that there would be a two-year wait for their mobile app.
This is the bigger opportunity for these platforms. All too often, IT is constrained on the following fronts:
Too much work in the backlog
Too much of the budget is dedicated to keep-the-lights-on maintenance
In-house resource skills are not aligned with the IT projects
Modern systems are amazingly complex to develop and by the time most are built, they are already out of date
The Real Value of Low-code
Addressing these problems requires a low-code development platform that can:
Visually model all layers of an application - user interfaces for any device, integration, data models, business logic, and workflow
Extend any layer of an application with custom code
Manage the full application lifecycle
Handle complex mobile requirements like ultra-responsive user experience, offline data, on-device business logic, and sensor integration
Scale to support high volumes of users and transactions
Meet demanding security requirements
OutSystems was started to tackle the specific challenges organizations face when building large-scale custom solutions. Low-code platforms that are able to match the above capabilities have a much greater impact on the business because:
IT departments are able to dramatically improve productivity and reduce their backlog.
Maintenance costs are slashed freeing up more budget for innovation.
IT resources are used more effectively.
IT truly becomes agile, able to respond to the business and deliver what the customer actually needs.
In fact, in many cases the ROI delivered by low-code sounds almost too good to be true.
Take FICO for example. They had a two-year development project that failed. In just six months with half the team, they rewrote and delivered a brand new Origination system and got to market 3 times faster using OutSystems platform.
Our Low-code Philosophy
Again, we are very excited to welcome more vendors to the low-code party. The brand recognition of Google will dramatically raise awareness of these platforms and this is a good thing.
Certain categories of low-code platforms represent a chance for organizations to completely change the dynamic between business and IT. The "one simple trick" needed for success is to look beyond the quick fix to a low-code platform that can deliver true digital transformation.
To learn more about the variety of low-code platforms, I invite you to read The Forrester Wave: Low-Code Development Platforms, Q2 2016.
*New Development Platforms Emerge For Customer-Facing Applications by Clay Richardson and John R. Rymer of Forrester Research