When Google announced, back in 2016, that it was getting into the low-code market, we viewed it as a welcome addition to the growing list of reputable vendors driving awareness of the low-code development market, one that Forrester expects will represent $21B in spending by 2022.
Unfortunately, hot tech attracts a wide variety of providers and posers, so it's no surprise things got a little confusing. In fact, while more low-code platform choices might sound appealing, a closer look reveals that many products are a far cry from what most enterprises need. Think of the electric car—there's the Kid Trax Cool Car 12V and then there's the Tesla.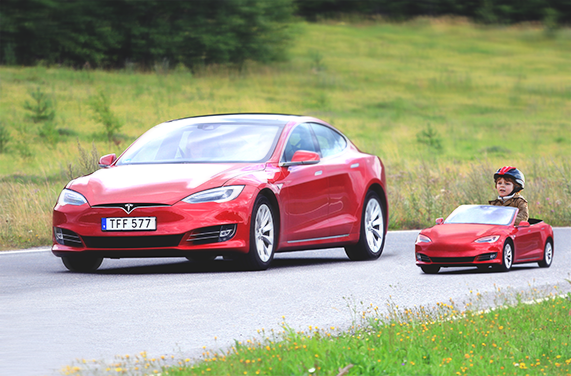 Clarifying the Low-Code Market Size
Forrester doesn't provide a definition of low-code platforms in its most recent report (as of the writing of this blog); however, Forrester does previously define low-code platforms as "Platforms that enable rapid delivery of business applications with a minimum of hand-coding and minimal upfront investment in setup, training, and deployment." - New Development Platforms Emerge For Customer-Facing Applications by Clay Richardson and John R. Rymer of Forrester Research
This year's Forrester report is interesting in that, while it includes two more vendors than the last two previous reports (13 now instead of 11), Forrester acknowledges that the low-code market size, in their view, is starting to tighten, with some previous vendors now moving into a separate classification that includes process automation vendors.
So while the size of the low-code market appears to be growing, it's also become more specific, allowing Forrester to better classify vendors based on core capabilities rather than "also ran" functionality.
We've seen something similar with Gartner. In its 2018 report for enterprise-class low-code application development platforms, the analyst firm identified more than 75 vendors initially and indicated another 10 by the time the report went to print.
But Gartner too keeps modifying its classifying name for low-code vendors offering an enterprise-class platform. We fully expect to see additional changes in 2019 as Gartner continues to focus in on what bundles of features and functionality customers can expect from a low-code application platform that can address the entire spectrum of use-cases for the enterprise.
An Alternative Perspective on the Low-Code Market
Although we like Gartner's world-view of the nearly 100 so-called "low-code platform vendors," we'd like to offer another perspective. If you're considering low-code to address legacy modernization efforts, need to replace something like Lotus Notes, or just need to better understand your options for application development, it may help to understand the low-code landscape based on the heritage of the platforms in it.
This may seem like an odd way to think about development platform vendors, but turns out, it's very important. Let's take a look at three categories of low-code platforms and their purpose for existence.
Niche
These vendors' platforms are focused on a specific app-dev challenge. For example:
A better way to capture and store data
A simpler way to define business processes
An easier way to create a mobile front-end.
This is where you'll find QuickBase, Appian, and AgilePoint. These companies focus almost exclusively on a single business need, such as business process management (BPM) or case management.
Ecosystem
This category's players are typically large software applications whose motivation for calling themselves low-code is to provide a path for creating greater value within their primary ecosystems. The giants are here: Salesforce, SAP, Oracle, Microsoft, and Google. Because these solutions were developed to solve a specific business need aside from general application development (e.g., database applications, web tools, etc.), they are at heart, niche platforms.
Purpose-built
These are platforms architected from the very beginning to address custom application development using a low-code approach. This is where OutSystems lives.
Why Purpose-built Is Important
The problem with niche players and those focused on their own ecosystem is that, inevitably, a time comes when the solutions built with the platform (i.e., core systems, business apps, etc.) need to evolve in a direction the platform does not support. It's like if you needed your content management system to start offering point-of-sale functionality, complete with ordering menus and payments. Maybe you could add some plugins and get something that works, if not elegantly. But, what happens the next time you need something out of the box? Or the time after that?
At this point, organizations with these niche or ecosystem platforms are forced either to layer on another tool to plug the gap or resort to coding by hand and attempt to integrate the newly coded systems with existing systems. Very quickly, the benefits of niche and ecosystem low-code market players are lost.
We see this frequently. Many of our customers came to OutSystems after having hit this wall with another platform—and it can happen very quickly. The reasons are varied, but we hear things like:
"Yes, our current platform supports online mobile app development… but we need it to create apps that work offline too. It doesn't do that."
and...
"We are not able to integrate with our identity management system."
Question: Why can't more solutions get organizations over this wall effectively?
Answer: Because it's hard to build a low-code development platform that meets the actual needs of customers. It takes time, not flash-in-the-pan tactics, to make sure that IT teams never hit a wall.
The Problem Low-code Platforms Should Be Solving
Almost every day we hear about organizations that are victims of digital disruption - cue the retail (Sears, Toys"R"Us), Mobile Device (Blackberry), and taxi industry references. To avoid this, not only do business and IT strategies need to be in lockstep, but IT must be able to deliver solutions at the speed business demands. Imagine if the business minds behind Uber were told there would be a two-year wait for their mobile app.
The speed of development is the bigger opportunity for low-code platforms. Instead, all too often, IT is constrained on the following fronts:
Too much work in the backlog
Too much of the budget is dedicated to keep-the-lights-on maintenance
In-house resource skills are not aligned with the IT projects
Modern systems are amazingly complex to develop and by the time most are built, they are already out of date
The Real Value of Low-code
Addressing these problems requires a low-code development platform that can:
Visually model all layers of an application: user interfaces for any device, integration, data models, business logic, and workflow.
Extend any layer of an application with custom code.
Manage the full application lifecycle.
Handle complex mobile requirements like ultra-responsive user experience, offline data, on-device business logic, and sensor integration,
Scale to support high volumes of users and transactions.
Meet demanding security requirements.
Low-code platforms that are able to match these capabilities have a much greater impact on the business because:
IT departments are able to dramatically improve productivity and reduce their backlog.
Maintenance costs are slashed freeing up more budget for innovation.
IT resources are used more effectively.
IT truly becomes agile, able to respond to the business and deliver what the customer actually needs.
In fact, the ROI delivered by low-code almost sounds too good to be true.
OutSystems was designed to tackle the specific challenges organizations face when building large-scale custom solutions.
Take the credit rating company FICO, for example. They had a two-year development project that failed. In just six months with half the team, they rewrote and delivered a brand new Origination system and got to market three times faster using OutSystems.
Our Low-code Philosophy
There is a market for niche platforms and not every organization needs the kitchen sink at all stages of their existence. But, for organizations with the goal of achieving long-term relevance and growth, we strongly urge careful consideration of the low-code market, its players, and their heritage of delivering "x" before locking into a relationship that may be difficult to walk away from later.
Certain categories of low-code platforms represent a chance for organizations to completely change the dynamic between business and IT. The "one simple trick" needed for success is to look beyond the quick fix to a low-code platform that can deliver true digital transformation.
To learn more about the variety of low-code platforms from the originators of the term "low-code," I invite you to download a complimentary copy of Forrester's report on low-code vendors and their capabilities.
We think you'll agree that though the low-code market may be a crowded place, only a few vendors truly fulfill the requirements of an enterprise-class platform.