We're thrilled to announce the arrival of OutSystems 10 — a breakthrough release for our business and the industry. It's the first low-code application development platform with advanced capabilities for enterprise mobile applications. In fact, with OutSystems 10, any developer can now build the types of secure, scalable apps that in the past only highly skilled software engineers were capable of creating. In other words, with this new release, we're making digital transformation a whole lot easier.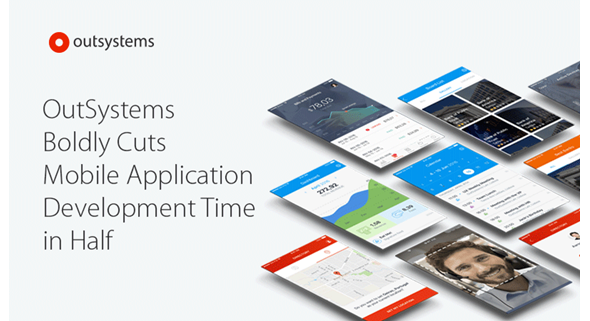 High Demand for Solutions Confronts a Short Supply of Talent
One of the great things about OutSystems 10 is that it addresses two huge problems that enterprises face with their mobile app strategy: the relentless demand to stay competitive by bringing new mobile solutions to the market and the scarcity of mobile development skills needed to build enterprise-grade, cross-platform apps.
Research from Gartner underscores the point. It notes that through 2018, market demand for mobile apps will grow at least five times faster than the internal IT capacity to deliver those apps. Not only that, Gartner points out that enterprises find it "a challenge to rapidly develop, deploy, and maintain mobile apps, as it is exceedingly difficult and costly to hire developers with good mobile skills."*
Let's take a closer look at OutSystems 10 to see how it helps solve these issues:
Under the Hood of OutSystems 10
Our latest release includes seven new capabilities that will dramatically accelerate the time it takes you to build full-featured, enterprise-grade mobile apps. These include the ability to:
Visually drag and drop all of the components of mobile apps, including user interface, backend integrations, business logic, and more.

Build once and run anywhere with a single code base that can be deployed on iOS and Android platforms.

Create high-performance user experiences with smooth, sub-80 millisecond response times. Plus, OutSystems 10 includes an extensive library of optimized, beautiful UX widgets and the ability to add custom code with pixel-perfect control.

Incorporate native device capabilities and sensors without writing any code, such as cameras, touch ID, and motion, among others. OutSystems 10 makes it easy to drag and drop sensor functionality into models to create immersive user experiences.

Build sophisticated and secure offline experiences with on-device business logic without having to worry about the underlying plumbing. With OutSystems 10 you can support any offline scenario from simple data caching to the most complex data access and synchronization.

Simplify deployment with time-saving features such as the ability to test apps instantly on any device, package apps for the app store with a single click, and update apps automatically over the network.

Reduce the backlog for mobile app development since developers can go from zero to highly productive in just a few weeks.
All of this new functionality combines to create an incredible platform that delivers real results. But don't just take our word for it.
Early Access Program Demonstrates Results
This summer, a number of companies were offered early access to OutSystems 10 and have already demonstrated how fast and powerful the platform is by launching amazing new apps in just a few weeks. They include industry leaders like Deloitte, Randstad, and Logitech.
To read testimonials about their experiences from these and other companies, check out our press release.
The Final Word
By adding advanced mobile capabilities, OutSystems is now the only low-code platform that can support the entire scope of digital transformation initiatives within the enterprise. And that, in our view, is something worth taking note of.
To see the platform in action or try it for free, visit www.OutSystems.com/platform/10.
*(Gartner Reports: "Market Share Analysis: Mobile App Development Platforms, Worldwide, 2015," published: 20 July 2016 and "The Enterprise App Explosion: Scaling One to 100 Mobile Apps," published 07 May 2015, respectively.)