On December 12, 2016, OutSystems launched a challenge to its employees: to walk, run or cycle 5,000 kilometers by January 6. The goal? Well, it was the holiday season, the time to give back to the community. And what better way to do it than through a mobile app that helped those in need, and also helped us get healthier in the process?
It couldn't be just any app, it had to mirror OutSystems values. Fast. Robust. Resilient. Full-stack. And so OutRun was born - a mobile app to track the distance an employee walked, ran or cycled.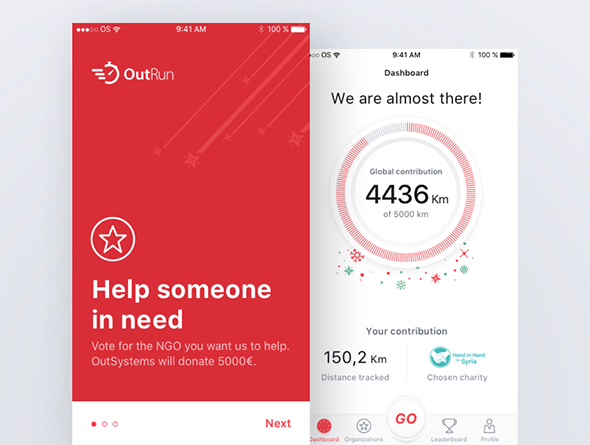 Let's Get Physical
OutSystems employees from across the globe installed the app on their smartphones and selected their favorite charity from a preselected list. Then, the walking, running or cycling started. For each kilometer completed, OutSystems promised to donate one euro to the institution with the most votes.
The challenge was tight. Four weeks to complete 5,000 kilometers - more than one thousand per week. Uncertainty was in the air. Was it possible? Should the goal have been 3,000 kilometers instead? But a last-minute decision gave the OutSystems athletes confidence, and the starting pistol was fired.
Mobile App Tracks Activity in Record Time
Three part-time people - a developer, a UI/UX expert, and a project manager - and two weeks was all it took to develop the mobile app. As for the actual challenge - in four weeks, OutSystems didn't just complete those 5,000 kilometers. With 191 registrations, OutRun tracked 5,197 kilometers, not only achieving the goal but outrunning it. So, 5,000 euros will now be given to União Zoófila, a non-profit organization focused on protecting and treating domestic animals at risk.