Recently, the international fashion website Farfetch organized a hackathon with one single goal: to find the best app to level up their business. The hackathon started Saturday, October 28 at 9:15 am, with a deadline of 8 am the next day. The challenge? Deliver the best mobile app possible in that time frame.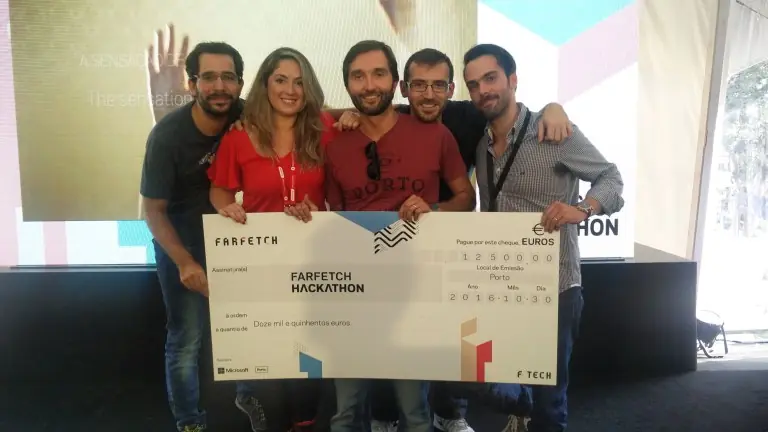 About 200 coders from all over Portugal gathered in beautiful Oporto lured by a very attractive first prize. And, among them were OutSystems developers who saw a bigger opportunity: to test the mobile app development limits of OutSystems 10.
In 24 hours of nonstop developing, two OutSystems teams were able to deliver five business-to-consumer and three native apps - making the organizers question whether they actually started developing after the formal kickoff and not before. The team assured them they did - and the GoPro on top of their heads was enough proof.
The initial 40 teams quickly became 20, then 10. One of those that were cut from the final 10 was an OutSystems team - which doesn't make their project less incredible. "The goal was to follow the journey of a customer from the moment they entered the store until they leave," said Hélio Dolores, one of the team members.
But the other OutSystems team was still in the game and reached the final five. In those short 24 hours, they built two apps and designed the concept of the other two, where IoT, offline and unique customer experience were the watchwords. By the end of the day, they took home that quite attractive first prize.
All in all, OutSystems proved to be an impressive and powerful tool that was key to winning the hackathon. But behind every great tool there's a great team. A lot of preparation and a lot of studying went into the winning project. It helped that we also have the best developers in the world, in our opinion.
Do you want to win a hackathon without going berserk? Take OutSystems along for your next hackathon ride. You can sign up for our free personal edition here.