Five themes stood out from this year's research on the state of application development:
There is a developer talent shortage, and citizen development is on the rise.
In this second article of our top application development trends series, we examine what survey respondents said about the developer talent shortage and the rise of citizen development.
Size of the Development Team
We asked whether the number of developers employed by organizations was higher, lower, or about the same compared to last year. Only 8% think their app dev team has shrunk, 38% say their team has grown, and 42% say it is about the same.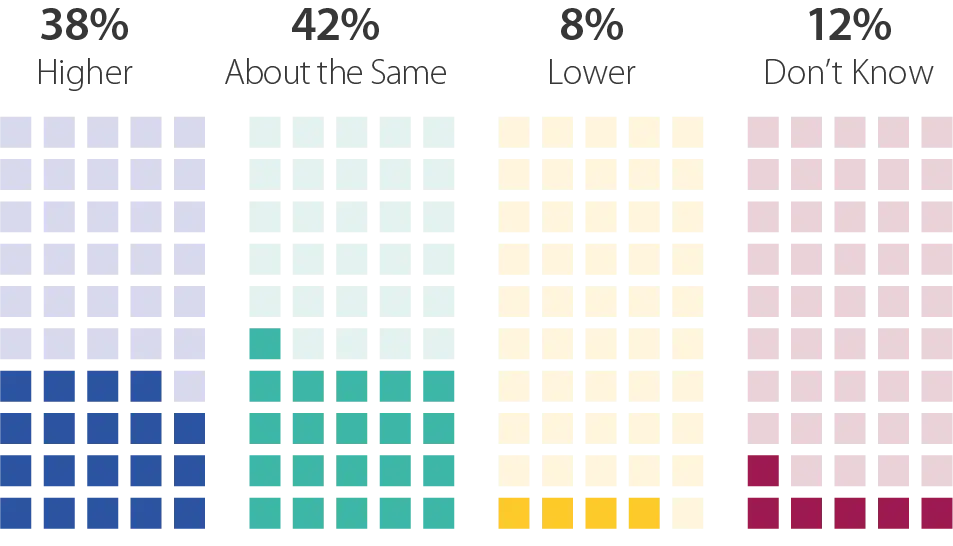 Hiring Developers
Sixty-five percent of respondents say their organization hired web or mobile developers in the past year. Eighty percent believe there's a developer skills shortage and that hiring takes longer and costs more. Twenty percent feel this is especially true for mobile app dev skills, but 43% say they think web and mobile development skills are proving equally hard to hire.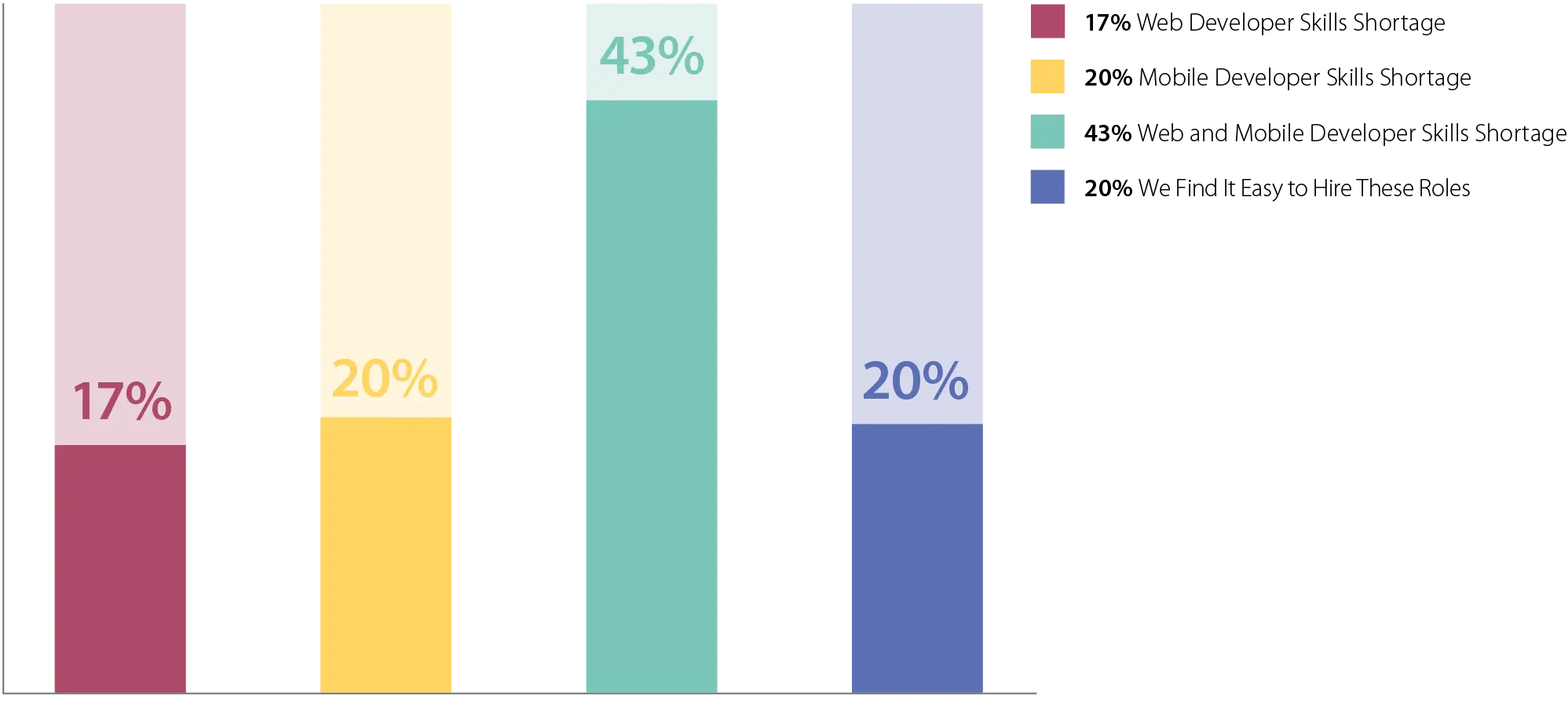 Outsourcing Development
Fifty-five percent of respondents say their organization outsourced some development in the past year, and typically, such outsourcing is for both web and mobile applications. Eight percent say they outsourced just mobile development.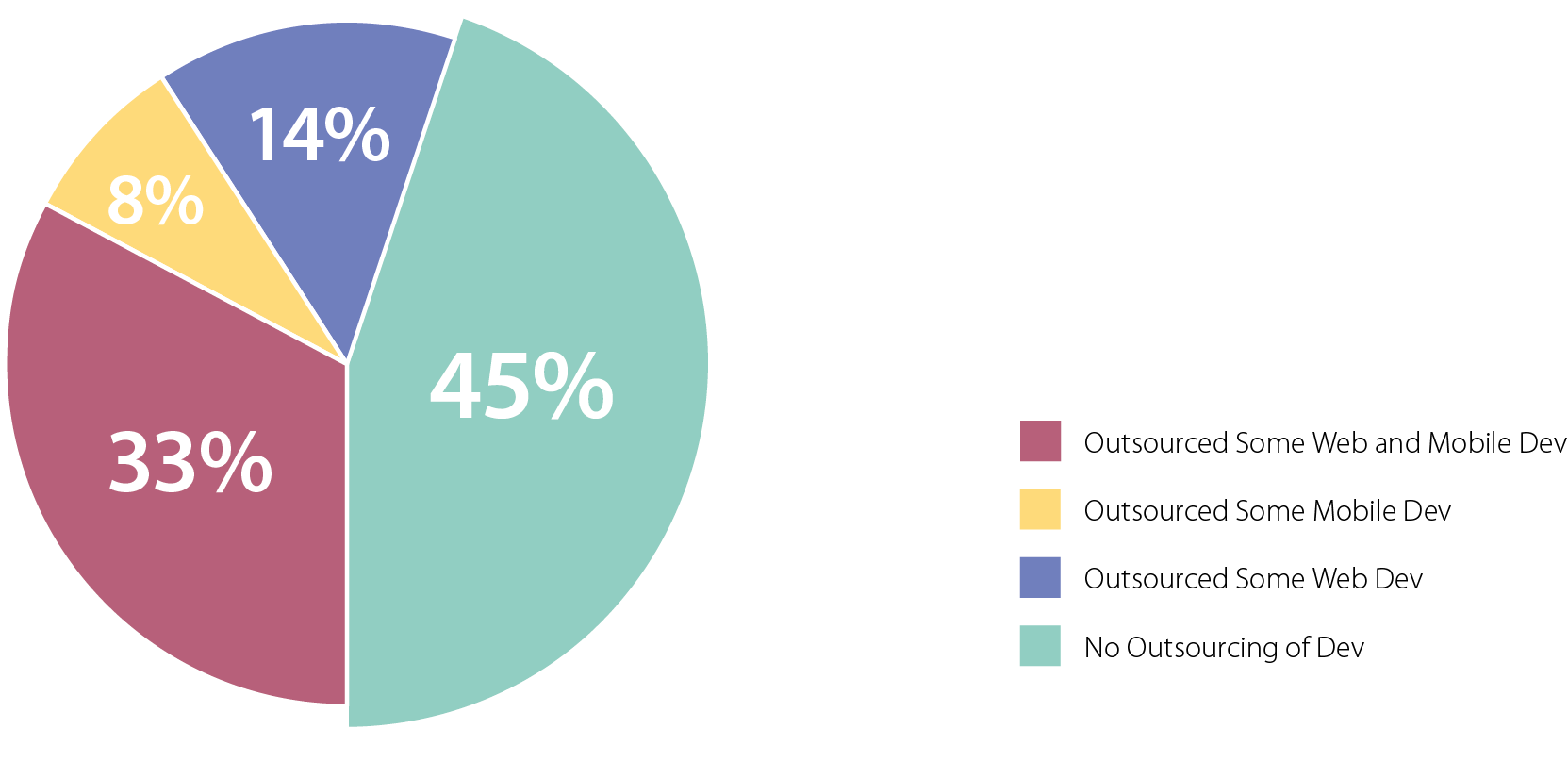 As discussed in "Are Mid-Sized Businesses the Squeezed Middle?" we found the prevalence of outsourcing varies considerably across different organization sizes.
And, the uptake of Agile and DevOps varies across different organization sizes as well, as does the results of both.
Overcoming the Digital Developer Drought
If your organization has recently hired or tried to hire developers with the latest web development skills, mobile development skills, or both, perhaps these statistics confirm that you are not alone in finding this a challenge.
The better news is: our research went much further than quantifying the problem.
Our respondents told us about the new sourcing and development approaches they are using to fight back in the digital developer drought.
And, the analysis we provide in the full survey report shines a light on which of these approaches are producing results. A few of those highlights follow.
Adoption of Low-Code Development Platforms
We asked respondents whether a no-code or low-code development platform was currently part of their IT strategy. Thirty-four percent say that their organization was already using such a platform, and a further 9% said they would start to use one soon.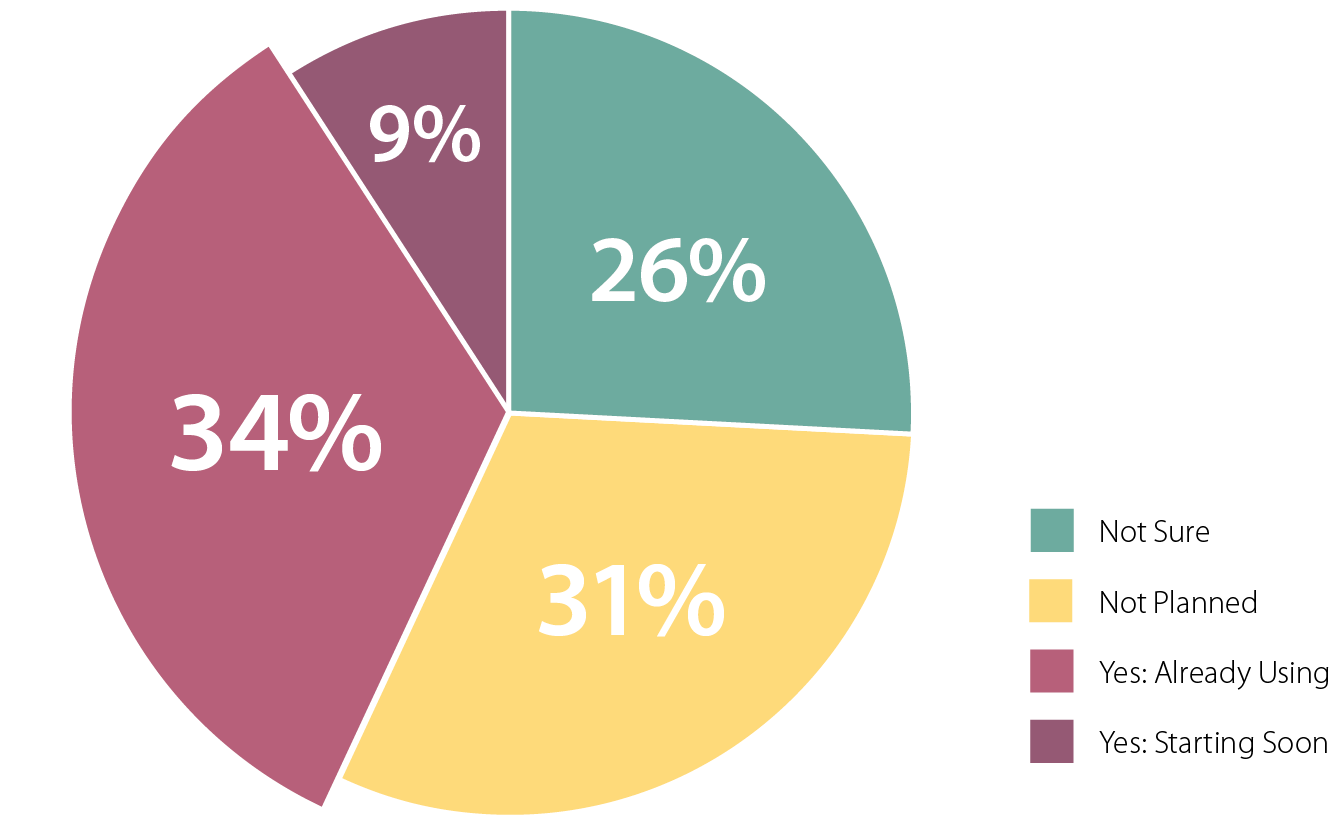 Role of Citizen Developers With Low-Code
Respondents were asked to describe the role that citizen developers were playing with such tools in their companies.
Although, most commonly, citizen developers are involved in creating departmental or employee-facing apps, an impressive number of respondents say that citizen developers play a role in creating customer-facing apps (24%) and enterprise apps (22%).

Multiple answers were allowed, and in some cases the users of low-code in an organization are IT pros rather than citizen developers, which accounts for the top bar in the above chart.
Use and Governance of Citizen Developers
We asked respondents whether their organizations had citizen developers and, if so, how effectively they were governed.
We found significantly differing points of view, depending on whether or not the organizations are using low-code.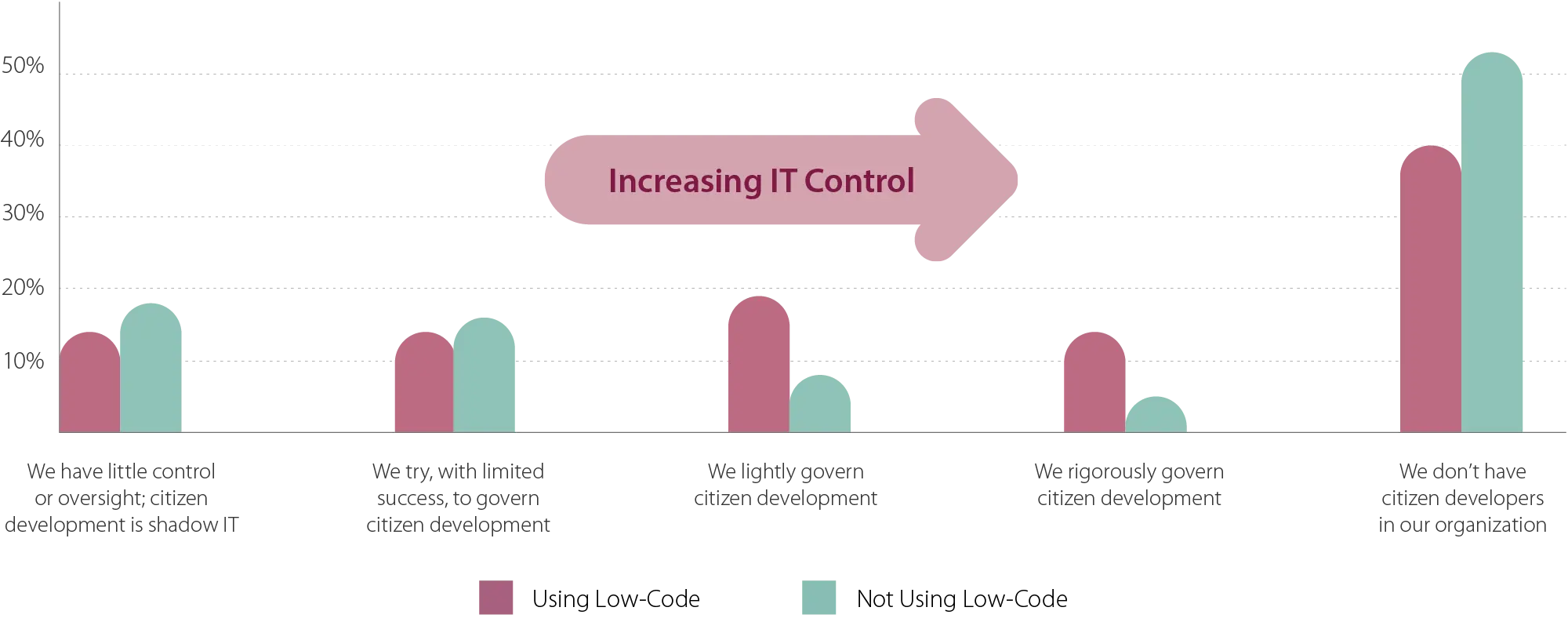 Forty-eight percent of all respondents say, "We don't have citizen developers in our organization." Given that many industry analysts describe citizen development as an increasing phenomenon, we suspect that some respondents may not be aware of the business-led development that's going on in their organizations. We propose that these respondents fall into three camps:
Some work in organizations where IT meets all business requirements fast enough, so business-led development hasn't become an issue.
Some work in organizations where IT, security, and HR policies have eliminated business-led development.
Some may be living in denial, or are unaware of non-professional developers as they're outside of IT's remit.
The Evidence That Low-Code Helps Organizations Succeed With Citizen-Led Development
We found encouraging signs that low-code is helping organizations rise above the developer skills shortage and make a success of citizen development.
Compared to organizations that did not use low-code, users of low-code are:
13% less likely to state that they had no citizen developers
6% less likely to describe governance of citizen development as absent or limited
Twice as likely to state that they "lightly govern" citizen development
Nearly three times as likely to state that they "rigorously governed" citizen development
Low-Code Adoption Can Help You Re-Skill, Recruit, and Retain Developers
Although citizen development needs to be part of your response to the developer talent shortage, merely dropping in a low-code or no-code development platform and passing the reins to citizen developers is not the answer.
As argued in a previous post, adopting low-code can be a formidable support in the quest to Re-Skill, Recruit, and Retain Developers. With IT at the helm and appropriate governance in place, low-code can help organizations:
Increase developer productivity
Retrain legacy developers
Expand their developer pool
Shorten ramp-up time for new hires
The Proof That Low-Code Is Delivering
According to the opinions provided by the 34% of respondents who are already using low-code, it is making a significant difference to their digital transformation efforts. Here's a quick summary of the advantages they told us they are experiencing.
Compared to those who are not, respondents who are using low-code are:
21% more likely to describe their organization as happy or somewhat happy with the speed of application development
15% more likely to deliver applications in four months or less
Less than half as likely to report app delivery times of 12 months or more
15% more likely to describe their Agile maturity positively
10% more likely to describe their DevOps maturity positively
Nearly three times more likely to say they have no app dev backlog
Two-and-a-half times less likely to have a backlog of over 10 applications waiting for development
For the full low-down, we hope you'll read the full report, or grab the next post in this series as soon as it's available.
Next article: Part 3 - IT Backlogs Remain Stubbornly High.