Five themes stood out from this year's research on the state of application development:
In this third article in our top application development trends series, we examine what survey respondents had to say about development backlogs.
Backlog of Web and Mobile Development
We asked whether respondents had a backlog of web and mobile projects stacking up because they could not meet the current level of demand. We analyzed responses by company size as shown in this chart.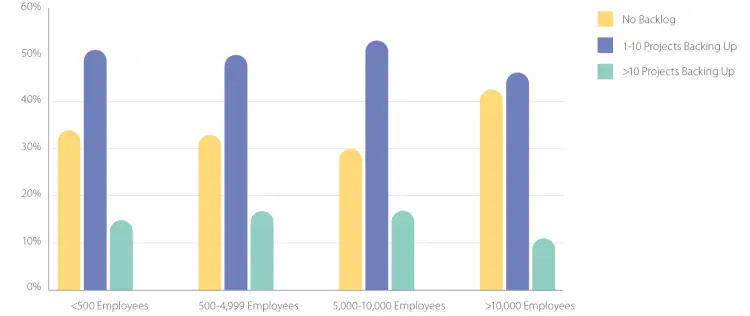 We found that mid-sized businesses reported a marginally worse backlog. Only 30% said they had no backlog, 53% said they had a backlog of 1–10 applications, and 17% estimated that they had more than 10 applications in their backlog.
We asked how the backlog situation was compared to twelve months ago. We analyzed the responses to focus just on organizations that said the size of their development team was roughly the same as last year. As you can see, only 32% of organizations say their backlog has become shorter in the past year.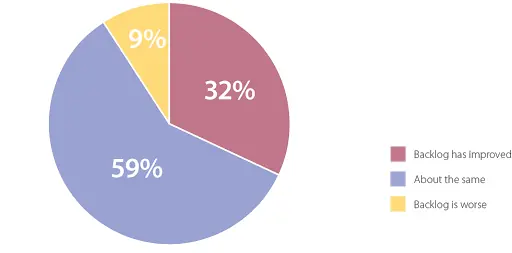 Development Times Are Long
We asked respondents how happy they felt their organization was with the speed of application delivery. Overall, 19% thought their organization was happy, and another 22% said somewhat happy. Correspondingly, 59% of organizations were either unhappy, somewhat unhappy, or neutral.
We segmented responses to see if the use of low-code had a bearing on satisfaction with delivery speed. This revealed a significant difference. Of the respondents who were using low-code, 21% more believed their organizations are either happy or somewhat happy with application delivery speed, compared to organizations that are not yet using low-code.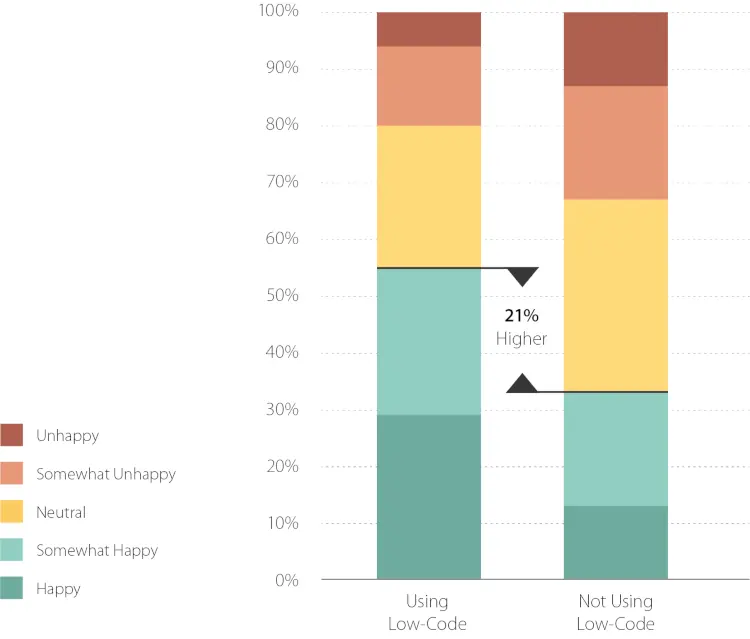 Similarly, we analyzed how long, on average, it takes organizations to deliver new applications.
The following chart shows that there was a very close correlation between web and mobile development times. Respondents said mobile apps take slightly longer than web apps. What is also apparent is that respondents who are using low-code consistently report faster delivery speeds.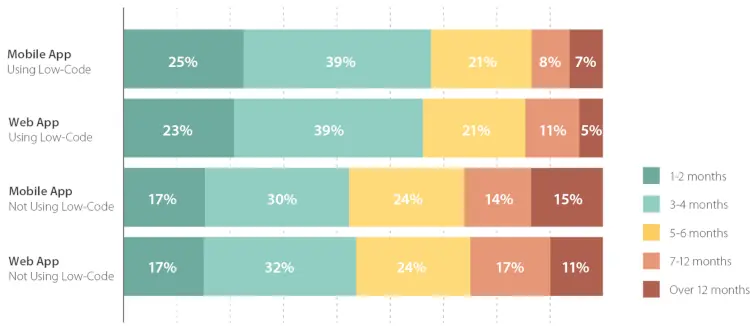 This is thrown into sharp contrast when we focus just on respondents who said average app delivery time was between one to four months.

Priorities for Improvement
We asked respondents to identify what three changes or improvements (apart from hiring more developers) they would prioritize to speed up successful delivery of software in their organizations.
Two improvements stood out from the pack. Forty-seven percent of respondents said they want to capture requirements more accurately. And, 43% said they want to improve their use of testing tools and test automation.
Top Challenges That Slow Down App Delivery
We asked what complicates or delays delivery of web and mobile applications. The top three answers were integration with legacy systems, fuzzy and changing requirements, and the time necessary for testing and QA.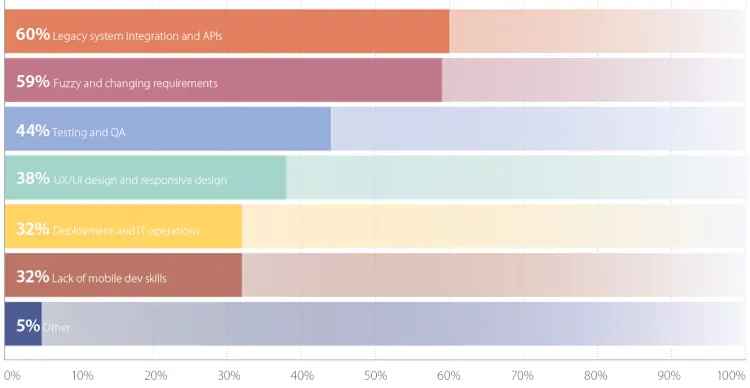 In Search of Speed
All organizations are seeking to continuously improve the efficiency, speed, and quality of software delivery. We wanted to find out what approaches and technologies (aimed at increasing capacity) organizations had invested in over the past year.
Approaches to Speed Up Application Delivery
Among the approaches organizations had invested in, Agile and DevOps stood apart from the pack at 60% and 40% respectively. Twenty-eight percent of respondents said their organization had outsourced some development. Customer-centric methods also scored highly, with design thinking, customer journey mapping, and lean UX combining for a 52% share of attention. This correlates with many other research reports that indicate customer-centric experimentation is on the rise.
Technologies to Speed Up Application Delivery
We asked what technologies organizations had invested in over the past year to increase the speed of application delivery. Respondents could select multiple options. Overall, 77% of organizations had invested in the cloud, 31% in low-code, and both mobile application development platforms and new languages and frameworks scored 26%.
Capacity Improvement Efforts Are Coming Up Short
Despite the investment that organizations have made in approaches and technologies to improve the speed and quality of software delivery, 68% of respondents say that their app dev backlog has not gotten shorter in the past year.
It appears therefore that capacity improvement efforts are not keeping pace with increasing demand.
Reduce App Dev Backlogs
If your organization is struggling with an intractable backlog, these statistics confirm that you are not alone. However, good news also emerged from our research.
As we mentioned, 32% of respondents told us that their backlog decreased in the past year.
And, as several of the comparison charts in this article confirm, low-code appears to provide a significant speed advantage for building web and mobile applications.
Respondents who were using low-code were 21% more likely to describe their organization as happy or somewhat happy with the speed of application development.
In the full report, we go into more detail about the range of approaches and technology that organizations are using to increase capacity and speed up delivery of new software applications. Moreover, we analyzed which approaches appear to be working best.
For the full low-down, we hope you'll read the full report, or grab the next post in this series as soon as it's available.
Next article: Part 4 - Agile and DevOps are Works in Progress