Five themes stood out from this year's research on the state of application development:
Application development demands are at an all-time high.
There is a developer talent shortage, and citizen development is on the rise.
IT backlogs remain big.
Agile and DevOps are works in progress.
Customer-centric IT practices are on the rise.
In this fifth and final article in our top application development trends series, we explore the customer-centric priorities and development methods that respondents told us they were adopting.
Types of App to Be Delivered in 2018
We asked respondents to describe the two most important types of application that they would develop in 2018. As shown here, in first place came apps that are used directly by customers or business partners (66%). Apps that support internal processes and operations, including analytics came second (52%).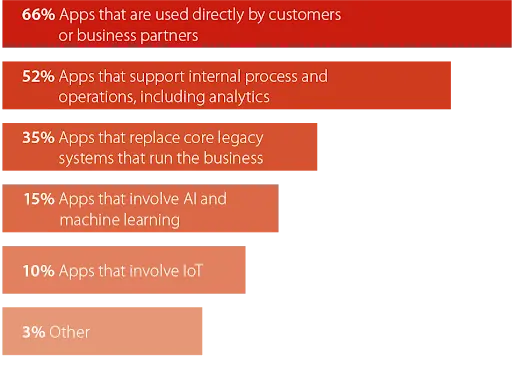 In Search of Speed
In our survey, we wanted to find out what organizations were doing to speed up application delivery.
Customer-centric methods scored highly, with design thinking, customer journey mapping, and lean UX combining for a 52% share of attention.
This correlates with many other research reports that indicate customer-centric experimentation is on the rise.

Use and Purpose of Low-Code Development Platforms
We asked respondents whether low-code development platform was currently part of their IT strategy. Thirty-four percent said that their organization was already using such a platform, and a further 9% said they would start to use one soon. In the report, where we made comparisons between users and non-users of low-code, it was just the 34% already using that we compared to all other responses.
Using Low-Code Where It Matters
We asked the 34% of respondents who were already using low-code what kinds of projects they were delivering with low-code. The answers were as follows:

The response to customer and partner facing portals and web apps (50%) and mobile apps that serve the same users (32%) clearly emphasizes that low-code is pulling its weight when it comes to serving customers and business partners.
"50% of low-code users are serving customers or partners with web applications, and 32% are serving them with mobile apps."
Given that respondents told us that their most important applications slated for delivery in 2018 were those serving customers and partners, it seems those who have low-code are perfectly willing to use it on top priority projects.
The Proof That Low-Code Is Delivering
According to the opinions provided by the 34% of respondents that are already using low-code, it is making a significant difference to their digital transformation efforts. Here's a quick summary of the advantages they told us they are experiencing.
Compared to those who are not, respondents who are using low-code are:
21% more likely to describe their organization as happy or somewhat happy with the speed of application development
15% more likely to deliver applications in four months or less
Less than half as likely to report app delivery times of 12 months or more
15% more likely to describe their agile maturity positively
10% more likely to describe their DevOps maturity positively
Nearly three times more likely to say they have no app dev backlog
Two-and-a-half times less likely to have a backlog of more than 10 applications waiting for development
For the full low-down, we hope you'll read the full report.
If you've missed any of the four previous posts in this series, here are the links for your convenience:
Application Development Demands Are at an All-Time High
The Developer Talent Shortage and The Rise of Citizen Development
IT Backlogs Remain Stubbornly High