In our quest to give every company the ability to innovate through software, just a few months ago, we announced the launch of the OutSystems Developer Cloud (ODC).

Table of contents:
If you're unfamiliar with it, ODC is a new way to deploy applications built with the OutSystems platform that supports cloud-native capabilities.
In other words, ODC enables the development and deployment of apps using modern technology such as containerization, microservices, Kubernetes, and serverless computing, to empower organizations to build software solutions with the scalability, availability, and efficiency demanded by the unpredictable and constantly changing world we live in.
With ODC generally available, we knew that now was the time for the real deal; and we were ready. It was time to test its capabilities in real-life scenarios and create the first solutions.
And who better to do it than the greatest experts in OutSystems technology? Those that are tearing down the walls of innovation and helping companies worldwide to disrupt their markets?
Yep, the choice was obvious: our partners.
And today we're celebrating these partners and awarding them with an "ODC Partner Competency Badge" to recognize their merits in being a pioneer in delivering projects with our new cloud-native platform.
Let's explore what they've built and what they have to say about ODC.
IQuality on How ODC Removes Cloud-Native Hurdles
What they built: a Fleet Management application for the leasing company of one of the major car manufacturers in the world.
All their vehicle pick-ups, deliveries, and routing are now planned through this system — the equivalent to over a 1000 transports per week.
IQuality achieved this in just 2 months, with a team of 2 developers and one UX designer.

App capabilities to highlight: the app is also being distributed as a Progressive Web App, allowing 200+ hikers to quickly access it and use it on their phones when they are out on their transport duties.
The app eliminated the use of Excel and paper, and the associated risks of manual processes such as overtyping and unclear transport statuses, planning, hours and fines.
Feedback on ODC:
"We are thrilled about being able to take advantage of a new platform that combines the incredible productivity of O11 with the state-of-the-art cloud-native architecture of ODC. We are acutely aware of the technological hurdle that cloud-native represents, and we see OutSystems bringing the productivity benefits of a low-code approach to cloud-native as being a game changer."
— Patrick Joosten, Managing Partner @ iQuality
Capgemini on ODC's Developer Experience
What they built: a new Staffing Management Application to provide an effective and fast response to their customer resource needs and to ensure the best possible match from their resource pool. This app will replace their current method based on spreadsheets and email.
250 consultants are already using the solution, and the company already has a rollout plan for the whole Capgemini Portugal, and partially in India.

App capabilities to highlight: Capgemini is now able to centralize all the information – customer, partner, project, and resource – in a unique portal, which gives the team a clearer visibility of the company resources, and their allocation, ensuring an effective answer to the client's request and intelligent matchmaking between customer demands and resources allocated.
In addition, they can also customize staffing dashboards, helping the management team to define rates, cost revenue, and margin.
Feedback on ODC:
"ODC provides a much better development experience by having everything you need centralized in ODC Portal, with faster deployments, much-improved log visualization, and dependencies management."
— David Castro, Service Delivery Manager @ Capgemini
Product League on ODC's Scalability
What they built: a mobile application for Multi Tank Card, an innovative customer that aims to change the Electric Vehicle (EV) charging landscape as we know it. The platform will put EV drivers and location owners at the center of a charging session agreement.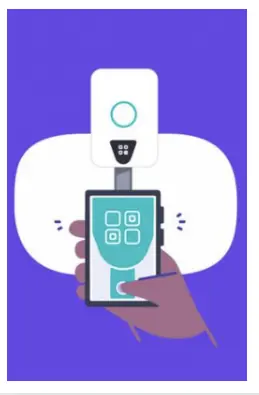 App capabilities to highlight: sustainability management is one of the focus of this app delivered by Product League and will be supported by a combination of dynamic pricing and loyalty elements. As a result, the app demands flawless data and financial flow. Retailers with charger points at their locations can create charging options for their visitors and/or customers.
As a driver, you can be rewarded for your eco-friendly options and even get tailored offers based on your consumption and fidelity.
Feedback on ODC:
"One of the standout features of ODC is its ability to seamlessly scale with the customer needs. The use case of the application was a perfect match for the platform's auto scalability features that are provided by ODC. The platform's automatic scaling made it easy for us to focus on developing and delivering a top-notch product, without worrying about infrastructure management, which is fully automated and managed by ODC.
The platform's scalability features and unified portal also made it easy to develop a high-quality, high-performance application for our customer."
— Daniel Kuhlmann, Software Development Manager and OutSystems MVP @ Product League
Noesis, an Altia Company on ODC's Developer Productivity
What they built: a configurable white labeled Events Management customer-facing app and the respective configuration backoffice. The go-live happened a few weeks ago and the app has already been used in some events, such as "Building the Future".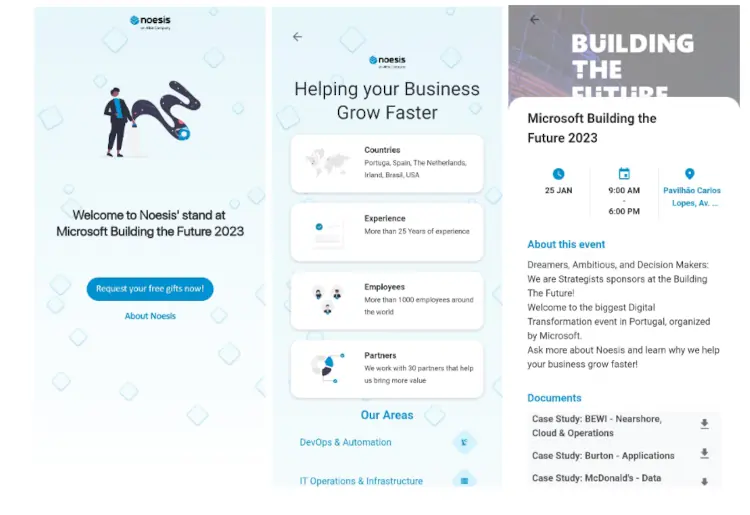 App capabilities to highlight: the app will be used by several companies, including Noesis, to share information about events and conferences and also to gather and register marketing and sales opportunities.
Feedback on ODC:
"ODC's efficient deployment process and intuitive interface empower developers to deliver business-critical features with ease, while enabling seamless scalability and growth. By minimizing architectural concerns and reducing application impact, ODC maximizes productivity and accelerates delivery." — Idálio Rodrigues, Senior Manager @ Noesis
Truewind on ODC's Security
What they built: a white-labeled solution that allows users to check themselves into appointments or facilities without needing assistance from a front desk or staff member.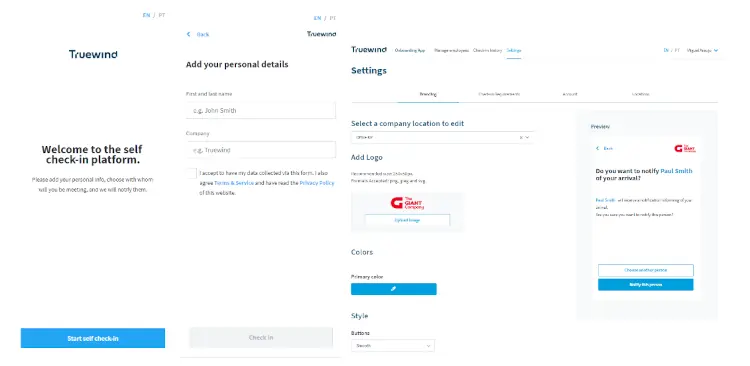 App capabilities to highlight: Truewind's app provides a user-friendly interface that guides the user through the check-in process, allowing them to enter their information, confirm their appointment, and receive any necessary instructions or information.
Feedback on ODC:
"In a time when technology leaders are facing the challenge of ensuring security, reliability, and agility, OutSystems ODC provides small to large teams with the ability to quickly and independently develop code that can be safely deployed to customers. ODC requires new architectural norms that enable incredible developer productivity to win the market. Innovation is impossible without risk-taking, and the audacity of OutSystems inspired the rest of us to what can be done."
— Miguel Reis, OutSystems Architect @ Truewind
JustSolve on ODC' SDLC
What they built: an HR solution to streamline the recruitment process by managing a pipeline of candidates, scheduling interviews, and tracking progress. By providing a centralized platform for all recruitment-related activities, JustSolve's HR solution improves the efficiency and effectiveness of the recruitment process, ultimately leading to better hiring decisions and talent management.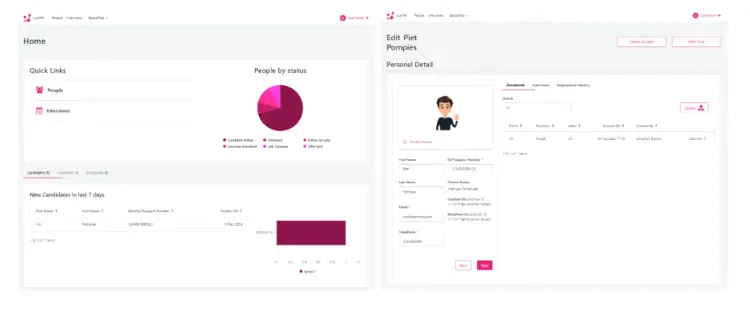 App capabilities to highlight: interviewers can provide feedback and rate candidates on both cultural and skill levels, allowing for an objective evaluation. The system also includes functionalities for converting candidates to employees, maintaining employment records, and managing skills and certifications.
Feedback on ODC:
"We've had a great experience using ODC, it's a revolutionary step towards the future of cloud-native low-code development platforms. ODC simplifies the entire software development lifecycle and management of containerised applications. ODC proves that OutSystems will remain at the forefront of the low-code movement!"
— Jonathan Bryden, Development Practice Lead @ JustSolve
Building the Future Today with State-of-the-Art Cloud-Native Technology
OutSystems is on a mission to change the way enterprise software is developed. And ODC is yet another step on that journey.
With OutSystems cloud-native capabilities, we're enabling organizations to develop the apps of tomorrow today by setting a new standard in what is possible with low-code development. We're empowering organizations to deliver the enterprise-grade capabilities required to build strategic, mission-critical applications.
These first few apps are a great example of that.
To learn more about ODC, take a look at our overview page. And if you're just starting your low-code journey and looking for the right partner to support you, check out our Partner Finder.