When he joined OutSystems about a year and a half ago, Daniel Araújo thought his role was to help improve a 20-year product. With the recent announcement of OutSystems Developer Cloud (ODC), the first new OutSystems product since its platform was launched, any product manager (PM) could have felt as they were thrown for a loop. But not Daniel.
We're talking about someone who feels like a fish in the water amidst change, loves to create and evolve new products, and always reads two books at the same time. He has worked for Google and founded his own startup. And have we mentioned that he checks his weekly planner on Sunday just for kicks? Here, we talk to this well-prepared product manager about his professional path, favorite technology products, and what it takes to be an excellent PM. Would you like to join his team? Check out our open PM roles!
---
There are many paths to product management. What was yours?
Unlike software engineering, there is no specific academic training to become a product manager in an engineering company. Before joining OutSystems as a Product Manager, I led a startup for a few years. I started this project with two business partners who were programmers, and I did everything but coding — well, in fact, I may have written a couple of lines of code — but I mainly dealt with the product and sales areas while my partners handled the technology side.
Before founding my own startup, I worked at Google as an analyst. I was always passionate about tech products in general, so I guess it was an organic transition. That led me to start my own company because I wanted to create a product, listen to the customer's feedback, and evolve it. It helped me develop essential skills for any product manager, and when the project came to an end, I had the opportunity to join OutSystems.
When I thought about where I would like to fit within the organization, I saw the product area as an obvious choice: you have to listen to people, understand how we must develop the product and our future vision. It was an organic path; every product manager has theirs, but this was mine.
What did you actually study then, and how did your career take off?
I studied Management at Catolica Porto Business School. I'm from Braga [in northern Portugal], but I spent a few years in Porto. I also lived abroad for a few years, in Paris. I was about to start a project based on my Entrepreneurship master's, but I got an offer from Google to go to Ireland. It was 2009, work did not abound at the time, and I felt that before starting my own company, I should learn as much as I could about the inner workings of a tech firm like Google.
I joined Google in 2010 and had two different roles there: first, I worked in the Consumer Operations department. We were basically the user voice within the company for all the free Google products. My job revolved specifically around Google Maps and Chrome. I tried to understand what people felt about these products and what they liked and disliked by browsing forums or other places to get feedback and convince the Engineering team to build or add those features. It was a very interesting, project-driven role, and it wasn't a real product management job. Still, it encompassed some of the skills needed, such as listening to users, understanding and prioritizing their pain points, evangelizing the community, and explaining why we added certain features instead of others. It was a really cool experience.
After a year and a half, more or less, I moved to Google London to understand the money-making machine behind it, so I moved to the Sales team to work as an analyst. That was all about data, data, data, which was something I already collected in my previous role, so the transition was easy. On the one hand, this role allowed me to perfect my technical skills, even though I'm not a programmer, and I began working with Google's ad products, which I did for three and a half years. I then left and founded Attentive, my startup.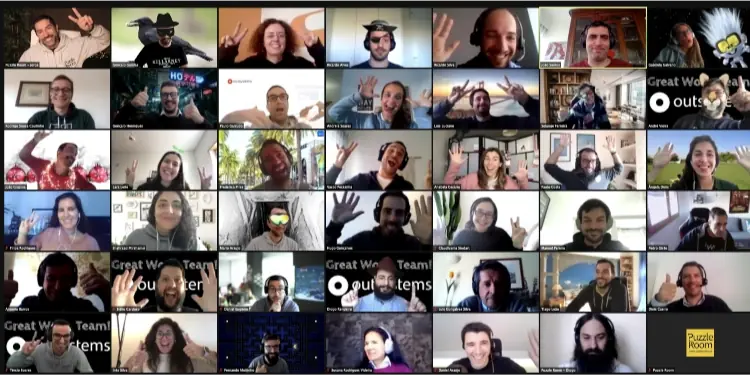 Did you come back to Portugal to create your startup?
Yes, I came back home in 2015 or 2016, I'm not sure, and worked at my startup for about five years until joining OutSystems in 2020.
"[OutSystems Developer Cloud (ODC)] is a challenge well suited to my previous experience — I'm all for launching new products — but with a much larger scale, impact, and reach, which only adds to the challenge and the excitement I feel about working here"
You're currently working on one of the most buzzworthy projects at OutSystems: OutSystems Developer Cloud (ODC). What are your main challenges?
I joined OutSystems as a company that had been evolving its product for more than 20 years, and now I'm at a company that's launching an entirely new product. Personally, it's a challenge well suited to my previous experience — I'm all for launching new products — but with a much larger scale, impact, and reach, which only adds to the challenge and the excitement I feel about working here.
I share the vision of the company's impact in the future, and now there's this massive opportunity in the short term, which is launching a new product. It's much harder to start something from the ground up, and I'm not even talking about the technical side — it's the offering as a whole. In 20 years, we developed well-structured and established processes; we knew how to onboard our customers, their experience, and how they would evolve.
Now, we're creating something absolutely new. And we have the challenge to differentiate our products as we don't want to fall into the trap of handling both the same way. There is a huge opportunity to continue selling the OutSystems 11 platform version, which will continue to exist, and define the market space for Neo. The vision has to be different because we're serving different customers, with different needs, in a different way. It has been an exciting challenge, and I'm like a fish in the water amidst such uncertainty. I love creating a new customer experience from scratch; we can learn from our past and learn about what's new in the market, the latest best practices, and take that experience to the next level. It's a fantastic opportunity. And then there was the feedback at NextStep…
That's right, how was it?
The feedback was incredible. Customers truly understood that this was the next step for us [no pun intended]. It was terrific because we had so many doubts. In a way, we are rewriting so many things, and we weren't sure what their reaction would be, but they got our vision for Neo. That is super exciting because there is clearly a match between what we want to bring to the market and what the market wants. Now it's all down to executing it, and that's what we're doing.
"We [product managers] are the annoying folks who look at foundational problems and argue that the solution you may have found is not perfect"
How can product managers bring their engineering teams up to these sorts of challenges? Most companies struggle with this rift between thinkers and doers.
That is a great question, and no software in the world can fix it, and there is no definite answer yet, so I guess there will be plenty of work for product managers in the years to come. The role of a product manager, or the importance of having a product manager in teams, is understanding the engineering team's context and then looking at the customer context with the exact same attention to detail while also capturing market trends and what we expect to see in the future.
I have to listen to our customers and our Engineering Team because they have their own informed vision. The difficult part is merging everything harmoniously, and the most challenging aspect is deconstructing any preconceived solutions we may have, not just within our Engineering Team but also within our customer base. Users sometimes think that everything will sort itself out if we just solve X or Y.
Our job is to say: "That may be one possible solution, but if we peel this down to the bone, there is a much broader and foundational issue here." Accepting easy fixes would likely improve one customer's life and create a living hell for all others. That is why so many people don't really like product managers because we never say, "That is the perfect solution; let's implement it tomorrow."
We are the annoying folks who look at foundational problems and argue that the solution you may have found is not perfect. And we often have to internalize that ourselves because I may not have an engineering background, but I'm a problem solver, and I love to put together that final piece of the puzzle. But it is way more challenging to develop a method to look at the foundational problem, explore many ideas, and question the possible solutions' impact and goals until you finally find one that will provide you with a greater chance of success. And it's always a chance, never 100%. So it's a slightly different approach.
Since product managers have such a complex mission, what makes a good one?
Strategic thinking is fundamental. In an area where we can't adopt every solution and need to prioritize the adequate one, strategic thinking is critical to developing a short and long-term vision.
Also, communication skills —  you need to know how to listen. When somebody is trying to offer you a solution, you need to listen so you can ask the right questions, gain an in-depth understanding of the subject, and simultaneously convince the many stakeholders that the solution you have is the best for the market, even if nobody is thrilled about it. Much of this communication work distills into sheer negotiation to ensure that everybody is on board and understands why we made those decisions.
And you must love technology or the product area you're in. Otherwise, everything will feel somewhat uninteresting.
Right, so what are your favorite tech products?
I'm going to give you two examples for very distinct reasons. One is a software product called Plex. It's a personal media management tool that works almost like a media center. It's available on the cloud and works like your private Spotify or Netflix: you can access everything you store in it. It's a well-built product made by a profitable company that constantly listens to its users. They only do one thing, and they do it very well. The product has evolved based on the customers' feedback, and the company seems to have a very democratic approach — at least that's how it feels for someone looking at it from the outside — which is rare. They are very close to their market; there's a great match between those who use the product and the team that develops it.
Another product that I love is a much smaller software product. It's a one-person show that appeals to my entrepreneurial roots [laughs]. It's called Obsidian, a text editor that works with Markdown. It's an incredibly open project; the roadmap is available to everyone on Trello, the product is free, and it all began with a single person behind it. I think this very much relates to our mission at OutSystems, which is giving every company the power to innovate through software. We're heading toward allowing everybody to innovate with OutSystems so that you don't have to be an elite programmer, like the Obsidian creator surely is, to have room to innovate.
"Nothing can quite replace the feeling of having four or five people in a room around a whiteboard"
I assume product managers must have excellent organizational skills. What is your daily routine like?
I usually work on strategy, which involves a lot of writing, in the morning. Writing is how we bring strategy to material fruition, and it requires concentration. That is why I try to hold all my meetings in the afternoon.
I'm team "inbox zero," no email is left unread; I love paper and will write down a lot of notes, and I'm a fan of annual planners, which I will break down into quarters and then weeks. It's how I organize myself to ensure I'm walking toward the goals I set.
On Sundays — and this does not feel like work at all for me — I like to look at the calendar for the week ahead and check if I left something behind. It's almost like a retrospective; it allows me to organize my mind and not feel like I'm starting the week behind schedule.
Regarding my routine, my workday begins at around 9 a.m. when I leave my daughter at kindergarten, and I usually don't write past 6.30 p.m. because I'm not productive by then. I will schedule meetings if needed, as they're not as demanding for me from a cognitive perspective.
Are you team remote or team office?
Team office, for sure! I have a great home office, and working from home has been beneficial for the writing part of the job. Well, maybe I'm team hybrid, but that always depends on how many times you have to go to the office. Remote work is very predictable and productive: you can jump in from meeting to meeting without leaving home. However, I'm afraid it will make us less innovative in the long run. There are strategies to work around this, but in my opinion, nothing can quite replace the feeling of having four or five people in a room around a whiteboard.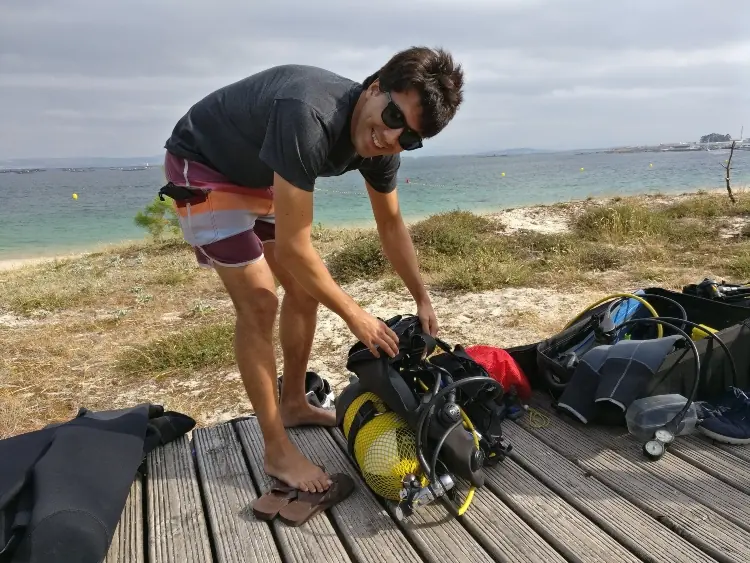 What do you enjoy doing in your free time?
Reading is my number one hobby, that's for sure.
Do you read fiction or non-fiction?
I usually read a fiction and a non-fiction book at the same time. And I always read one on paper and the other on Kindle. I can never predict what I'll want to read, so this covers all bases. Also, sports! Scuba diving, squash, snowboarding — a lot of different things. And for a year and a half now, just hanging with my daughter.
That's a high-performance sport.
Yes, both physically and mentally [laughs]!
"There's this culture of investing in people that is strategic to the company — it does not happen by chance"
Why is OutSystems a great place to work if you're a product manager? 
Hmm, let me think about the main reasons because I could list a few. The first is culture, and nowadays every company will say that its culture is great and that employees are well treated and valued, but I've seen many firms, I've created one, and I know how hard it is to achieve a great culture and how demanding it is for teams to invest in it. OutSystems is very proactive at that. There's this culture of investing in people that is strategic to the company — it does not happen by chance. And that's very important, whether you're just starting or want to evolve your career and build a team. You can also grow into different roles and continue to evolve, which appeals to everyone.
Secondly, the stage that the company is at. We're in a very interesting phase in a gigantic market. We have a large structure, many customers, and a large team — well, I think we're minuscule for the vision we have; there is so much room for growth. But all is so tangible, we can really achieve what we set ourselves to, and I find that the most incredible challenge.
Since we're all working from home (at least occasionally), can we see your desk?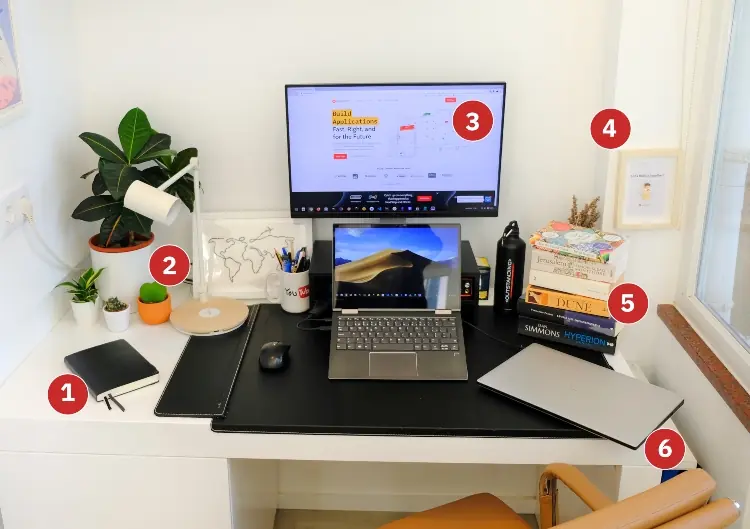 Bullet journal. My notetaking is still 90% analog.
Plant station. There are tons more outside this picture.
Where most of the product management work happens.
Personalized Lego piece. An amazing gift from OutSystems!
Some of my favorite books of all time.
Where I actually take my daily Zoom meetings.