In this series of interviews, we talk to an OutSystemer from the Engineering team about their role, interests, and expertise.
Sara Esperto pursued a career in technology because she had been fascinated with the Snake game — yes, the Nokia one — ever since she was a child. Now, she is absolutely in love with processes and is not afraid to say it. At college, she soon realized that programming wasn't for her. After all, she preferred to spend her time allocating memory and programming on C instead of Java. As talented as she is, the world may have lost a great programmer, but OutSystems won an excellent process analyst.
---
When did you first realize that you were into the tech world?
Well, I have to go way down memory lane. I remember the first time my parents had a cell phone. It was a Nokia 3310, one of those that was so heavy that when it fell on the floor, the floor would break instead of the phone. At the time, I was completely fascinated by it. I spent so much time playing Snake, which was pretty much the only game it had.
Then, technology evolved, and I got my first phone. It was a flip one, and you could listen to music on it — I loved it. From then on, I wanted to know more, understand how I could be part of that evolution, and contribute to that kind of disruption in the market. So, throughout my school path, I was slightly torn because I studied Science and Technology in high school, but we didn't talk much about tech. We had a course called Information and Communication Technologies, but we only learned how to work on a computer, nothing too advanced.
But you were also interested in Economics, right?
Yes, apart from tech, that was the other field I really wanted to explore. I had never studied economics or programming before, so when the time came to pick a degree, I was very indecisive and placed Economics as my first option. I felt it would benefit me more in the future, and I wanted a job that allowed me to help my parents and give back everything they've done for me.
The day before the final deadline, I changed my first option from Economics to Computer Science Engineering. I concluded that I had always been fascinated with that Snake game and that phone. I wanted to carry on that path and learn more. However, I didn't want to discard Economics, which is why I almost immediately began researching master's degrees. I found one that kind of combined information technologies with business management, and I was like: "Right, now I know that Economics is still going to be a part of my life." I started the Computer Science Engineering degree, and while I don't regret it at all, I am not the best programmer. I always loved figuring out solutions, designing the logic behind them, but then I thought: "Okay, and now I have to program this? This is not what I want."
I knew something was very wrong with me when C was my favorite programming language. It's what I loved the most, along with allocating memory, rather than working with Java and objects [laughs]. I always felt my end goal had something to do with the business side, and I thought about quitting many times. But then something inside me said: "No, you are carrying on and you will be doing exactly what you love on your master's." With the right people beside me — which is critical, regardless of where you are in life — I didn't quit, and I managed to finish my course with good grades.
"[Process analysts] think a lot about processes, what we can improve, and the pain points and challenges people face. We see how it reflects on the service we provide to our customers"
Because of my grades, people think I wasted the chance of being a great programmer, but I'm really not [laughs]. What I enjoy is working on analysis and the business side of things. And this is how I arrived at OutSystems.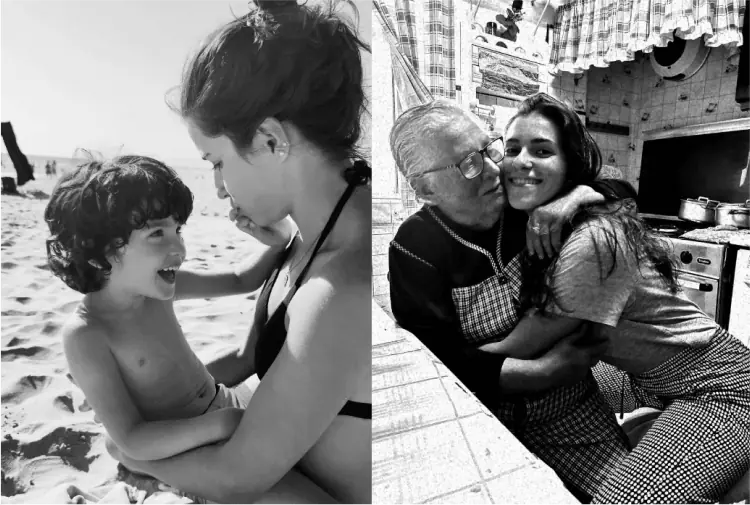 What does a process analyst do?
We need to have an open mind to understand what's happening around us and extrapolate how we can create value to fit the company's vision. When I left college, I really wanted to be a process analyst, regardless of how I'd get there or when I'd get there. I just knew I'd get there. I am absolutely in love with processes, and I even completed my master's dissertation on them.
That's when I found OutSystems which, like many other companies, wanted to hire people with years of experience. My take on it is that experience isn't that important at times. It's more about how you think and how that vision is structured in your head to meet the company's mission. And I think mine was.
To answer your question, we think a lot about processes, what we can improve, and the pain points and challenges people face. We see how it reflects on the service we provide to our customers — OutSystems is all about this.
I joined the R&D department because our vision is for us to be the face of R&D to the client and the client's face within R&D, so our job is both internal and external. Our big mission is to protect our customers and their services, provide them with the best service and care possible and work on their problems so that they don't have to face them ever again. We're incredibly focused on this — on analyzing the processes and how they impact the customer's life to ensure quality of service.
Why is this a growing role, in your opinion?
There aren't many of us at the moment, especially people who are truly passionate about what they do. When it comes to analyzing processes, and I've done apprenticeships in a few companies, most people don't fret about it. They don't see it as a tool to meet their vision and goals, but it is, and this is why it has been growing so much.
These challenges and the tech change have to come from within companies, from the process itself, because a broken process will take its toll. I feel companies are starting to realize this. If you don't have streamlined — and, ideally — automated processes to remove the tremendous weight that some tasks have on workers' lives, we lose time and underdeliver on quality.
Right now, I'm working within R&D to improve internal processes. If we improve these, we will make an impact on the customer side. I work with teams to listen to their pain points, see what can be improved or automated, and where they are wasting away time. That's the challenge: grab their attention for ten minutes and make them tell me what's going on so I can help. I always say: "I know I'm a pain, but I will let you get back to programming in ten minutes!" [Laughs.]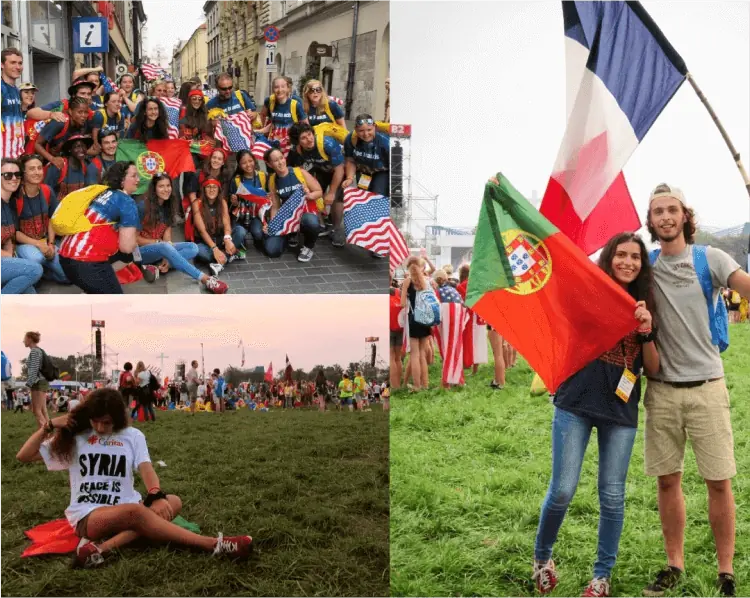 How do you identify those pain points for developers?
A lot of such feedback is reactive. There's an issue, and we hear about it from a team captain or software developer. But part of it is also proactive. We try to find the problems before the developer has to deal with them.
I am working directly on problem and incident management. When I joined the company, I checked our reports to see which tickets were open. I realized we needed to set some time for us to be together and unblock those problems internally.
"If I am going to work with people who follow this culture and have the same principles I do, everything will be fine"
Now, we have a steering meeting in which we get together with some of our team captains and help them unblock problems. We go through tickets and see what we can solve. This is the proactive approach: trying to look at the data we have, identify what is taking too long to solve, and then talk to the team leads and provide them with a solution. In just three months, we have been able to automate two or three parts of the process, which helped tremendously.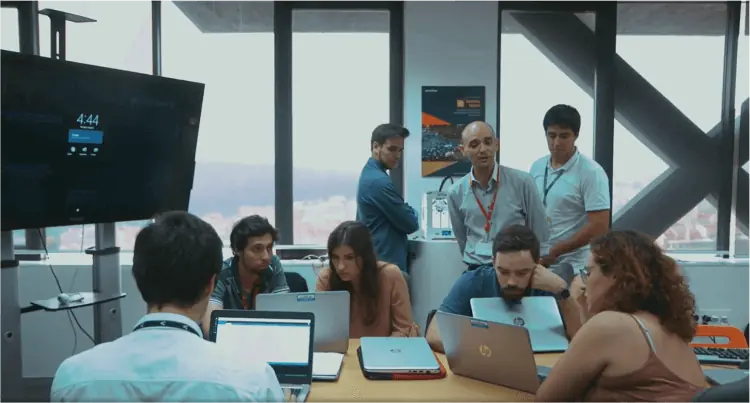 When did you first hear about OutSystems?
I'd heard about the company in college because we have job fairs and the company usually had a stand there. Most times, I skipped that stand. I thought: "Well, to work there, I need to be an excellent programmer, and I'm not, so I might as well not mess with them." [Laughs.]
But one day, while I was researching for jobs as a process analyst, I saw a job opening. I thought it was incredibly interesting that the company was founded by a Portuguese, and that moved me somehow. He [Paulo Rosado, the OutSystems CEO] was so brave for creating something like this in Portugal. But the job offer required years of experience, which I duly ignored. I didn't want to see it, I just looked at their requirements and felt like that offer was talking to me.
I decided to apply, but before I did, I looked into its value, mission, and culture book. And that was like going back to my struggling university years: it's not so much about what we're doing but who we're doing it with. If I am going to work with people who follow this culture and have the same principles I do, everything will be fine. I didn't apply to any other company, and I was lucky to be accepted at OutSystems. When I read more about it, I realized that the mission at OutSystems is to impact people's lives while challenging the IT market — it changed the paradigm.
The recruiting process was difficult, I admit, but I knew that it was hard because they value those going into the company and make sure that your role is meant for you. I didn't even think twice when I got the offer, I immediately accepted it.
"'Be helpful' is a rule that stuck with me. I convey that to others and even to those around me who don't work here and have never heard about OutSystems"
Having such high expectations, what was your first day like?
It went well. I got that little box [with swag and work tools] and I felt I was being cared for, which is essential. I spent my first day reading Confluence pages and deep-diving on them. But it's going really well, I'm enjoying it thoroughly, and people are super friendly and very approachable. And yes, we follow our culture book. "Be helpful" is a rule that stuck with me. I convey that to others and even to those around me who don't work here and have never heard about OutSystems. My friends ask me if I like the new job and I say: "I love it, and culture-wise, I have never seen anything like it!"
What do you enjoy doing in your free time?
I am a sports fan ever since I can remember, and I will try out everything, from volleyball to soccer. In my free time, I always save at least half an hour at the end of the day to go for a jog, ride my bike or work out at home. I was never a gym person, but I like to stay fit, especially for my mental health.
I recently discovered surfing and while I don't live close to the beach, I try to surf at least once a week. If you haven't tried it yet, please do, it's so cool! I love everything that involves water: I used to swim and now I want to get back at it. And surf, of course.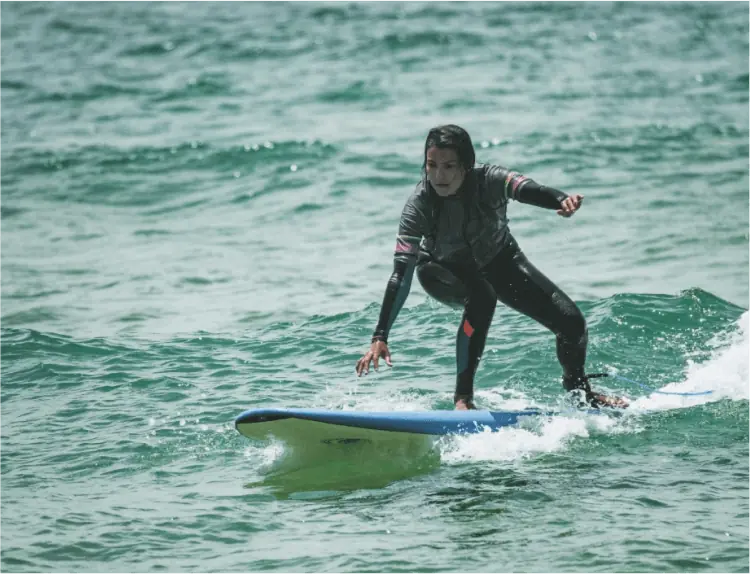 What's your daily routine like, and how do you feel about going back to the office?
I joined the company remotely and, unlike some colleagues might think, it's not that bad, I get more time to sleep [laughs]. I wake up around 8 a.m., I take care of stuff, and I'm on the computer around 9 a.m. I check emails and organize my day. I usually leave around 6.30 p.m. which still leaves me with enough time to exercise.
I'm part of the Lisbon office team. I'm super chatty, and I love meeting people and just being with them. I feel that working online distances us. I want to go back to the office, meet the team, get to see the office and its surroundings. But the main reason why I'm looking forward to getting back to an office is meeting people and working with them.
If I have a query, I won't reach out on Slack every time, but if I'm next to that person, they can guide me in the right direction. However, I also enjoy having the freedom to work from home whenever I feel like it.
At OutSystems, I don't feel like onboarding remotely has been that different because they still introduced me to the team. We still have get-togethers online, and we talk about stuff outside work, which is super important for our mental health.
While we're still working from home, can we see your desk?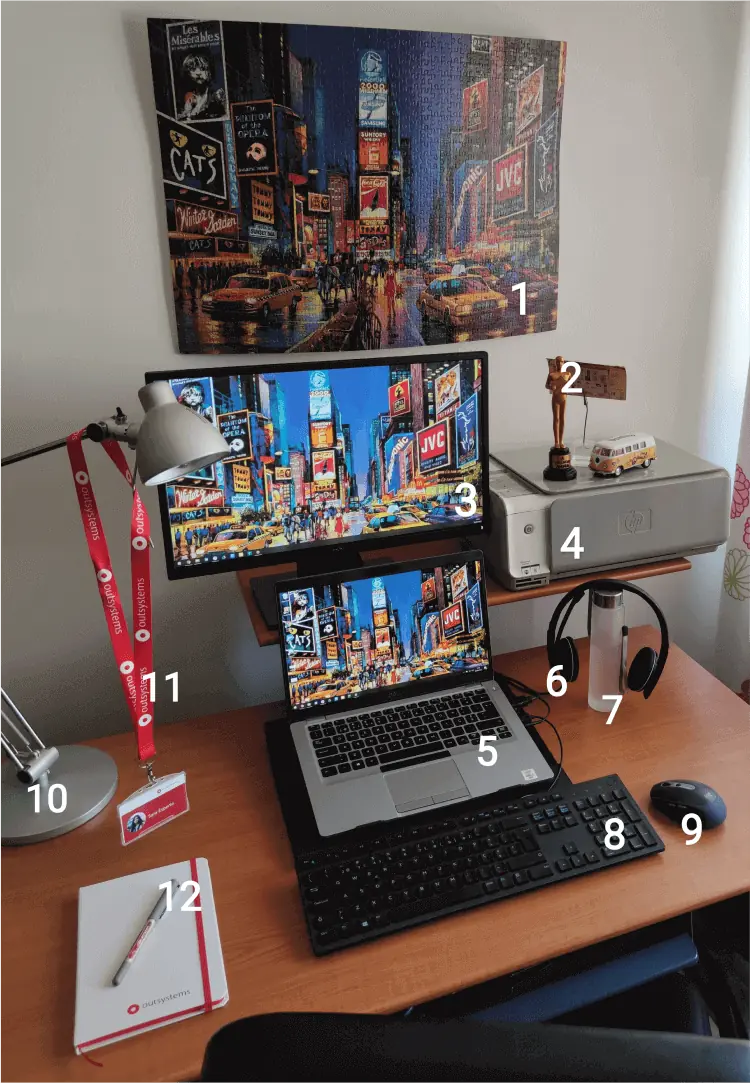 North America: a dream trip that's on my bucket list.
Gifts and recuerdos from the places I have visited.
Extra monitor.
Printer.
Work laptop.
Headset for calls.
Staying hydrated.
Additional keyboard.
Wireless mouse.
Desk lamp to shine a light on new ideas.
Access card to (hopefully) meet the team at the office soon.
Notebook to write down some thoughts.
---
OutSystems Engineering has a lot of interesting things to say! Be part of our conversation on Twitter or Facebook, or check out our job opportunities here.
Want OutSystems Engineering blogs delivered to your inbox? Click the Subscribe box below.