In this series of interviews, we talk to an OutSystemer from the Engineering team about their role, interests, and expertise.
Growing passionate, cohesive teams — and doing it very quickly — is one of two main challenges for Sílvia Rocha. The other is explaining to her family that spending the whole day in Zoom meetings still qualifies as work. Here, she talks about how you should run your daily calendar (instead of it running you), bike riding, and her favorite weekend activity: beach bumming. 
---
How did your relationship with technology begin?
I wasn't lucky enough to have access to a computer in my childhood, but I had to choose the area I'd like to progress to when I reached high school at 14. I became rather curious about technology. Those high school years sort of prepared me for the job market. I found it really appealing — the promise of how technology could change the world. I wanted to have a say in that. So, in the 10th grade, I enrolled in a specialized computer and tech course, and pretty soon, that same year, we were programming.
Once, in the middle of the class, my teacher came up to me, pulled me aside, and said: "Sílvia, do you have a computer at home? Are you programming at home?" When my answer was "no," that I didn't work with computers anywhere, but in class, she said: "You are a natural, you finish the exercises very quickly, you have a logical way of thinking that serves you well." I thought, "This is interesting."
"I felt like: wow, IT changed so many things in my life. OutSystems is a technology that, from the get-go, wanted to address the shortage of IT talent."
I stayed in that specialized course, and my grades were consistently very good until the end of high school. That made me eligible for a university scholarship. I received the most extensive scholarship available from the University of Porto, and that's how I ended up making it to college.
At university, I took on a part-time job as part of the Digital team and had the chance to meet amazing people who helped grow my love for technology. I was assigned all the usual Digital department tasks: solving supporting tickets, systems' administration, hardware maintenance, running Linux installation parties… It was bliss!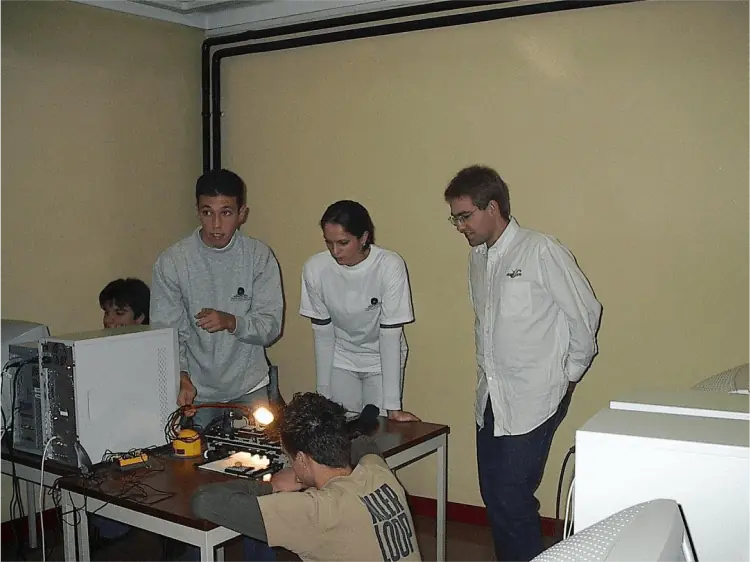 And how did you end up at OutSystems?
I've been working since I was 21 or 22. At the time, this was six years ago, I already had a reasonably mature IT career in some of the biggest tech companies in the north of Portugal. Then, one day, a friend of mine asked me: "Have you ever heard of this company, OutSystems, that is opening an office in the north of Portugal, in Braga? I'm going to put you in contact with someone who's going to explain to you what this company is all about."
After 10 minutes on the phone with that person, I was already in love with the company's value proposition [laughs]. It was all about making technology accessible to a lot more people and dramatically shortening lead times, allowing businesses to innovate faster. I felt like: wow, IT changed so many things in my life. OutSystems is a technology that, from the get-go, wanted to address the shortage of IT talent. It made it possible for those who are not specialized IT people to code and develop their apps. I felt that if the company worked, it could change the world considerably and have a huge impact. It's fair to say they had me from the start. I began the recruitment process, and it was the toughest and most demanding one I have ever been through. I realized that if I joined this company, it would mean I was good at this and that I would join an even better group of people. I wanted the job more and more throughout the process.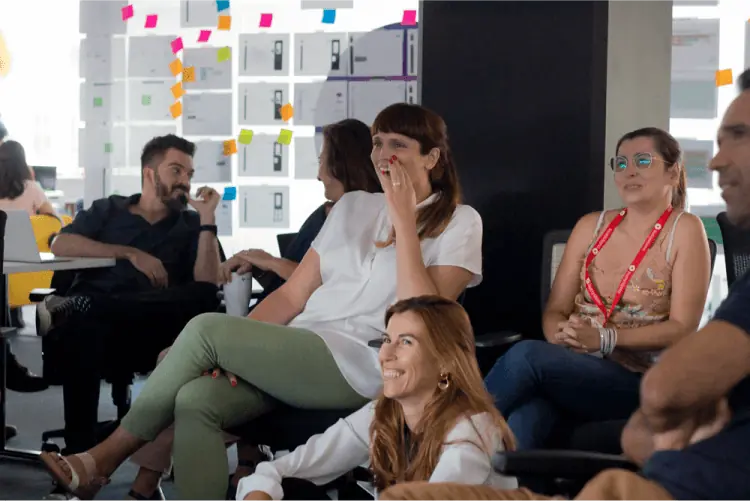 What was your role when you first started?
For the first time in my life, I began in the Customer Service department. While I was at university, even with a scholarship, I had to work part-time, so I worked at Portugal Telecom, where I did customer service. Other than that, I had always worked on the engineering side in IT, just building products, right? At OutSystems, I began as an engagement manager, so I had an assigned customer. I grew a lot in that department, and eventually led one of the most significant digital transformations we ever did with our technology. I'm really grateful for having started like this because I had the chance to see our technology through the eyes of those who need to use it. I had to accelerate the learning curve of our technology to leverage it to help customers. Through the customers' eyes, I could see and feel from the customers' standpoint the value and challenges of adopting our technology. So I believe that when I ended up coming to engineering a couple of years later, that this experience made me a richer engineering leader from having been part of a team at the other end of the chain. As someone who had always been on the engineering side, it was eye-opening.
"I believe that everybody who joins the engineering team, regardless of their role, should start with an onboarding in which they have to use our technology."
How can we bridge that gap between clients and software engineers?
That's a typical blindspot for engineers. I'm very grateful for having started my journey at OutSystems on the customer side because I was "forced" to bridge that gap. I had to understand it from the customer's perspective.
Here's what I think should happen inside an engineering department — and some of these things I've seen work to a fair degree of efficiency in the past, and some we are considering right now, in the senior leadership team: I believe that everybody who joins the engineering team, regardless of their role, should start with an onboarding in which they have to use our technology. They have to use our product, create applications with it, understand what's easy to do, what's not, and realize its value and why we're working in a two-decades-old startup that has reached the tipping point that OutSystems has achieved in terms of evaluation.
Our product is meant for the super hardcore, educated developer, and also developers with various backgrounds. After you're in the company, it's up to the management to ensure that the teams are focused on outcomes instead of outputs. That is something that's also picking up in the industry in the last few years, and it's a pitfall for old engineering teams: "I did my code, I shipped it, my work is done." This mentality is called output-focused, while the new mentality is outcome-focused, so you need to think about what that code enables customers to do. What was the value customers extracted for their businesses while using your output, your code? This transformation is happening in engineering right now, and it's something that needs constant reinforcement and communication so it becomes like a second skin.
"You have to be very empathetic to help people use our technology and extract value from it."
What does your role as Head of Growth at Engineering entail?
I've taken on this position recently, so I'm setting up a new engineering area to address product-led growth (PLG). This is all about the product selling itself so that prospects — prospects are potential customers — can access a free version of our product. With use, they evaluate it and decide whether they want to become a paying customer. Interestingly, my path within the company up to this point has helped me because what I need to achieve today is to accelerate the journey of these customers who start experimenting with our free product up until the moment they decide they want to become paying customers. Again, you have to be very empathetic to help people use our technology and extract value from it. The task is all about looking at our product and removing any impediments, any friction that these prospects may face when experimenting with our product. Also, making our product's value very obvious for them in the very early stages, as well as ensuring that those prospects create habits around using our product and continuously extract value from it up until they reach a tipping point when they think, "I want to pay now because I want more."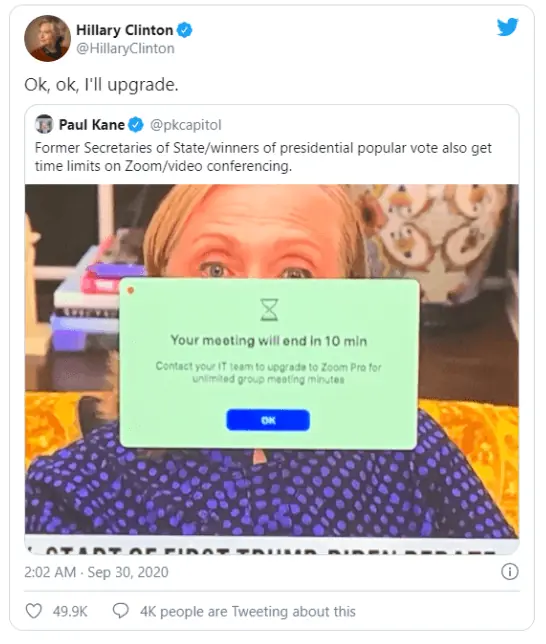 What are the main challenges and your favorite part of the job?
Engineering is going through an in-depth transformation. Not only are we scaling our department considerably this year — we're almost doubling our engineering unit — and we have to do it in a short time frame. While we're growing fast, we're also transforming the way we operate as an engineering department and the way we focus on outcomes to ensure we're helping the business. That is what excites me the most about my role right now: I have the opportunity to be in the driver's seat along with others to help this transformation, which is really interesting and something that I've never done before in my professional life. The biggest challenge from being under such rapid growth and transformation is ensuring that you grow with a cohesive team of people that are enthusiastic about what we're doing. I'm talking about positive people who are passionate about OutSystems technology and who will help improve and grow the engineering department's culture. That's the most challenging and also the most rewarding part, the people side.
What advice would you give to someone who wants to have a career in software engineering?
When I started, technology was very much a promise. It was something that existed for particular use cases, like banking, the military… Its reach wasn't obvious. Today, its impact is pretty clear, and all the businesses have moved in this direction. I think people should make the decision: "Do I want to be a bystander of this change that is going in the world, or do I want to have a say in that?" If you decide that you want to have a role in technology today, unlike 20-something years ago, tech companies have many roles. You don't need to start as a software developer if mathematics and logic are not your thing. You don't have to be a programmer to be part of this amazing social transformation. Get to know what those roles are if you're interested in being a part of the fantastic transformation technology is bringing about in society. And if you're a curious person, if you're someone who isn't settling and is eager to grow and move forward, I think you will thrive in technology because that is the DNA of successful people in tech. With the speed things are happening in the world right now, and the breadth of impact we're having in all areas of life, it's people with this kind of DNA who will thrive. Jump aboard, we need you! We're waiting for you with open arms!
"If you decide that you want to have a role in technology today, unlike 20-something years ago, tech companies have many roles. You don't need to start as a software developer if mathematics and logic are not your thing."
The OutSystems company culture is quite strong. As the company grows, how are we preserving this culture?
It has been a concern for us these past years, mostly because we're no longer in the office. When you're in the office, culture is more tangible. Everybody greets each other in corridors, goes for coffee breaks together, eats lunch, and everybody goes for a beer downstairs in the Lisbon office at the end of the day. I still miss it a lot.
We're trying to make up for not having that since the lockdown started. How do we do it? First, we have a kick-ass People department, we really do. I've said this many times during my years at OutSystems; I have worked in excellent IT companies my whole life. I always went for top companies, right? But I've never been in a company where caring for people and the focus on people was this clear and measurable, even. We're talking about OfficeVibe [a series of small surveys sent to the team to assess their satisfaction at work] and The Small Book of The Few Big Rules, which is a bible! It's our culture compressed into very few pages. It's written down, it's clear for everybody, we can refer to it, and we can use it in the hiring process, which I do.
When I'm hiring people and am trying to read the person on the other side, I attempt to understand how their values and how they communicate would align with those few big rules.
"It's the hiring managers who have the greatest responsibility to ensure that, yes, we need to grow very fast, but we need to grow with quality."
I put it to the test because the hiring test starts with a conversation but then you could — and you should — have some sort of exercise, so I also do a role-play exercise and challenge what the person is saying to see how they react. Are they open to constructive criticism? Are they collaborative? Do they rely on compromising when there's a disagreement or just trying to force their point of view very bluntly without listening to others? This is a massive part of how we try to preserve our culture.
At the same time, it's the hiring managers who have the greatest responsibility to ensure that, yes, we need to grow very fast, but we need to grow with quality. We need to look at someone and question: would I like to work with that person? If the answer is "yes," they're going to come on board even if they lack technical abilities. If the answer is "I'm not sure," it means you wouldn't like to work with that person, and they're not going to be a good fit for your team.
As part of the management team, what's your daily routine like?
One thing I do is continuously recheck my priorities. "Continuously" is the keyword here because I learned early on that I need to manage my calendar instead of letting my calendar manage me. And of course, there's always the unexpected; life happens, there are changes all the time, meetings pop up, and this is why it's essential to revisit priorities regularly.
I always start my day looking at my priority list, and I like to write tasks down and highlight them in red if they are top priorities [laughs]. The morning goes by quickly, and then it's lunchtime. When the kids are with us, we make sure we sit down at the table and spend some time with them, see if they need help with classes [Portugal is still currently on lockdown due to the pandemic]…
And then, the rest of the day goes by, it's 7.30 p.m. and me and my husband [who also works at OutSystems] start screaming at each other from across the room: "It's enough for today, let's stop [laughs]!"
At the end of the day, we go for a walk, a one-hour walk. That's our thing. It has been the thing to help us maintain some sanity during the lockdown. The time we spend active outdoors is now something that we like to monitor; I use Strava and I love it. We monitor how many times we went for a walk or a bike ride. On weekends, we always go for bike rides, we love bikes. It's a new thing for us that we introduced during the lockdown last year.
I have something like 10 to 15 meetings per day, some only take 15 or 30 minutes, but others are longer. When you're on the management side and growing a career in management, a lot of your time is spent on meetings. You're organizing, providing direction, aligning; you rarely work alone. If we're kicking off some topic, we reserve an hour and work something to prepare and share with others, but the way that issue evolves demands a collaborative effort with people. So you have work meetings, alignment meetings, decision meetings…up to the point that our youngest said: "You're always in meetings, when do you get to do actual work [laughs]?" And she's only nine. It's funny, but yeah…
What do you enjoy doing in your spare time?
I already said biking. I love biking; I love walking because you destress, you're exercising your body, and it's very good for your posture. But bike riding is a sense of freedom, you feel the wind, and whenever you're going downhill, you feel like you're on top of the world. I've also been doing some meditation regularly — not daily but more than once a week — which really helps me. When I meditate, I certainly feel more grounded and focused the next day; things are clearer. I'm trying to create a habit loop — like in product-led growth [laughs] — really instating the habit of meditating more because it's so helpful.
When do you do it?
At night. I ensure I have 15 minutes just for myself, door closed. For many years, my favorite hobby was being a beach bum [laughs]. I love the ocean, it's like oxygen for me. When I lived in Porto, I lived right by the sea, it was a 15-minute walk. Here [in Lisbon], it's further away, so I miss it. Before the lockdown, we went to the beach almost every single weekend and just stayed there. It's something that helps me in ways I don't quite grasp. And when I don't go for about two weeks, I start scratching myself because something doesn't feel right [laughs]. I have a collection of beaches in Portugal and outside Portugal that I love to go to. I take pictures and add them to my collection.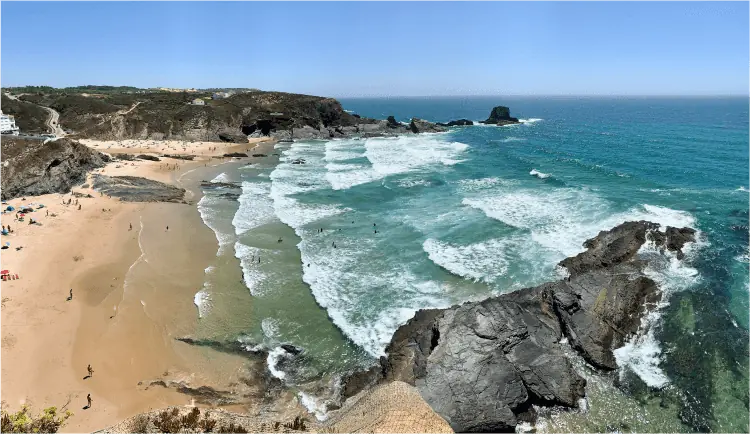 Please share with us some of those hidden gems.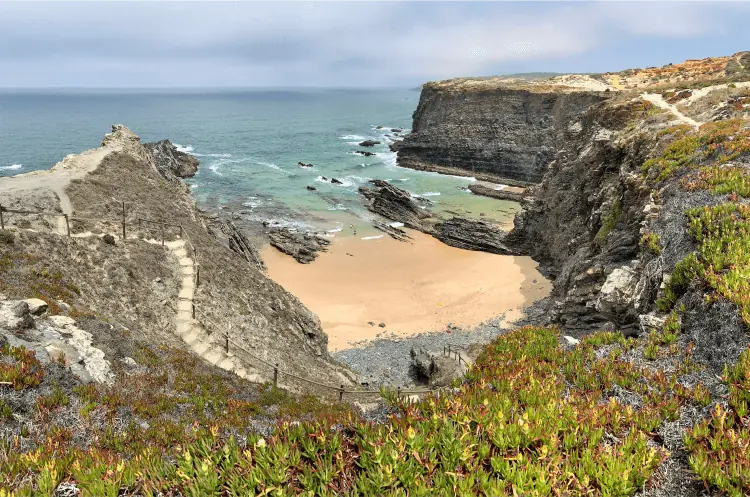 Alentejo, oh… Alentejo. And the Vicentine Coast. I also like forests and national parks a lot, but in Portugal, everything other than Gerês is almost disappointing. Last year, we went to the Vicentine Coast on vacation. And the food…
What's your favorite?
Seafood and fish. It's my go-to food.
Since we're all working from home now, can we see your desk?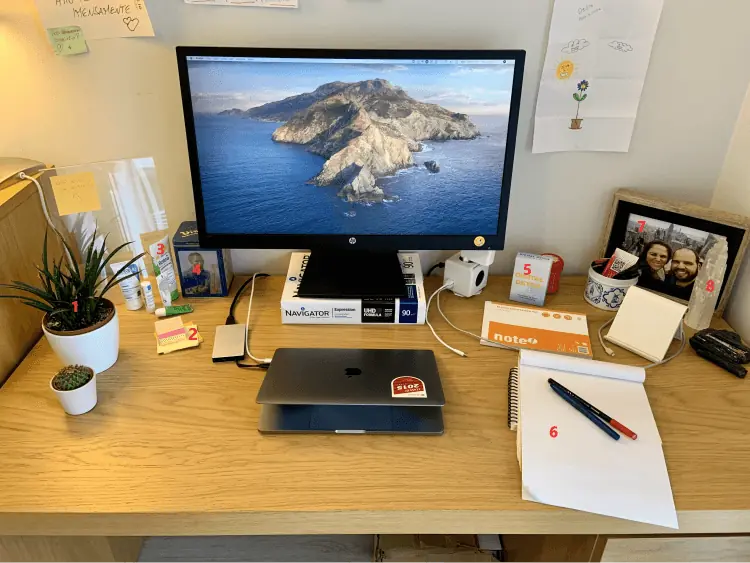 Welcome to my lockdown cockpit! From left to right:
1. Something green. The more, the better, but my cat won't allow lots of plants. By the way, meet Blue:
2. A post-it organizer that is always on the lookout for the hotter topics that require my attention.
3. Hydration freak: I'm a bit obsessed with hand creams and lip balms [laughs].
4. A great souvenir from the amazing program I ran when I joined OutSystems. The Customer is Dutch, and this Vincent van Gogh tin is embellished with four of his paintings.
5. A Digital Detox card deck we got from OutSystems, which has so many cool ways to disconnect and unwind.
6. Notepads: also a bit obsessed still with actual handwriting.
7. A picture from my honeymoon, the most amazing US road trip ever made by man and woman, hahaha!
8. On the left, we have plants, on the right, stones, because I love crystals. Well, nature in general, I guess… 
---
OutSystems Engineering has a lot of interesting things to say! Be part of our conversation on Twitter or Facebook, or check out our job opportunities here.
Want OutSystems Engineering blogs delivered to your inbox? Click the Subscribe box below.