Just recently, Gartner released its annual Magic Quadrant for Multiexperience Development Platforms (MXDP), which is to say that Gartner released its annual Magic Quadrant for Mobile, Chat, Voice Assistants, and Virtual/Augmented Reality and Web Application Development Platforms (MCVAVARAWDP?).
If you're weary of all the acronyms, you're in good company. Forbes contributor Jason Bloomberg, who regularly writes about digital transformation, equated the hpaPaaS nomenclature, to an "elephant sitting on a flower." In my head, it's a pink elephant, and I don't know why.
Coming from a software technology company, I understand the need to classify things, and I appreciate the fact that it can be challenging to put things into a particular box; hence, the need for multiple classifications into which, often, the same stuff fits. For example, the OutSystems low-code platform fits into Gartner's LCAP Magic Quadrant, a classification devoted to enterprise app development, and into Gartner's MXDP Magic Quadrant. In fact, we fit them both so well that we're multi-year leaders in the categories.
In an earlier blog announcing OutSystems leadership position in the report, we pointed out that the criteria for MADP / MXDP vendors evaluated for this year's report and the criteria for the previously released hpaPaaS report share some striking similarities. It's probably no big surprise to anyone in the industry that many of the tools used to develop enterprise applications are also useful in developing mobile and web apps, and vice versa.
Not to brag, but OutSystems is ahead of the game in this regard. Our low-code platform incorporates the best of enterprise-class app development (extensibility, one-click deployment, dependency checking), with the flexibility to build mobile and web applications that easily integrate experiential functionality such as geolocation, chat, camera, in-app notifications, and more.
While I don't believe Gartner is quite ready to throw a mixology party and combine hpaPaaS and MADP into the same glass (shaken, not stirred), some of the language in the MADP report points to some exciting developments on the MADP front.
He Didn't Just Say What I Think He Did, Did He?
The MADP report makes this statement: "Today, MADPs are still primarily used to address those diverse mobile app requirements, but they also increasingly support responsive web app development, conversational channels, wearables, and immersive devices (see "Technology Insight for Multiexperience Development Platforms")."
This leaves us wondering a couple of things:
If MXDPs replace MADPs, how long will it be until we merge all of the application development platform classifications?
If the answer to that first question is soon, will vendors have an opportunity to weigh in on the new acronym? Probably not.
So, what is this multiexperience developer platform Gartner references, and how is it different from the acronym bingo we already have to describe the many ways we can develop user-centric applications?
What Is an MXDP, and How Does it Make You Feel?
In the Gartner blog, Jason Wong describes MXDPs as app development platforms used to develop chat, voice, augmented reality, and wearable experiences, as well as mobile and web apps. (And that's why we suspect he wrote the statement we quoted in the previous section.)
Back in the MADP report, one of the inclusion criteria for vendors is that the platform has to enable development for mobile, web, desktop web, and mobile apps, and minimally support at least one more "experience" such as chats, wearables, and AR.
Feels a bit like the same thing, doesn't it? The only difference being that an MXDP supports more than one alternative experience.
The term "experience" is a noun and a verb. As a noun, it means "practical contact with." In the context of apps, that would be the app itself and its physical presence across devices. As a verb, it means to "encounter." In our vernacular, it is the sum total of the interaction; was it good; was it bad? Can you dance to it?
Maybe it's splitting hairs, but I prefer the old-school "multichannel" when talking about interaction points as a thing. Interestingly, the term omnichannel is frequently misused to mean multichannel, but omnichannel should be used as a verb because when done correctly, the user experience remains high regardless of the medium. (Also, omnichannel as an adjective includes a face-to-face, in-person, human-to-human interaction that apps can't quite deliver—yet.)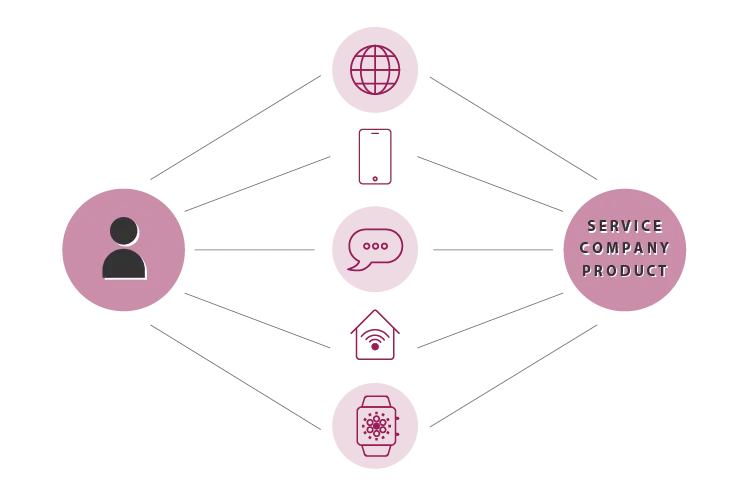 But keep in mind: just because a development platform can help simplify development across multiple experience channels, doesn't mean that the development platform does a good job at creating the experience (verb form). And the feeling should be equally as important as the medium. If a web application is great and customers love a brand enough to download its app on their mobile device, then it should look and work as well on their mobile, as they've come to expect it to work from the web. "Multi"ply that across the brand's chat, wearables, IoT, and channels as well.
Assuming you're on board with our "experience as a verb" idea; if multichannel is a "thing you experience," and omnichannel is a "way you experience things," then shouldn't an application development platform optimized for a consistent experience across multiple channels be an omniexperience development platform (OXDP) instead?
Pokin' the bear! Sorry, Forbes.
Putting the Customer Back Into Customer Experience
If we can back up just a minute, let's take a look at the description of what a MADP is according to Gartner: "Gartner defines a mobile app development platform (MADP) as a product or suite that offers tools, technologies, components, and services that constitute the critical elements of a platform to create mobile apps (.ipa and .apk binary files), as well as responsive web, conversational, wearable, or augmented reality (AR) apps."
This definition is broad in the components that make up a qualifying platform but narrow in the scope of delivery from a specificity standpoint. It tells us that a MADP needs to deliver on all of these tools, and functionality, and processes, but it doesn't tell us how well it needs to do these things, other than the net result is the ability to support a number of physical experience points.
To find out how Gartner feels about experiences (verb form), you'll need to check out their "User Experience Platform" (UXP) research.
But, how a customer feels using your endpoint applications does make a difference. And that couldn't be more true for technology organizations. Email survey marketing company, Customer Thermometer, says that six of the top 10 brands customers feel most connected to are technology brands: Apple, Nintendo, Samsung, Amazon, Sony, and Nike.
Think about all the ways you interact with these brands every day: physical devices (phones and TVs), mobile and web applications, watches, and fitness trackers. These are all necessary physical things that contribute to the success of the brand. But, the experience you have when you use these touchpoints, because of the software running on them, contributes mightily to your perception of the company.
A lot of low-code vendors focus heavily on the process side of their platform and how that generates benefits, or things, for the platform vendor's customers. That's no surprise given the top three reasons organizations buy MADPs according to Gartner:
To create internal operational efficiencies
To enable digital transformation
To reduce time to market for mobile apps
We talk a good bit about process, too. If you follow us or read our blogs, you've heard us talk about how we can improve development time by as much as 10 times thanks to reusable code and our streamlined design process. The things that our platform does for our customers have yielded a large and growing happy group, most of whom are more than willing to detail their experiences.
But we also try and balance that by focusing on our customers' customers. How can we make OutSystems better and more intuitive for our customers, who can then create better and more experiential apps for their customers, whether they be employees, business partners, or revenue-generators who buy things and tell their friends how great the brand's products are?
To Jason Wong, Thanks for Everything!
If you aren't already thinking how much of your budget you'll devote to customer experience, UX, and UI next year, here's something you should know. In Gartner's 2017 Customer Experience in Marketing Survey, which was released this past March, 81 percent of respondents said that in two years time, they expect to be mostly or completely competing based on customer experience.
In the broader sense, customer experience encompasses more than just your apps. But, your apps are often the first and most frequently used touchpoint a customer has with your brand. How do you quantify how someone feels about your brand, its presentation, and its touchpoints' usability?
OutSystems has a lot to say about this topic. Here are a few good articles that can get you thinking about designing and measuring for great customer experience:
A final thought: we have it on competent authority that MADP as a Gartner Magic Quadrant is probably going away, with MXDP assuming the mantle. We know from experience that OutSystems makes it easier for developers and IT teams to produce, regardless of the target audience. And we know that OutSystems helps developers create functionality and visually rich user experiences, so it makes sense then that the classifications for these platforms will see some consolidation.
Today MXDP replaces MADP. Tomorrow? Who knows. In the meantime, why not sign up today to check out OutSystems for free?