We live in an era where, in order to survive, businesses need to transform the experience of customers and employees and become a digital leader in their space. The pressure is on IT teams to keep up with the increasing app demand, while constantly adding new touchpoints and technologies to the equation. Today, you have mobile, you have web, yes, but you also have chatbots, echo devices, AI and VR—and the list keeps on growing.
So how can a company deliver the best digital experiences, while juggling its existing resources, budget, and constant business changes? Seems like an impossible problem, right?
To address these challenges, it's time to get real about low-code. And I mean really real. My question to you is, are you ready to see just what you can do with the OutSystems platform? If you are, then get ready for Real World Low-Code: Create Future-Proof Customer Journeys.
This March, our Solution Architecture team will share three, 29-minute demos on some of the most useful and functional applications and use cases for a low-code platform. No sales pitches and no gimmicks; just pure product demonstrations from experts. Skeptics be warned; you may feel guilty about not exploring low-code sooner!
Take a look at the agenda and register for your sessions here.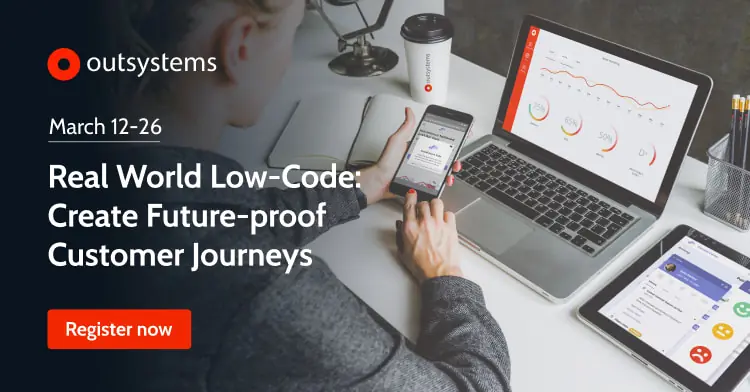 Low-Code Demos Agenda
March 12 - How to Build Progressive Web Apps Using OutSystems
Progressive Web Applications (PWAs) provide numerous business, and IT benefits, from reducing friction and increasing adoption and engagement, to simplifying the deployment and distribution of applications. Join this session to learn how to build and deploy a PWA with OutSystems.
March 19 - How to Build Intelligent Chatbots Using OutSystems.AI
Progressive organizations are deploying AI-fueled chatbots as a new channel to reach customers, increase satisfaction, and drive operational efficiency. Join this session to learn how to create a chatbot that integrates with AI cloud services using OutSystems.AI components.
March 26 - How to Build Smooth Animations for Web and Mobile Using OutSystems
Great animations go a long way in delivering mobile app experiences that feel and behave flawlessly. If you're struggling to create touch feedback and swipe transitions, feed-forward hints, navigation animations, or simple lazy-load "entertainers" using CSS and Javascript, this webinar is for you. Learn how you can make your apps even more engaging by creating animations easily and quickly using low-code—no hand-coding required.
Don't miss this great opportunity to see some of the amazing functionality available in the OutSystems low-code platform. Register today.