Do you want to really understand the "why and how" of OutSystems Platform to determine if it is right for your organization? Today, that discovery process became a little bit easier with the launch of our new OutSystems Platform Evaluation Guide.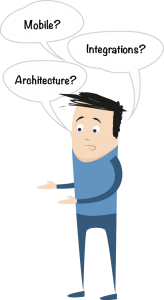 Obtaining a deep understanding of a technology product to determine if it is the right fit for you can be a real challenge. Navigating complex value propositions, understanding new ways of solving problems, and distinguishing between multiple vendors addressing the same issues is tough. This is why we recently shared The Full Guide to Low-Code Development. We are now taking it one step further with in-depth information about our own platform, designed for people discovering, researching, and evaluating OutSystems.
This information center is the definitive resource that answers the typical questions you might have when considering our product. From initial questions like Will OutSystems Platform allow the reuse of code? to more advanced topics like OutSystems Platform Architecture, the guide distills hundreds of conversations our customers have had with our teams into an easy-to-consume experience. We promise to be transparent and open about our product, so you can fully understand if OutSystems fits your needs.
So go ahead and explore over 100 articles along with our additional resources like our friendly community, support knowledge base, and training courses. If you can't find what you are looking for, get in touch and we'll be glad to help.