It turns out there is a Thing 4 after all! (Have you read Part 1 and Part 2?) It's in the IoT landscape!
So, in previous installments, we established that the Internet of Things is the transmutation of physical things into digital products that generate massive amounts of data — about their current state, location, usage. And these products can be accessed, controlled and managed remotely.
You could say that we're giving "dumb" physical products an intelligent digital "soul," which makes them more interesting. With these newfound digital souls, the IoT landscape extends outward to a large array of software and hardware vendors, system integrators, and infrastructure and security vendors.
So, all of a sudden, the Internet of Things has given birth to a myriad of new businesses with billions of connected things still to come this year, as well as in the next few years.
Growing in Beeps and Bounds
According to Gartner, 8.4 billion things will be connected this year. This is 31% growth from 2016.
In addition, Gartner projects the total spending on endpoints and services to be almost $2 trillion this year.
Greater China, North America and Western Europe are the main IoT drivers, representing 67% of its usage. That's a lot. Do you really think IoT is still a gray area? We don't.
Don't Crash Because You Only See the Tip of the Iceberg
You see, IoT is just the tip of the iceberg. It's an informer — the informer of the physical world. You have to be careful not to crash in the IoT landscape because you only see the tip. What's more important is what to do with the massive amounts of data that devices are sending and receiving. How can we use it? What can we learn about the physical world from it?
Give it some thought. Let it sink in for 30 seconds. OK, 60 seconds. Are you done?
IoT generates massive amounts of data that will let you predict trends and changes in markets, all with an end goal: enhancing our day-to-day lives. This data provides the ultimate connection between the physical and the digital world. And, it's crucial to attaining business productivity, to informing higher-level decision making, to getting real-time visibility.
The thing (4) is, you have to screen it through smart analytical services. You need to add layers of machine learning, deep learning. You must enhance it with virtual reality, augmented reality, with artificial intelligence. Otherwise it'll be just raw data that goes nowhere and leads nowhere.
A big chunk of this business relies on software: true enablement comes when you know what to do with all the data that is collected from the physical world. This is the reason why giant organizations like Oracle, IBM, Intel, SAP, Microsoft, Amazon, Google and many other SMEs and startups are highly focused on cloud, mobile, application platforms, data analytics and smart services. They want to make something big out of all this big data.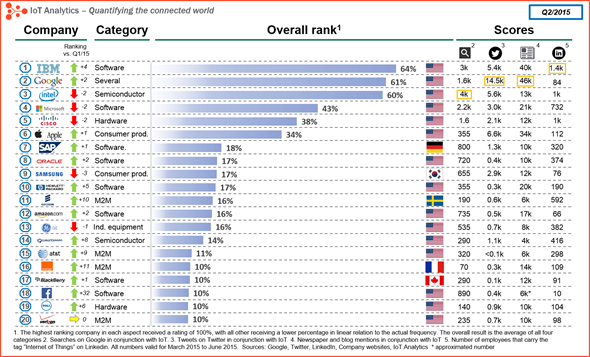 Must Be the Money
This is where the fun is. But those companies and services don't do it just for the fun: there's loads of money to be made out of this. IoT is no longer just a buzzword, it has become a commodity.
And they are trying to support, as much as they can, a seamless number of embedded systems, integration capabilities, and connectivity options, all while taking care of security and providing SDKs for different platforms.

When Traversing the IoT Landscape, Everyone Needs to Think of Thing 4
At the end of the day, this is why I truly believe every organization, no matter the size, should apply smart services in their business. Whether they're software tech or financial industries, smart services provide real-time and (hopefully) self-managed results to get (hopefully) automated insights about how things happen in the real world. We have to know when they happen, what caused them, what's the best decision to make based on that information and what to learn to prepare the future.
And, that is what this all boils down to. This is the future. The future has already started. You need to either embrace it, or catch up before it's too late.