Web Summit, the largest tech conference in the world, was held in Lisbon from November 6-9, 2017, near our Linda a Velha office. The OutSystems team was there, helping attendees relax and checking out what CEOs from tech giants like Oracle, Tinder, Slack, and Reddit had to say. Here are our top 5 takeaways from too many Web Summit sessions to count.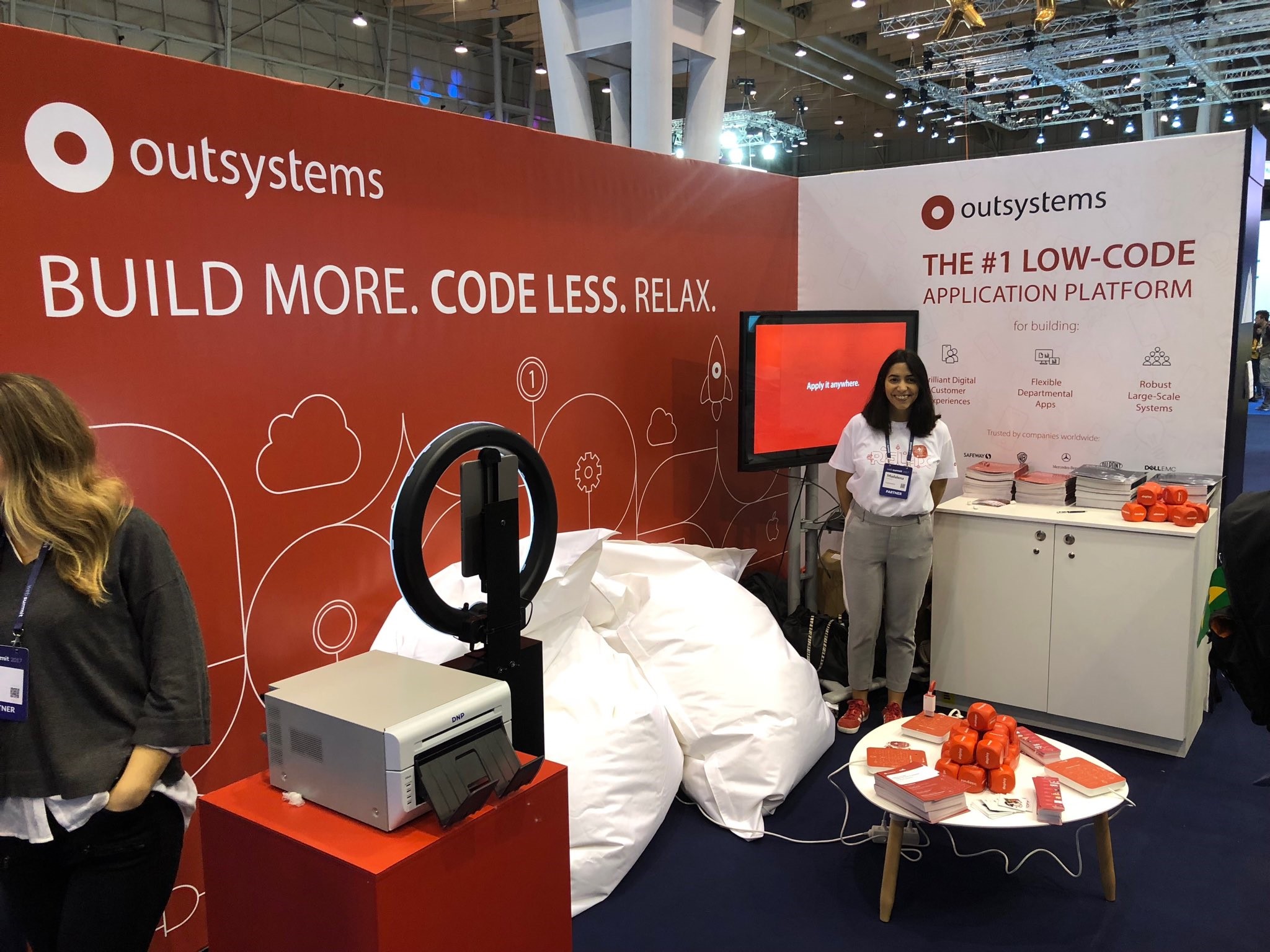 1. To Mobile or Not to Mobile? That Is Not the Question
Businesses and enterprises are going through radical transformation. New technology, bots, employees and mobile experiences are at the core of their transitions. For that reason, many industries have a mobile-first approach. But, is mobile first the right way to go?
OutSystems CEO Paulo Rosado was one of the 1200 speakers at Web Summit and he took on this topic in his talk, "Is Mobile the Future of the Enterprise." His answer is no. Our focus for digital transformation should not be on the vehicle of experience, but the experience itself.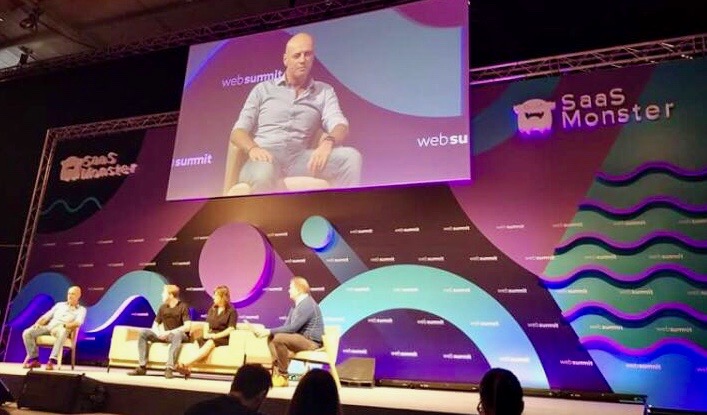 He mentioned that the most successful projects he's seen our clients build started with this question: "What experience do you want to digitalize?" The result is usually a mixture of experiences and a collection of contact points. He used Facebook's dark launching process as an example. Facebook launches experiences internally first, collects comments and ideas based on the launch, and then starts releasing features and updates to the world.
OutSystems offers a unique low-code approach for clients interested in dark launching. When applications need to be modified after the internal launch, OutSystems acts a gatekeeper to guarantee zero-error deployment with impact analysis and self-healing, integration with testing tools and application feedback for continuous delivery. In addition, OutSystems enables users to provide feedback right in the app.
2. Know Your Web Summit ABCs: AI, Big Data and Cryptocurrency
We are in the golden age of innovation. But, is that really true? We all know that the biggest innovation this century is…. the fidget spinner. Okay, maybe not. In all seriousness, this generation's moon shot lies in learning a new set of ABCs. These ABCs are AI, big data and cryptocurrency.
To some, the emerging technology is scary. To others, it's the future. It's no lie that global security risks are causing uncomfortable shifts and making people concerned as the technology evolves, especially AI and (big) data.
Max Tegart, a founder of the Future of Life Institute, urged us to take a two-pronged approach of being optimistic and proactive about the A of the ABCs. "I'm optimistic that we can create an awesome future with artificial intelligence if we do our homework and get the answers we need by the time we need them."
Mark Hurd, the CEO of Oracle had a slightly different perspective on the B of the ABCs. He said, "Security will not be taken seriously until there is a 9/11 of data." He added, "The line between the good guy and the bad guy is thin," and people are waiting to take advantage of vulnerabilities. He cautioned us to take security seriously.
Tim Draper, a leading venture capitalist, went full-on optimistic on the topic of the C of the ABCs. "In five years, if you try to use fiat currency they will laugh at you," he said. Does his opinion have merit? One of the largest cryptocurrency transactions was 82 million bitcoins. It occurred on a Sunday, for a mere fee of 4 cents. This could be the future. Nevertheless, there is huge potential for cryptocurrency to disrupt the market and change economies as we know them.
3."Is My Company a Car or a Horse?" If the Answer Is Neither, You Are Being Disrupted
So, what is disruption? How do we define it? That's a big argument. One opinion is that disruption means removing current barriers. The opportunity is to redefine what it means to you. In addition, there are many ways to disrupt. One of those is through fast communication and decision making. Another is with diverse teams you build for a purpose.
Walk the Fast Talk
The Co-Founder and CEO of Slack, Stewart Butterfield said, "People radically underestimate the power of communication for getting the job done." Progress is all about making fast decisions. And, to make those decisions quickly, you need effective communication.
Phil Gilbert, General Manager at IBM said it well: "In order to move fast, you need the ability to make fast decisions."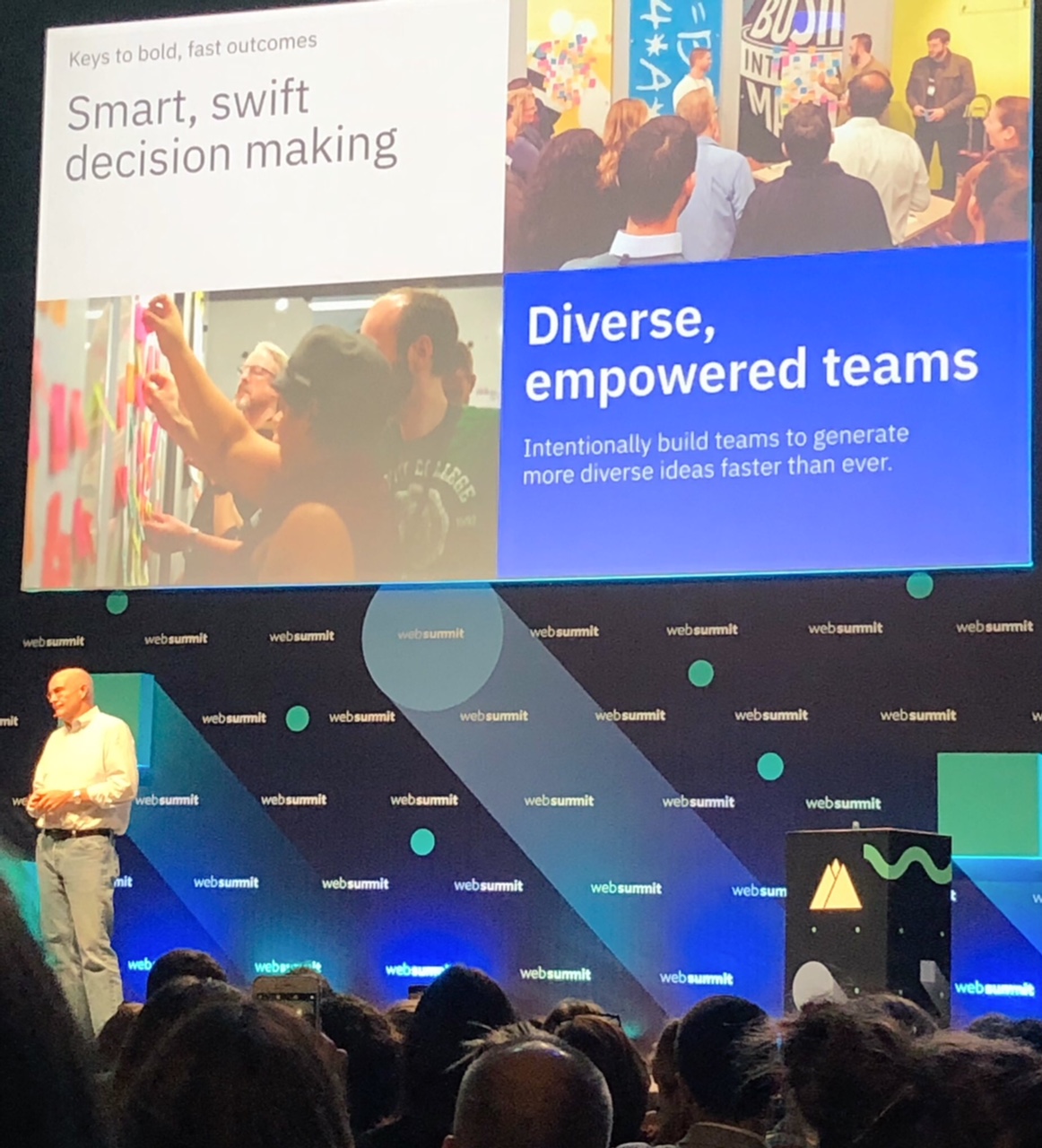 This is a similar theme that also resonates in the world of agile and design thinking. The Agile Manifesto took the world by storm back in 2001 and it changed how we build software forever. OutSystems has been using agile practices all along because it enables the speed needed to respond to disruption.
Welcome Diversity to the Table
For an organization to continually disrupt itself, it needs to have bold, fast outcomes that its users love. Teams should have whatever it takes to move fast in this user centered world. It's also important to build your teams based on intent and a diverse set of skill sets. "Diversity is disruption," said Lars Silberbauer, Global Director of Social Media at Lego in his Web Summit talk.
It's important to make sure everyone is at the table. Including all of the right people in the room at the right time is just the start. "Power isn't something exercised, power is the seat at a table. It's the power to listen."
If You Think You Have a Headstart on Disruption, Be Careful
Hubspot Founder and CEO Brian Halligran warned against "headstarts" in tech. Great products may now have a market headstart, but "headstarts are getting shorter and shorter." It is cheaper and easier (especially with low-code) than ever to start a tech company and today's disruptor might be tomorrow's Kodak.
4. It's the End of the Jobs Market as We Know It, and We'll Be Fine
There is a massive talent shortage in the tech industry. It was highlighted just recently in the news that there are fewer than 10,000 people qualified for AI research, for example. Not only that, but a recent report by Manpower Group showed that "employers are experiencing the most acute across-the-board talent shortage since 2007." And, among the top in-demand roles globally, IT staff ranks just behind skilled trades.
As a result, attracting and retaining talent will never be what it once was. The processes of hiring and learning new skills are being disrupted. Students who are graduating now will soon have jobs that don't even exist yet. Matt Brittin, Executive at Google, talked about the Digital Garage initiative which served as a resource for skill seekers.
"Over half of the jobs in the future are going to need some sort of digital skills," he said, and explained that Google is trying to meet that skills gap. He also shared the opinion that this new job market is a boon for entrepreneurship. "If you are an entrepreneur and you have a smartphone, you can reach 3.5 billion people. It's never been a better time to be an entrepreneur."
High turnover and problems acquiring talent can put your project at risk. Culture plays a role in this and is an incredibly important driving force today. Companies like Glassdoor have been game changers. It shows the power of a culture as a magnet that pulls in and retains employees - and, customers.
5. You Keep Using "Brand," But We Don't Think It Means What You Think It Means
It's an overly competitive market, and the customer is at the center of it. Building customer trust is imperative to establishing market presence. Serving the customer means thinking about what they want, and what you can do for them—not necessarily what you as a brand want. A number of Web Summit speakers took on the topic of customers and brand and shared insights from their perspectives.
This Time It Really Is the Age of the Customer
Some may say it's always been the age of the customer. But the unavoidable truth today is that people now have more decision-making power and ability to make or break brands than ever before. Therefore, you should remember that "brands are about people." As a result it's imperative that you manage every interaction to keep your brand intact.
Ragy Thomas, the CEO of Sprinklr, an enterprise experience management platform, had some great points based on this theme. Ragy gave us insight into how customer care is the new marketing, especially in the age of "always on" social media. He mentioned that people are influenced by peers and comments (online). And that "9/10 times what they say impacts someone else's decision." Meanwhile, in the "Best Brands of 2017" presentation, Jez Frampton, Global CEO of Interbrand, emphasized that brands are about people. People buy into brands.
Do you want proof that strong brands deliver superior business growth? How about this chart that shows the strength of brands and how the top brands outperform Nasdaq? Yes, that caused quite the buzz at Web Summit.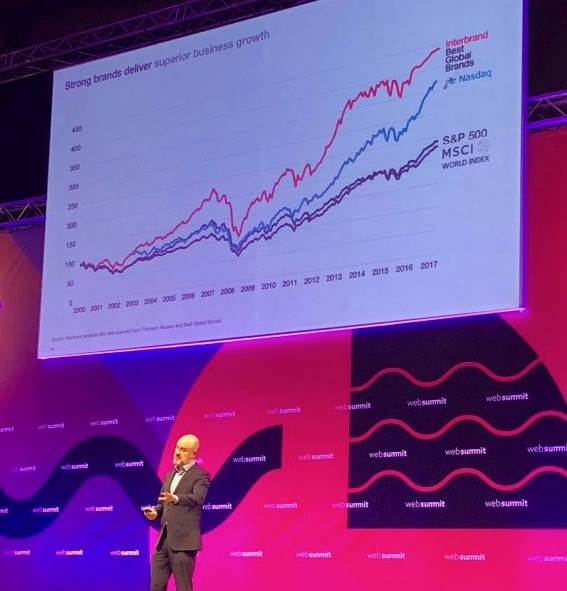 Mark Sandys, Global Head of Beer for Baileys and Smirnoff talked about how they instill the "spirit of innovation" (pun intended). It is embedded and embodied in their culture and customer experience. They also owe their success to trust, an essential building block.
The Human Element
In another Web Summit session, Uber investor and General Partner at Kleiner Perkins Mood Rowghani said "tell the human story of your business." Did Uber disrupt taxis or did waiting outside in the rain disrupt them?" In addition, observed Mood, "Uber captured the market because they told the human story of their business."
We have seen many companies struggle with fragmented and rigid systems that are far from customer-centric and are painful to change. OutSystems was founded to end that struggle. As a result, our low-code platform makes it easy to modify apps based on customer experiences. Moreover, analysts validate that this is the way to go. According to Gartner, "89% of companies will compete mostly on the basis of customer experience."
Jez Frampton, Global CEO of Interbrand, said it best: "Brands are where people, tech and business meet." And, stronger brands develop superior business growth. Everything is changing at such a fast rate. So, having a strong brand is a way to stay ahead. Especially when market growth is coming from every angle you can think of.
Ready for the New ABCs?
The speakers and sessions at Web Summit were inspiring. Not only that, but we think these takeaways demonstrate that low-code platforms will be more important than ever to the success of AI, big data, cryptocurrency and disruption in 2018.
Therefore, if you want to know what low-code can do for your ABCs, watch this two-minute video to see how it works. Or, schedule an online demo. And, you can even try OutSystems (it's free).