Nuno Teles, Service Operations Director at OutSystems, talked about the challenges of scoping and sizing an Agile project - two pitfalls that explain why Agile projects fail. Agile projects are not based on lengthy specifications and piles of documents. Instead, they are focused on a clear business need and on understanding and designing the simplest effective solution to address it. The challenge consists of sizing a project based on fuzzy and high level requirements.
At this point Nuno did a demo of the OutSystems Agile Network (now known as OnTrack), where he showed an entire project scoped in the web interface. To illustrate how scoping works, Nuno added a new story and some features to the project. When it came to sizing, everyone was amazed at how easily Nuno selected key parts of the story text and turned them into planned action items.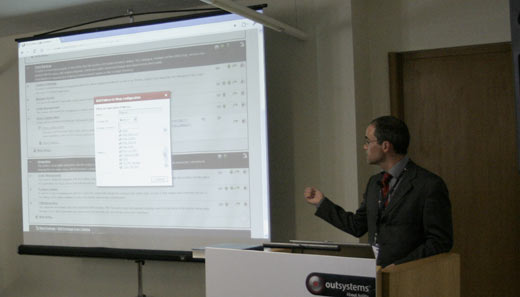 According to Nuno, OutSystems uses a long proven sizing methodology, developed, refined, and revised over 3 years and more than 400 projects. The methodology process consists of gathering requirements, organizing them into modules and drilling them down just enough to get an accurate sizing with an acceptable risk. To ensure transparency and alignment, all steps are made in close cooperation with the customer.
Nuno also added that having customer participation from day one is also a great way to ensure the Agile Methodology kicks in. The collaborative discussions during the sizing process naturally flow into backlog and sprint management performed during the project.
How do you manage the scope and size of your agile projects?