De Mandemakers Groep Builds Mobile App and Eliminates Manual Errors
1
mobile app for kitchen fitters
3,000
hours saved per year
Providing kitchens, bathrooms, and furniture to the Dutch public, De Mandemakers Groep's retail division has around 3,000 employees working in 250 stores under sixteen different brands—each with its individual identity and approach.
Using OutSystems, the group's small, central IT team set out to simplify the process of developing its applications, enabling rapid innovation and providing new services to customers and employees alike.
With two new applications up and running, the group has already reduced staff overtime by around a dozen hours a day.
Case Management

Customer Experience

Digital Core Systems

Field Service Optimization

Legacy Modernization

Mobile Applications

Operational Efficiency

Web Apps & Portals
Challenge
Dozens of Brands Under One Roof
Established in 1978, De Mandemakers Groep (DMG) is a Dutch household name. If you've ever bought a kitchen, bathroom, or any item of household furniture in The Netherlands, then there's a good chance you've been in a DMG store.
At the heart of DMG is an IT team responsible for developing applications and solutions for its three headquarters, as well as the dozens of brands that sell the group's products.
The department has a history of developing its own software. Since 1994, it's operated a bespoke ERP platform with an in-house developer team adding new functionality when needed. However, in a bid to become more agile and innovative, DMG sought a change.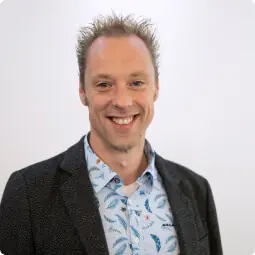 Looking at ways to quickly bring new capabilities to employees and customers, DMG began to explore a new approach to development.
"A couple of years ago, low-code platforms rose in prominence, and we decided to investigate," says Ramon. "We soon realized that a low-code platform would give us a chance to develop our software more quickly."
Why DMG chose OutSystems:
Increase professional developer productivity

Deliver customer-facing apps

Speed-up development and improve agility
Solution
Passing the Speed Test
After comparing leading solutions, DMG chose the OutSystems platform, impressed by its potential for rapid development.
Together with OutSystems partner Synobsys, the group set out to put the platform through its paces, developing an application for its retail stores. With just three weeks' development effort, DMG created an app that improved the in-store experience, providing shoppers with detailed product information, digital shopping lists, store locations, customer rewards, and more.
"We built the app in no time at all, which proved the speed of OutSystems," says Ramon. "So then we started looking at what else we could do."
DMG's measuring department was next in line for the OutSystems treatment. This team of 25 employees is responsible for visiting customers' houses, measuring the spaces where kitchens will be fitted, and identifying any potential problems before delivery.
Originally this was a paper-heavy process, with each employee working with around ten documents for eight or nine different customers a day. These documents would then have to be individually scanned and emailed to head office at day's end—all of which was done from the employees' homes. Those emails and attachments then had to be manually processed into the ERP system the next day.
With a new application built on the OutSystems platform, DMG removed paper from the equation and placed all these capabilities literally in the hands of the measuring team through a mobile app.
"With OutSystems, we were able to digitize this entire process," says Ramon. "We have reduced the opportunity for errors and dramatically reduced the time spent on documentation."
Partner
Synobsys Management B.V.
Synobsys has extensive expertise in a variety of markets: government to medium business SME and multinationals to international trading houses. By the personal approach and industry-specific...
Learn more about Synobsys Management B.V.
Results
Time, Money, and Resources Saved
With the new application, the DMG measuring department is now more efficient than ever, which makes for happier customers and more productive employees.
Fitters no longer have to return home to scan documents, upload pictures, and email everything to headquarters. This now all takes place in-app, which translates to considerable savings in effort and overtime payment.
"This process takes each of our employees 30 minutes, and we have 25 employees in the measuring department, so we're automatically saving around a dozen working hours every day," says Ramon. "That's around 3,000 hours a year, more than 1.6 FTEs."
The chance of costly errors has also been dramatically reduced. The app now alerts fitters if they've missed an item on a checklist, and direct access to pricing information means costs are clear and consistent. Customers get a far better experience, too, as they receive confirmation of measurements and specifications by email as soon as a measuring job is completed.
"I've bought two kitchens from DMG myself," says Ramon. "One through the old process and one using the mobile app. The experiences are worlds apart."
On the back of the success of these first applications, DMG is taking its development on the OutSystems platform a step further and working on two further apps.
One of these applications will use photos to report issues such as damage to furniture or incorrect truck loading. The second will provide a guided installation for bathrooms, and again eradicate the paperwork and outdated document-sharing processes associated with customer visits.
For a company with three distinct departments, hundreds of stores, and dozens of brands, DMG has plenty of room—and plenty of appetite—for ongoing experimentation, which means this is just the start of its OutSystems journey.
Already, though, the benefits are clear. "We want to try new ideas, we want to try them fast, and OutSystems is perfectly suited to that," says Ramon.