Gathering and maintaining accurate information about patients across hospital departments is crucial to patient safety and hospital efficiency. Advanced Technology Company (ATC), a leading distributor of healthcare technology services in Kuwait, worked with several top Hospital Information System vendors but could not find a satisfactory solution. In partnership with OutSystems, ATC developed a complete hospital management system that can be deployed in weeks and customized for any healthcare organization. The new system has reduced patient registration times; decreased duplicates and errors in patient medical files; provided better coordination of care across hospital ancillary departments such as Radiology, Laboratory and Pharmacy; and offered in-depth real-time data to hospital administrators.
Hospital Management Systems Typically Expensive and Hard to Use
Challenge - Apart from providing excellent medical care, gathering and maintaining accurate information about patients is one of the most critical jobs in an hospital - one that can save lives. Imagine the scenario: Mr. Rodrigues, a recurrent patient, arrives at Hospital X with a pain in his left arm. His records may reveal bad health habits or heart attack cases in his family. With this kind of information, the screening of Mr. Rodrigues' health situation is more accurate and moves much faster.
Unfortunately, many hospitals still struggle with gathering and maintaining patient information. Doctors and nurses are focused on patient care, not IT systems. Poor data quality can lead to low productivity, long reception queues, frequent patient errors, lack of communication across hospital departments, and a poor patient experience.
Advanced Technology Company (ATC) wanted to tackle this problem. Founded in 1981, ATC has established itself as a leading distributor of state-of-the-art healthcare products and IT services in Kuwait. ATC has nearly a thousand customers in the Middle East, including general and speciality hospitals, physician and dental practices, health practices and laboratories.
ATC faced several challenges with hospital management system implementations. First, it was time-consuming, taking between two to five years. Second, it was expensive, draining hundreds of millions of dollars in budget. Typical hospital management systems were built on legacy technologies, resulting in complex, hard-to-use solutions that demanded a lot of training for doctors, nurses, technicians and administrative staff.
So, the issue was not simple. ATC needed to develop a solution that could:
Optimize communication between hospital departments, physicians and nurses
Reduce human dependency and enable paper-free hospitals
Reduce medical errors and promote evidence-based care
Provide immediate access to patient medical history, data and images
Reduce the number of cancellations and delays
Support mobility as required by doctors and nurses
Enable fast rollout times in hospitals
Ensure high user adoption and reduce training needs
While searching for the ideal technology, ATC came across OutSystems low-code enterprise application development platform. Its visual development tools, intuitive designs, ability to integrate with existing systems, and seamless delivery across web and mobile platforms made OutSystems the perfect fit to bring a revolutionary solution to life.
"With more than 25 years in the IT business, OutSystems technology by far exceeds any productivity and reliability I have come across. OutSystems allowed us to realize true agility that helped us build very complex systems that were not possible or feasible using traditional technologies."
With OutSystems, Enterprise Application Development is Easy and Intuitive
Solution - In partnership with OutSystems, ATC developed Sapphire HMS, a complete hospital management system that can be deployed and customized for any hospital or healthcare institute in weeks or months instead of several years.
Started in 2013, Sapphire HMS offers highly customized user experiences specifically tailored to reduce the need for training and to increase productivity of a hospital's administrative and medical staff. It allows a patient's data to be digitally available across all hospital departments, from management to pharmacy, laboratory, and other departments, thus providing a true omnichannel experience for healthcare facilities. It offers a unified patient view and manages hospital workflows for outpatients, inpatients, emergency and pharmacy. This way, hospital directors also know what is happening in the hospital in real-time, from the number of occupied beds and appointments to the number of surgeries and emergencies per day.
Here's how it works: A physician defines a prescription or a treatment plan for a patient and adds the data into the system in a very recognized and intuitive user interface. With that data, nurses are able to consult the treatment plan and register all administrations, along with all relevant information about the patient and/or a specific medication. This information is always available for the physician and he or she can follow up with the patient's progress remotely, without having to go to the nurses.
Sapphire HMS can also link hospital data to pharmaceutical management information, enhancing the hospital's medication management efficiency. Nurses and pharmacists can avoid mistakes and integrate pharmaceutical needs for each patient, improving drug dispensing processes, preventing prescribing errors and lethal drug-to-drug interactions, and fully controlling the stock of medication across the hospital's supply chain, from central warehouse to the patient bed.
In addition, Sapphire HMS provides a smartphone app for patients and potential patients of the hospitals. This allows patients to comfortably, easily and securely access a hospital's Sapphire system to manage their appointments, interact with healthcare providers, simplify prescription renewal, and access their Personal Health Record (PHR) at all times. The hospital and its doctors can also use the same system to communicate and engage with their patients.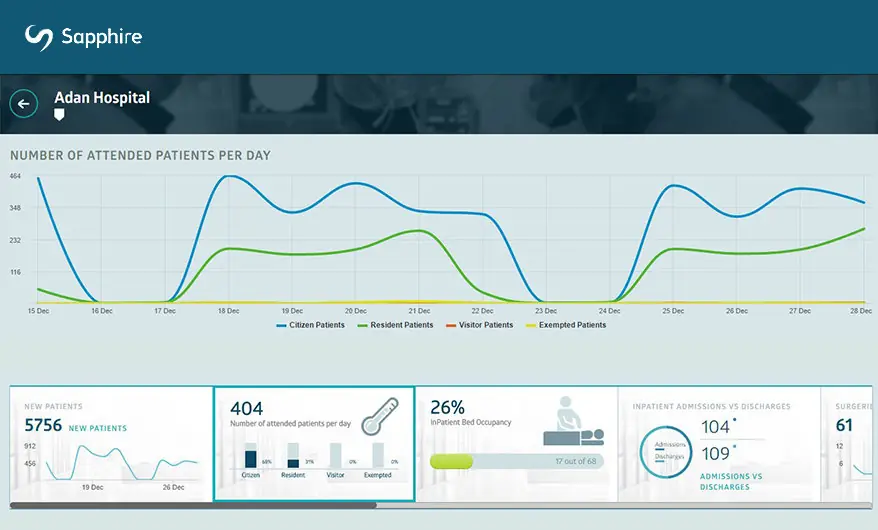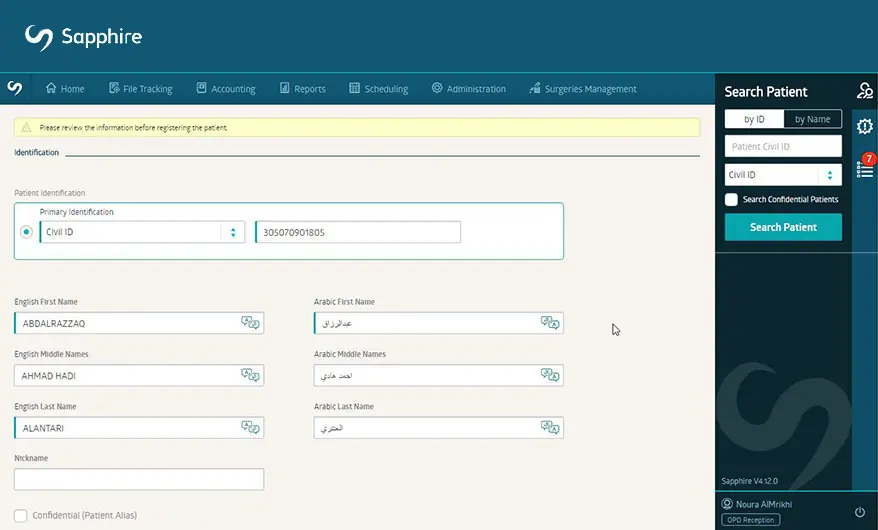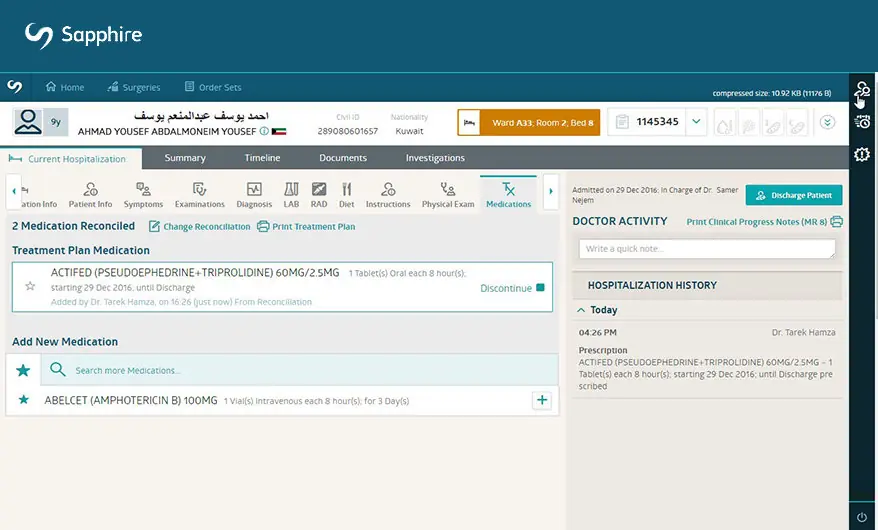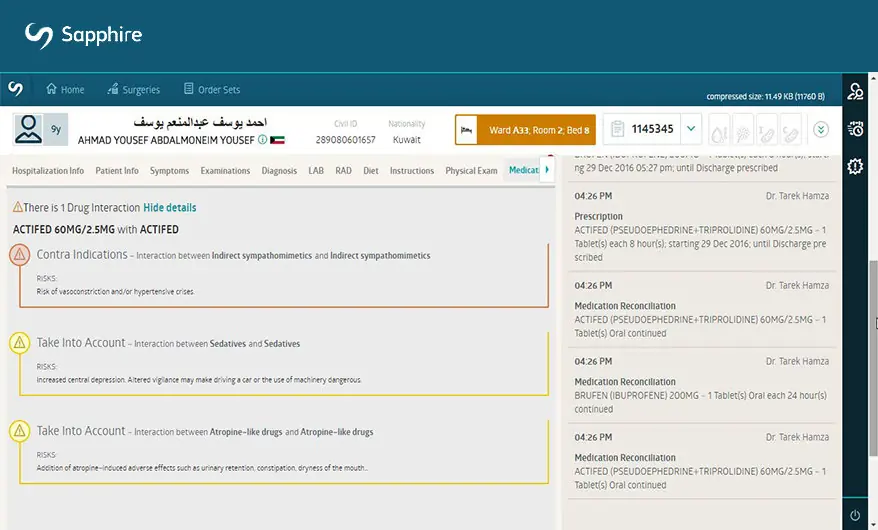 ISVs
Market Winning Products
Bring products to market faster. ISVs partner with OutSystems to develop and update innovative products that satisfy demanding customers and evolving markets.
Sapphire HMS Produces Amazing Results for Hospitals
Results - Sapphire HMS only takes weeks to a few months to deploy, versus several years using a traditional HIS system that is not built with a low-code platform.
With the help of OutSystems, Sapphire HMS has completely revolutionized the healthcare industry in Kuwait. ATC is already receiving prospects and plans to roll out the solution throughout the Middle East.
"We kept hitting the wall with limitations on delivering what the (Kuwait) Ministry of Health needed in its facilities. We have to deliver applications of high complexity and at customized functionality and integration. OutSystems simply provided that."
These are some of the main gains:
5x decrease in the waiting period
Decrease from 10 minutes to 25 seconds to register a patient
Decrease in system licensing cost
Twice as many patients seen
No need for training of end-users which allows easy on-boarding
A 60% reduction of duplicates and errors in patient medical files
Access to real-time analysis with industry-promoted KPIs (hospital management can see in real-time the number of patients, appointments, surgeries, available beds, etc.)