Medical Technology Provider Medtronic Improves Patient Care with Digital Heart Monitoring Service
80%
less data for health care professionals to review
>450,000
sessions triaged
Millions of connected implant devices constantly collect data from patients around the world. And yet healthcare providers often struggle to extract timely and actionable insights into patients' wellbeing and make proactive interventions.
Medtronic, the largest global medical device company, chose OutSystems to build FocusOn™, a remote monitoring and triaging platform for cardiac conditions that saves clinical staff time and ensures better outcomes for patients.
Case Management

Operational Efficiency
Innovation Awards
Winner 2020
Challenge
A New Platform for Life-Saving Heart Monitoring
Medtronic is no stranger to healthcare innovation. From a humble start as a medical equipment repair shop in 1949, it rapidly rose to the forefront of the industry, creating the world's first external battery-powered pacemaker in 1957 and continuously developing new devices and therapies ever since. Today, Medtronic offers technologies such as implantable cardiac devices, spinal implants, automated insulin pumps, and other devices that support treatment for over 70 chronic conditions.
Medtronic devices play a crucial role in the healthcare of millions of people worldwide—and those with connectivity are constantly generating thousands of data points that can be shared. In particular, its devices that monitor cardiac rhythms and device diagnostics upload data to Medtronic's CareLink™ network up to once per a day, presenting an ideal opportunity for clinical staff to track patients' health and intervene proactively when they need medical care.
The challenge lies in finding a way to put relevant information in front of clinical staff without swamping them with too much data or adding extra analysis tasks to their already considerable workload. Healthcare institutions simply don't have the staff, skills or tools required to manage this continuous flow of data.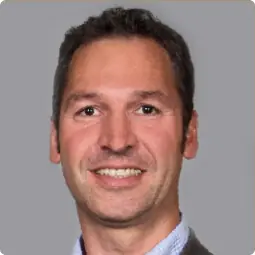 For Medtronic, meeting this challenge signifies a digital shift for the business: "Everything we do at Medtronic is about alleviating pain, restoring health and extending life—and the way we do that is evolving over time," says Karel Nouwen, Senior IT Director, Digital Business and Digital Health at Medtronic.
"Originally, our work was all about delivering equipment, but nowadays, to deliver better outcomes for patients, products have a digital dimension too."
This change in focus led Karel's team to start building a dedicated platform that is used to monitor and interpret the data from Medtronic devices, triage cases that need immediate attention, and alert clinical staff when intervention is required, without overloading them with too much data.
Why Medtronic chose OutSystems:
Strong track record in the eHealth sector

Enterprise-grade scalability and security

Speed-up development and improve agility
Solution
Build Rather Than Buy Proves the Pain-Free Solution
Medtronic built version 1.0 of FocusOn™, its IoT-enabled monitoring and triage platform, using a third-party off-the-shelf eHealth platform—but the team quickly realized it was too hard to customize to their specific requirements.
To overcome this, the Medtronic team started planning and budgeting for a major upgrade using an application development platform. Thanks to a strong track record in the eHealth sector, versatile capabilities, and vital built-in security features, Karel's team chose to work with OutSystems.
To protect the sensitive data FocusOn™ handles, Medtronic chose OutSystems Sentry—a SOC2 Type II compliant cloud platform. As Karel explains: "We wanted a secure platform that would allow us to build the capabilities we needed quickly and easily—and that's what OutSystems offers."
"With digital health solutions, you can't be sure how many patients are going to use the application. For some applications, it could be as few as 50—but for others could be up to 50,000 or more. We can use the platform to quickly scale without the need for an equally scalable wallet."
With OutSystems, Medtronic was able to take FocusOn™ 2.0 from proof of concept to production in just six months, with development support from OutSystems partner Noesis. And because it's built using OutSystems, Karel's team can rapidly and simply make adjustments to the platform as their requirements evolve. As an added bonus, using OutSystems has reduced the IT budget needed for the program by around 50 percent.
FocusOn™ takes data from patients' implanted devices from Medtronic's CareLink™ network. It is then analyzed and flagged for any abnormal cardiac rhythms, device diagnostic issues, or other concerns. Abnormalities trigger an automated workflow that notifies the patient's healthcare provider, and allows them to follow up in the most effective way, whether that's an appointment or an immediate intervention.
Noesis is part of Altia Group, with over 3 500 professionals operating in seven countries: Portugal, Spain, the Netherlands, Ireland, Brazil, Chile, and The USA. Noesis is one of the oldest...
Learn more about Noesis
Results
Connected Healthcare Saves Time and Improves Patient Care
With FocusOn™, 80 percent of the data collected from cardiac devices are filtered out from the data feed for healthcare providers. This means they can use their time more effectively to evaluate and treat high-risk cases, with around 20 percent requiring follow-up within 48 hours.
Since its launch in June 2016, FocusOn™ has triaged over 450,000 data transmissions from patients in 13 countries, saving 35 years of clinical staff working time.
New clinics can get started with FocusOn™ in as little as 15 minutes. As Karel explains:
The response from Medtronic's clinics has already been hugely positive: "Outsourcing to a reliable, trusted partner who can process this data and get the information to make sure that our patients are well treated and safe is of tremendous value to us," says Dr Amir Zaidi, consultant cardiologist at Manchester Royal Infirmary.
After the initial success of the project, Medtronic's team is optimistic about the future of the platform, expecting a steep rise in adoption as they onboard more clinics and patients.
"This is still a young initiative, but the first results we've seen are hugely promising," says Karel. "And, at the end of the day, we're helping patients get better care, and making it easier for clinical staff to look after them. That's the most important thing."