Online Application Process Mercy Ships Develops Online Application Process, Ups Volunteer Submissions by 20 Percent in First Two Months
In less than six months, two Mercy Ships staff members developed an online volunteer submission process that allowed them to leave paper applications and manual data-entry behind and reduced volunteer application times from days to hours. Now, with a 20 percent increase in submissions, the organization is poised for even greater growth and looking to integrate OutSystems into future web-based applications.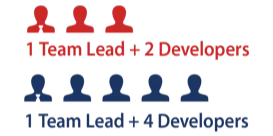 An Easy Application Process Improves Accuracy and Increases Productivity
Challenge - Drawing volunteers from more than 40 countries, Mercy Ships recruits for a wide variety of positions, each requiring a unique skill set. Lacking an online submission process, the Mercy Ships Human Resources Department was faced with an antiquated and inefficient recruitment system in terms of both manpower and accuracy. Once received, applications were reviewed and manually entered into the database, increasing the potential for error on top of the challenges of deciphering handwritten and poorly transmitted documents. Adding to this was the fact that applications could be submitted even without such critical information as health records or special licenses.
Further compounding the difficulties, recruitment applications were of a "one-size-fits-all" variety, forcing an individual such as a deckhand to wade through the same application process as a surgeon.. Mercy Ships needed a format that made sense from a user standpoint and allowed for full integration with its legacy system and database. Additionally, it needed a customizable solution, offering flexibility to meet the needs of the wide range of occupations and various skill sets for which they recruit.
Why OutSystems?
Mercy Ships selected OutSystems to custom build this solution because:
it allowed for out-of-the-box integration with its existing database, an essential component for any solution they chose.
its intuitive interface and quick learning curve would allow the organization to tap internal resources and speed deployment while simultaneously decreasing the project's cost-critical for any nonprofit.
cross-browser functionality would mean reaching more potential volunteers.
Do you need a solution like this? Contact us!
Mercy Ships' Online Application Tool
Solution - Every applicant is taken step-by-step through the process that is customized based on the position for which they are applying. Based on how they respond to certain questions about their background, the application allows HR to gather crucial information such as specific qualifications or health records needed for the position. Thanks to a check-list feature, applicants gauge their progress and are able to return to the form when they have gathered any additional documentation they need to submit, without having to start the process over.
"OutSystems is in a unique spot by providing a development environment that makes it very, very simple for anyone to use. OutSystems allowed us to not only move our application process online, but also set us up to accomplish future goals."

Utilizing OutSystems, two Mercy Ships staff members were able to build an online recruitment tool that is intuitive. It aids applicants who have a wide range of skill sets and abilities to navigate the application process in a user-friendly digital format.
Solution Capabilities
User Intuitive
Houses large amounts of data
Healthcare grade security
"The online application tool captures all necessary information and immediately increased the number of applicants. OutSystems made our job easy."
Result - In the first two months since implementation, Mercy Ships saw an approximate 20-percent increase in the number of individuals starting the application process. Prospective volunteers can now submit their applications the same day, something that was next to impossible before. Because of the previous cumbersome application process, there was a , high abandon rate.
Today, it takes applicants on average between one and two hours to complete, even with a full complement of open-ended and health-related questions. Depending on the position, some applicants can complete the form in as little as 30 minutes. By moving the submission process online, the HR Department no longer receives incomplete applications - the new process captures all the necessary information prior to submission. The accuracy of an applicant's information has also increase exponentially as HR does not have painfully analyze handwritten forms.
Additionally they are now able to track a person's interest in a given position, and can be more proactive in reaching out to interested parties to help them complete the application if a pressing need exists.
Returning volunteers also benefit from the ability to update their profile, rather than resubmit an entire application each year--a major plus for an organization that attracts many repeat volunteers. Looking forward, Mercy Ships plans to expand upon this application's success and create an online community where people interested in serving can get in touch with past volunteers as well as those currently serving.
20% increase in individual applications
30 mins to complete full application process
Application process can be completed in as little as 30 minutes (as opposed to spending multiple hours on a single form)
All necessary application information captured prior to submission
Returning applicants can update applications rather than resubmit new ones