Sage's MyWorkSpace App Helps Colleagues Work from Offices Safely
Sage, the leader in accounting, financial, HR and payroll technology for small and mid-sized businesses, implemented a work-from-home policy at the start of the COVID-19 crisis. The company teamed up with OutSystems to develop its 'MyWorkSpace' app, which enables colleagues to book desks and meeting rooms.
Delivered in just six weeks, MyWorkSpace helps Sage colleagues return to the office under the company's Flexible Human Work initiative.
Mobile Applications

Operational Efficiency

Web Apps & Portals

Challenge
How to Streamline Development of Web and Mobile Applications?
Like many companies, Sage implemented a work-from-home policy at the start of the COVID crisis. The company knew that once restrictions allowed, it would need a way for colleagues to book desks and meeting rooms while adhering to social distancing and safety guidelines.
An intuitive mobile app—to enable booking, provide guidance to desk locations or meeting rooms, and allow check-in and checkout—was the obvious solution to this new business requirement.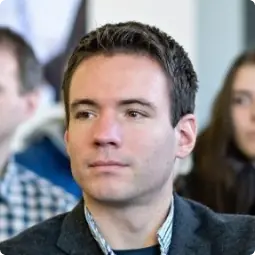 Sage has a well-established IT graduate recruitment program, and four graduates and one senior developer were already familiar with OutSystems. They had recently built the company's first in-house mobile app, "Colleague Hub," designed to streamline internal approvals.
Why Sage chose OutSystems:
Deliver web and mobile applications

Improve UX

Full-stack visual development with no limits
Solution
Reopening Offices While Safeguarding Colleagues' Health
Using an OutSystems Forge template and supported by a Technical Success Manager, who provided coaching on rearchitecting the app as a web application, the team delivered the first iteration of the MyWorkSpace app in just six weeks.
In the following months, regular updates by the development team added more features to the application, helping Sage colleagues return to office-based working while putting safety first.
Although they were working from home during the pandemic, the developers found that OutSystems Cloud helped them continue to collaborate, thanks to Cloud-first development and deployment.
Results
MyWorkSpace App Extends from Hot-desking to Car Parking
MyWorkSpace is available to around 11,000 employees across 42 international office locations. Features include:
The ability to choose an office location, date, and area
Automatic desk assignment
An interactive map that helps the user find their booked desk or meeting room
QR code scanning at desks to allow easy check-in
Quick and easy checkout
Notification when checkout time is imminent to vacate the space for cleaning.
MyWorkSpace also integrates into Sage's intranet, providing employees access to a comprehensive set of COVID-related information and instructions tailored to their office without leaving the app. Sage also simplified the desk booking process and built Sage-specific reports and dashboards.
The speed and agility that OutSystems provided to Sage's developers ensured that the application could be quickly updated as guidance and restrictions changed.