Launched in 2010, e-Court is the first online private court (arbitration) in the Netherlands. The e-Court self-built IT system makes it possible to offer a high standard of administrative justice at a low cost. The previous digital platform used by e-Court took 6 years to reach full maturity and hit the limits of development. They wanted to build a new platform from the ground up, using their experiences and inventory of client preferences. With OutSystems, they achieved this goal in just 6 months.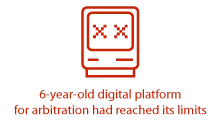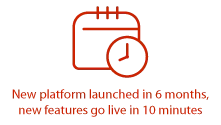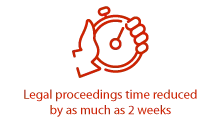 Innovative Court Proceedings
The Challenge - The new platform for e-Court had to bring all the stakeholders together: plaintiffs, bailiffs, defendants, arbitrators, and lawyers. In addition, e-Court had stringent requirements for security, scalability, speed, user-friendliness, and integration capabilities.
"Our new platform is an unprecedented digital innovation in the legal sector. OutSystems is tugging us into the future."
"Since the start of e-Court, the organization has been under close scrutiny," explains Jet Nakad, Managing Director of ITEC Services, the company responsible for handling IT for the e-Court Foundation.
"It is an uphill battle to achieve innovation in the legal sector. Lawyers prefer to do everything on paper and are always looking for risks and exceptions to the rule. They are the most critical audience to work for and to work with. Computers may be able to defeat grandmaster chess champions, but professionals in the legal sector still find it hard to believe that a computer can outsmart them. The notion that software could produce better verdicts than a human judge is widely rejected. This tendency to cling to the traditional methods of dispensing justice disregards the private citizens who face soaring legal fees because, for instance, they are 150 euros behind on paying their health insurance premium."
The legal proceedings between creditors and debtors are arranged via the e-Court platform. Debtors are also contacted by e-mail so they can review their case. They receive clearly written information about the proceedings and are able to log into e-Court and respond online. Using the e-Court platform, they can submit their defense online and upload their supporting documents. Once both parties have had their say, the arbitrator appointed by e-Court will issue a judgment.
"Computers may be able to defeat grandmaster chess champions, but professionals in the legal sector still find it hard to believe that a computer can outsmart them."
Pilot Project: Immediate Results
Solution - A pilot project using the new e-Court platform has been launched, involving a number of health insurance companies. Other service providers are submitting their cases to e-Court, and major webshops will shortly be joining the platform. Some of the 40 affiliated arbitrators took active part in the pilot stage; more will be added along the way. "We saw immediate results."
"Since the launch, we have seen the process shortened by as much as one or two weeks. The price difference between e-Court and the public district court starts from 35 euros and can easily go as high as several hundred euros per court case. Moreover, fewer cases go to court, because more settlements are achieved in comparison with the traditional administration of justice," Jet Nakad explains.
Build a New Function and Go Live in 10 minutes
Results - Christian Nyqvist, an independent IT architect, played a key role in developing the new platform. Johan Burgemeester from prominent international business and IT consultancy firm Atos supervised the test case. Nyqvist advised ITEC Services to opt for the OutSystems development platform to build the e-Court system. It was a departure from his usual thinking, since Nyqvist had previously always been highly skeptical about low-code platforms.
"My experience had been that many of these platforms were not able to deliver on their promises. OutSystems was a different story, following through on all their claims. Development with OutSystems was a very smooth process—partly because it is an intuitive system with a steep learning curve (quick to learn), but also because the community of developers is extremely active. You can consult the OutSystems forum for assistance and advice from other developers."
ITEC Services had also explored other low-code providers, but market research brought it to OutSystems. Nyqvist: "OutSystems ended up being the chosen provider, since it offers more options for architecture and how you build applications." Speed was a key advantage here.
"As an example, ITEC Services realized that they were missing a button in e-Court to dismiss cases. We literally developed that button and went live within 10 minutes," said Nyqvist.
Not only is the platform available online, it is also responsive, so it can be displayed effectively on mobile devices as well. The team, however, deliberately chose to not to build a native mobile app at this point, although OutSystems does offer the option. "The platform contains personal data and the legislation is still very much in development in this respect. That generates a lot of uncertainty. Accordingly, we do not yet want to have that personal data directly stored on the mobile phones of arbitrators and parties to the case in e-Court, even though you can secure the app with 2-step verification," says Van der Tak.
The chairman of the e-Court Foundation Supervisory Board, Mr. Ruud baron van Hövell tot Westerflier, LL M—former judge and previously the Vice-President of the Maastricht Court of Appeal—called the online court the "most far-reaching and logical development in the administration of justice in the past 150 years in the Netherlands."
OutSystems enables the organization to fulfil this promise even more effectively. Nakad: "It is unusual for us to encounter organizations that are even more future-minded than we are, but OutSystems has truly tugged us into the future. With our new platform, we will be able to make a difference for creditors and debtors alike. Especially for low-income households, this difference could be vitally important."