Are you still studying and enthusiastic about software development? Do you like to focus more on the solution of a problem, rather than the means to reach it? OutSystems is helping the next generation of developers to build their applications in a fraction of the time, free of charge. Join thousands of students already learning OutSystems and help us bring it to your school.
+15,000
Students from +120 universities
+1000
Students chose to become certified as OutSystems developers
+600
Students started working at an OutSystems customer/partner since 2019
What's in it for Students?
No-Code/ Low-Code market is expected to be worth $52B by 2024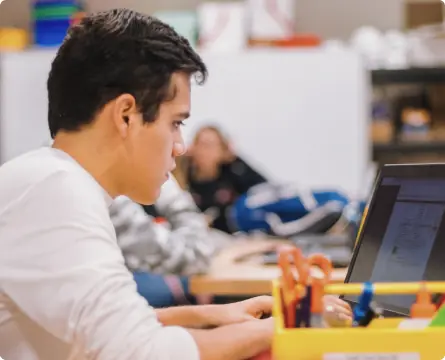 Learn an in-demand skill.
Access to hundreds of open vacancies from companies all over the world.
Produce and ship software fast
Get mentorship from OutSystems developers and tech leaders
Are you interested to know what student events are happening around your city? Contact us.
Testimonials from Students
"I learned so many skills during the OutSystems classes and really see myself working with OutSystems in the future."
Bruno Carvalho University of Engineering of Coimbra
"I fell in love again with developing software when I got to learn how to use OutSystems at my university. For students who like to focus more on solving problems rather than coding it's the ideal platform."
Miguel Braga Superior Institute of Engineering of Porto
"I learned OutSystems within a programming subject, but ended up using it to develop other applications for other subjects, because it was so intuitive to use."
Sofia Castro Universidade do Minho
Career Opportunities
OutSystems allows you to start and grow a carrer with no limits
Testimonials from Professionals
"I was initially reluctant to give up traditional development - but my fear of the unknown was gone within a week. I'm now a total convert. I feel like I can do anything I need much faster with OutSystems. That's a win for me and the company."

Rashid Anis
Senior Developer at BPL Global
"To beat the competition, we need to be the fastest. With OutSystems we got a powerful engine to move faster in the planning, execution and monitoring of all our commercial activities. In one statement: fast and furious."

Natanael Baptista
Natanael Baptista
"We have been teaching OutSystems to our students since 2016 with great results and the education license has allowed us to increase the number of students who learn the technology every year."

Jason Welch
Application Developer at Highland Solutions
Contact Us
Discover what OutSystems can bring to your career
Hello! Thank you for reaching out.
Someone from the team will contact you as soon as possible to guide you through our education program.