How fast is fast?
Table of contents
The challenges of delivery speed raise a crucial question: just how much time can application development and delivery teams save by using low-code application delivery? Ruby and React can speed development 6-10 times, but teams still have to build the app, do version control, merge code branches and so on. OutSystems also speeds development; however, the difference is that we accelerate the rest of the app delivery process along with it. The reason why we're so fast is our unique approach.
Customers report delivery is 6 times or 600 percent faster
---
In survey of 200 OutSystems users, TechValidate asked the respondents to indicate how much improvement they've seen in time to value for a typical application. For 44 percent, speed has improved at least six times. In other words, teams are developing, deploying, managing, and changing applications 600 percent faster with OutSystems than they could without.
For nearly 25 percent of the respondents, the speed has accelerated at least 800 percent. When using another type of platform, 21 percent of respondents reported that they needed just three months or less to deliver an app. After deploying OutSystems, however, that number more than triples, with nearly 75 percent of respondents delivering apps in fewer than three months.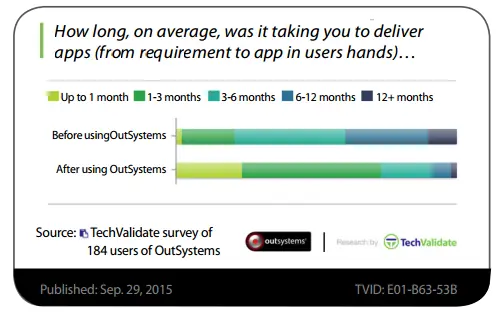 Why are we so fast?
---
One answer to that is visual modeling. It takes less time to model something in a visual editor than to type it in a text editor. However, what really makes us fast is the approach we take, which is stability through abstraction. OutSystems provides a stable environment for developing and deployment that abstracts application development and delivery from a significant number of variables, such as multiple platforms, integration, lifecycle management and tech churn. For example, HTML5 did not exist when one of our customers started using OutSystems 10 years ago, but now it does, and they were able to keep up because they had our product.