Intelligent Automation for Enterprise Developers. 
Full Stack. Modern Architecture. Secure to the Core.
Gartner Catalyst Conference 2019
August 12 - 15 | San Diego, CA
Trends are cute, but they are by definition, temporary. AI and machine learning, the blockchain, the cloud, microservices--these have all proven their staying power and deserve more than just a passing nod. If you're not already implementing some or all of them into your enterprise systems, architecture, or apps, you're already late to the party.
But don't worry. OutSystems has you covered.
OutSystems low-code application platform is built for professional developers on industry Best Practices, has the most capable AI/ML functionality available, and integrates with today's top developer tools to make application development fast, efficient, and secure. 
The #FutureOfCoding starts here.
Visit us in the TechZone to see OutSystems in action and learn how our enterprise-grade platform and its unmatched extensibility can help you be highly productive. While you are there, pick up some OutSystems swag and enter for a chance to win a Nintendo Switch!
Come hear from one of our Happy Customers as they talk about transforming their business with a low-code digital factory powered by OutSystems.
Refactoring a FinTech Business:
NES Financial Boosts Development Agility
Monday, Aug. 12 at 3:30pm (Hyatt Seaport A)
NES Financial pioneered some of today's most innovative financial services in the areas of private-equity, commercial real-estate, and EB-5 Immigrant Investor Visa programs. Using OutSystems, the company modernized and consolidated operations into a single, integrated, cloud-based platform capable of supporting critical back-, mid-, and front-office tasks; all in a fully secure and compliant environment. Join us and hear from one of Silicon Valley's most respected CTOs as he describes his processes, milestones, and lessons learned while building his industry-changing FinTech platform.
Questions?
Book a meeting with one of our experts from the All-Star Tech Team for answers.
Meet the OutSystems Tech All Stars!
Stop by the OutSystems Learning Lab (located in the TechZone) for in-depth conversations, lively demonstrations, and detailed technical sessions. #FutureOfCoding
From Sentiment to Satisfaction
Embedding Cognitive AI into Everyday Use Cases
Monday, August 12, 1:30 - 1:50 PM
Tuesday, August 13, 1:20-1:40 PM
Wednesday, August 14, 1:00 - 1:20 PM
Presented by Phil Bartholo
The power of IoT and AI are already used to improve our quality of life in ways most of us aren't even aware. How can we use low-code to put it all together into the things around us? Join us for a fun and informative (and tasty) session where we harness the power of NFC, cognitive services and OutSystems low-code app development platform to create a reusable sentiment analysis AI widget that is sure to make you smile!
Coding without Keyboard: Evolving the Art of Application Development with Low-Code
Monday, August 12, 2:10 - 2:30 PM
Tuesday, August 13, 2:00 - 2:20 PM
Wednesday, August 14, 11:00 - 11:20 AM
Presented by Taka Torimoto
The theory of punctuated equilibrium suggests evolution happens, not gradually and unnoticeably, but in short bursts with immediate and noticeable changes. Building applications by typing code has changed little in the past 70 years, but low-code is one evolutionary step that will undoubtedly change how we develop software. Come see the next burst in action--building code without a keyboard-- and how it will change an industry forever.
Taka Torimoto 
Senior Solution Architect at OutSystems

Taka's experience started primarily with 13 years of Embedded/Firmware and RTOS development while learning Web and Mobile development on the side, before settling into a more customer-facing pre-sales role. He just recently moved back to the United States from Japan after helping build-up an OutSystems team in Tokyo. 
Create Intuitive Customer Experiences using Chatbots
Monday, August 12, 5:50 - 6:10 PM
Tuesday, August 13, 11:00 - 11:20 AM
Wednesday, August 14, 1:40 - 2:00 PM
Presented by Mike Josephson
Chatbots work well when users ask direct questions (like "Who ya gonna call?"). Not as successful, are intent-based queries where the user is trying to elicit a specific response using less than direct language, "Aren't you a little short for a stormtrooper?" In this session, OutSystems demos an integration with Azure Bot Framework Connector that brings real chatbot business value to low-code development.

Mike Josephson 
Senior Solution Architect at OutSystems

Mike is a developer-turned-architect and low-code evangelist who is passionate about providing creative innovative solutions for his clients. He works with customers to analyze their business challenges and help them transform the way development is done. 
Digital Retail Banking:
Build & Deploy a Digital Bank Offering in 3 Months!
Tuesday, August 13, 12:45 - 1:00 PM; 6:00 - 6:20 PM
Wednesday, August 14, 12:30 - 12:45 PM
Presented by Hari Rusum
Join OutSystems partner Persistent Systems for this session to learn about their retail banking accelerator, powered by OutSystems, that enables smaller banks with limited budget and technology access, to design and implement a complete digital strategy within just a few months.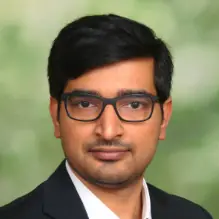 Hari Rusum 
Solutions Architect at Persistent Systems

For the past 10+ years Hari has been helping enterprise customers from various industry verticals and delivering digital transformation projects successfully using modern day technologies. Hari has specialized skills on Business Process Management and Low-Code platforms for web and mobile based applications. At Persistent Systems, Hari leads the centre of excellence for Low code platforms
Thank you for registering.
Your request will be followed up by an OutSystems representative as soon as possible.