What Are Fusion Teams?
A fusion team is a multidisciplinary team that includes people with diverse business and technical skills and expertise to accelerate the creation and delivery of digital products and services.
This concept was coined by Gartner and is all about collaborative development to break down functional silos and organize teams around specific business and customer outcomes with shared responsibility and success.
Why Fusion Teams Are Needed
Lengthy IT backlogs
Sluggish lead times that caused apps to be outdated upon release
The growth of shadow IT.
In recent years, these issues have been compounded by the need to digitalize business capabilities, the widespread tech talent shortage, and application development environments that require deep coding expertise and full-stack developers.
Business leaders who found themselves stuck in IT queues could not respond to customer demand, new opportunities, or changing business conditions quickly enough.
Typically, these leaders either did without a solution as they waited — which meant losing ground to competitors — or engaged in shadow IT.
When lines of business (LoB) develop solutions outside of IT's purview, these apps contribute to tangled, Byzantine technology ecosystems that are difficult to maintain and transform. They can also introduce risks in non-functional requirements, such as security, performance, scalability, and interoperability.
By enabling business roles to directly contribute as citizen developers in a collaborative, cross-functional team structure, enterprises can address all of these challenges while accelerating and scaling the delivery of quality digital products and services to customers and business users.
Benefits of a Fusion Team Approach
A few benefits of a cross-functional, fusion team approach include:
Driving innovation and enhancing the app development process by drawing together diverse skills and viewpoints
Shifting focus to business objectives and outcomes, rather than siloed functional areas and pet projects
Maintaining domain expertise throughout the product life cycle, rather than just at the discovery stage
Facilitating agile responses to future business disruptions and opportunities
Capitalizing on the expertise from individuals outside of IT or AppDev, helping to nurture talent and decrease staffing shortage effects
Bringing development closer to the point of value delivery, which is the point where the digital product or service is delivered to the customer or user
Dissolving shadow IT, poorly designed experiences, and technical debt
Increasing solution adoption and champions through shared workload, decision-making, and responsibility
Empowering business leaders to foster digital innovation while empowering IT to become more business- and customer-centric
How Do You Set Up a Fusion Team?
A fusion team is composed of team members from the business, data science, app development, product development, and other roles. Each person brings their unique background, expertise, and skills for a collaborative and more holistic approach to the digital delivery model.
In this approach, the entire life cycle of solutions are shared by line-of-business and IT employees, from strategy and development to outcomes. This approach maximizes scale, speed, and responsiveness, as well as engenders more purpose in work by strengthening the line of sight between work and outcomes.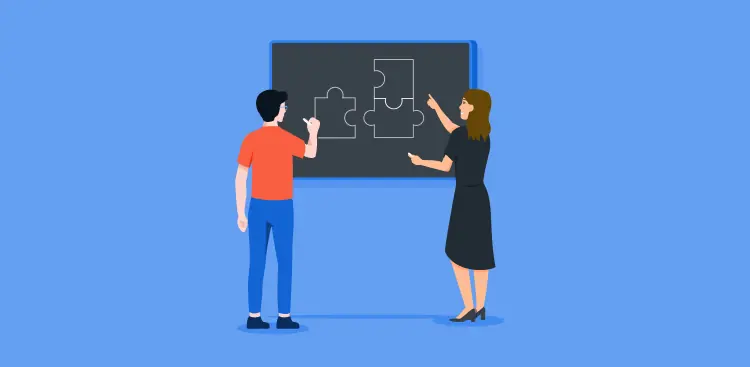 Companies often blend the fusion team approach with an agile software development model to gain agile benefits like deep, daily collaboration, accelerated development cycles, and iterative, continued learning and improvement.
To reduce the steep learning curve and coding expertise needed for traditional app development, many fusion teams empower their members with application development platforms. With visual modeling, automation, and AI, business people without coding experience and junior developers can make meaningful development contributions.
Nearly half (43%) of fusion team leaders report outside of IT, according to Gartner. Their responsibilities include strategy, roadmapping, and resourcing, as well as balancing the need for autonomy with the need for governance.
What Are the Challenges of a Fusion Team Approach?
As with any large shift in management strategy, some organizations face challenges when introducing a fusion team approach. These challenges may include:
Teams optimizing for just their own outcomes rather than broader enterprise goals
Weak governance and oversight, leading to unnecessary business and technology risks, such as poor data architecture and non-functional issues
A lack of clear leadership roles as digital delivery responsibilities shift from technology to business leaders
Suboptimal hiring practices, such as inconsistent skill descriptions, duplication of resources
Minimal communication of best practices and innovative ideas across fusion teams.
Best Practices to Successfully Embrace a Fusion Team Approach
To avoid these pain points when creating a fusion team culture, follow these best practices:
Cultivate "digital judgment." This Gartner-coined term refers to the understanding and articulation of technology governance, risk, and trade-offs when developing digital solutions. Nurture this skill in business teams through learning opportunities with governance and IT experts so that all fusion team members understand existing data and technology standards.
Collaborate with HR to hire more precisely. Fusion team leaders should work with HR to ensure job descriptions are uniform and make sense across teams.
Get leadership buy-in and promote a shared vision. Fusion teams break down silos and decentralize IT from digital initiatives. For this to work successfully, the CIO must be innovative and forward-thinking, and LoB leaders must be ready to step up and lead digital-first teams.
Communicate across fusion teams. Prioritize learning from one another with regular meetings to share best practices, innovative solutions, and resources that can be shared, such as technology or contractors.
How the Right Technology Can Support Fusion Teams
Key to enabling fusion teams to work at full capacity, with all members contributing to the success of digital products, is technology that can empower people who don't have a development background.
Low-code technologies are great assets to support this type of development.
In fact, according to the latest Gartner Magic Quadrant for LCAP, the pressure to enable fusion teams to implement a composable business is one of the key trends leading to a higher adoption of low-code platforms.
OutSystems, a leader in the low-code space, provides automation, AI-assisted development, and a visual IDE to make professional developers more productive, but also to support visual communication and cross-collaboration between IT and business stakeholders.
Concepts like composability and reusability are at the core of OutSystems to enable organizations to speed up innovation and close the gap between business and IT. Development teams can also quickly present a working prototype to the business to gather their feedback much faster and adjust accordingly, instead of going back and forth till they get it right.
This way, organizations can pivot new solutions to respond to market changes much faster.
To learn more about how OutSystems supports a fusion team approach, take a look at our webinar The Modern Dev Team: Collaborating to Quickly Build Great Apps.
To learn more about our platform, check our platform page.