What Is IT Democratization?
IT democratization refers to the process of making information technology (IT) resources, tools, and knowledge accessible to a broader range of individuals and organizations. It involves reducing barriers to entry and empowering more people to utilize and benefit from IT capabilities.
This puts the responsibility, tools, and accountability for digital solutions into the hands of business owners, not just IT.
To quote Gartner,
"41% of employees in an organization are business technologists — that is, employees who report outside of IT departments and create technology or analytics capabilities for internal or external business use. (...) These non-IT employees primarily use either a low-code or no-code approach to create analytics or technology capabilities, versus manual coding."
— Gartner® Magic Quadrant™ for Enterprise Low-Code Application Platforms
In an enterprise landscape, IT democratization is often associated with essentially two approaches: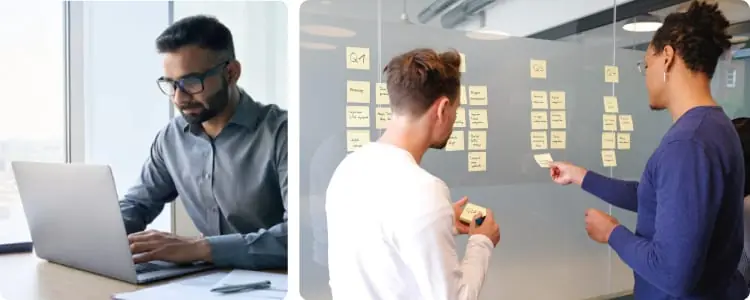 Citizen development: where business technologists, or citizen developers, are empowered to build the applications they need to perform their daily tasks more efficiently. This strategy is often enabled by no-code solutions or more basic low-code platforms. Note that without proper supervision of IT, citizen development can veer to shadow IT.
Fusion teams: where business stakeholders are involved in the development process through a multidisciplinary team that includes both business and development folks. Low-code also plays a crucial role in the success of a fusion team approach, but, unlike citizen development, it's enabled by more advanced and robust low-code platforms that are catered to professional developers.
What are the benefits of IT democratization?
There are several benefits associated with IT democratization:
Reduced IT backlogs and faster time-to-market: by spreading the responsibility for digital transformation across the organization, many teams can work on multiple projects at once. Development is typically accelerated as more people can work on digital projects; requests aren't piling up in the IT queue.
Better business-IT collaboration: digital projects are often waylaid by a lack of communication or understanding between developers and business sponsors of the project. By bringing development into the sphere of end business users — i.e., those closest to the problem or opportunity being addressed — key details aren't lost in translation. Adoption increases because the business unit feels ownership over the product and has not just a say in its creation but an active role in it as well.
Empowerment: IT democratization empowers individuals to take control of their digital lives and careers. It allows non-technical users to create, innovate, and solve day-to-day problems using technology, fostering a sense of empowerment and self-sufficiency.
Innovation and productivity: democratizing IT encourages a broader range of individuals to participate in technology-driven innovation. From a citizen developer perspective, it enables non-technical users to build applications, automate processes, and implement creative solutions, thus freeing IT to focus on complex, large-scale digital initiatives. From a fusion team's perspective, it drives innovation and enhances the app development process by drawing together diverse skills and viewpoints and involving end-users in the dev process.
What are the challenges and risks of IT democratization?
An IT democratization strategy that solely focuses on citizen development can negatively impact the business as it can easily veer towards shadow IT.
Without proper oversight, it can lead to:
Software that isn't properly secure and that is prone to breaches;
Apps that are abandoned when the creator leaves the organization;
Apps that lack proper functionality (such as interoperability and integration with other systems);
Digital products that end up being rewritten by devs when they become critical to operations.
This is why a fusion team approach to IT democratization is a better solution.
This approach leverages visual development technologies like low-code to bring business stakeholders to the development process and promote collaborative development. This way, it breaks down functional silos and organizes teams around specific business and customer outcomes with shared responsibility and success.
Looking to reap the benefits of IT democratization without hampering your business?
A high-performance low-code platform like OutSystems provides automation, AI-assisted development, and a visual IDE to make professional developers more productive, but also to support visual communication and cross-collaboration between IT and business stakeholders.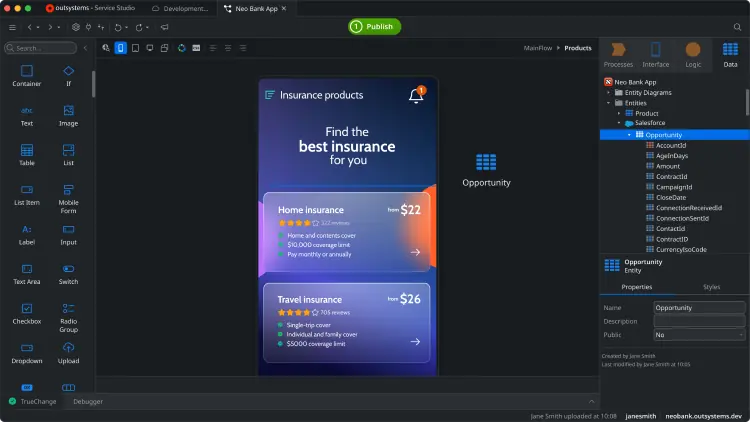 OutSystems development environment.
The OutSystems platform embeds governance with AI validation, cloud-native scalability, security, resilience, and performance so that every app is enterprise-grade.
To learn more about low-code application development platforms and how OutSystems stacks up in this category, download a complimentary copy of the Gartner ® Magic Quadrant™ for Enterprise Low-Code Application Platforms report.