In five months, Randstad consolidated multiple, highly-complex manual processes with a custom-built application and front end for medical staff payroll processes. With two developers, Randstad's IT replaced legacy Excel and paper-based business processes with a solution that seamlessly integrates workflows with an existing back office and ERP systems. The result was 100% user adoption and an immediate return on investment.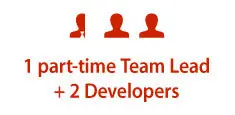 "We Needed to Dramatically Reduce Manual Effort and Integrate With our ERP"
Randstad is a global leader in the Human Resources industry and sees its responsibility as taking an active role in developing the industry. In 2011, they provided employment for over 576,000 people around the world.
Randstad manages the operations and administrative processes for medical staff placement in several healthcare units in Portugal. The processes include planning medical staff schedules, invoicing customers, timesheet processing, processing billable hours, and issuing payslips to the medical staff.
These processes required handling several manual activities, partially supported by multiple, disconnected legacy components, and loosely integrated with Randstad's ERP system. Quality and business controls required significant manual validations and auditing processes that hindered productivity and made it costly to grow the business.
For example, medical staff reported their hours to consultants via short email messages or phone calls. Every month each consultant required a full week in isolation to consolidate this information into timesheets that would allow calculation of payments and invoicing to medical staff and customers. During that week, more time sheets would arrive and would have to wait in a queue for the next batch of work.
Faced with these types of challenges, the business unit sponsored a new project to create an application that would automate and simplify business processes (scheduling, doctor's databases, payments and invoicing, timesheets, payslip processing, and auditing.) The project also had three integrations, including a custom built ERP and, most importantly, collaboration with other business units.
Why OutSystems?
Randstad's IT team selected OutSystems Platform for this project because they wanted the application to be future-proof and to allow rapid implementation of change requests as the business changed or required further efficiencies. They were interested in a technical solution that would not become an impossible burden to support. In fact, the ability to keep changing the application without increasing technical debt was the prime reason for selecting OutSystems Platform.
"We delivered a robust and cost-effective solution with a very aggressive timeline ultimately achieving 100 percent user adoption." 

This is the first project I've delivered with 100% user adoption.
Solution Capabilities
Customer management
Payments processing

Invoicing and payments rules definition
Automatic timesheet reports
Invoicing and payments processing
Auditing and reporting

Medical staff's salary payments and processing
Medical staff and availability management

Medical staff record
Availability
Alerts and notifications
Assignment of medical staff to end-customers
Staffing schedules

Self-service creation of schedules
Staffing schedules and shifts
Medical staff notification of their schedule via email and sms
Absences recording and reporting
In five months, using two developers, Randstad's IT team developed and deployed a solution that completely replaced the disconnected legacy solution.
With the new solution completed, the clinical business unit eliminated endless email approvals and out-of-date spreadsheets as well as integrated the workflow seamlessly with their existing back-office and ERP systems.

Randstad's staff now relies on this modernized solution to handle all placement and invoicing workflows, including doctors' availability management, end-customer and medical staff collaboration to create staffing schedules, billable hours payments processing, and medical staff's salary processing.
"We got an immediate return on investment. This solution enabled us to save time and resources that we were able to reallocate to tackle our growth challenges."
For Randstad's clinical business unit, fully manual processes (some taking a week of consulting work to complete) were centralized into an automated resource with 100% user adoption. Invoicing, timekeeping, and scheduling were once labor-intensive jobs that were prone to errors, but now they are performed automatically. This allows the business unit to reallocate resources into other areas in order to support business growth without immediately increasing headcount.
The medical staff's effort to keep track of their working schedule, billed hours and payments has been dramatically streamlined. In fact, Randstad's system is seen as an outstanding example by the healthcare units when compared to those of its competitors.
In addition to this, it is now possible for several branches of clinical business units to interact with the process through this system and the corporate ERP system, thus allowing top management to gather analytics and measure key performance indicators - facilitating better and more informed strategic business decisions.
100% user adoption
>3010 payment items /month
>300 doctors/month
16.6% increase in the overall business unit efficiency in the first month
Invoicing, timekeeping, and scheduling now performed automatically
An outstanding example when compared to the ones used by other providers
Facilitates better and more informed strategic business decisions