College Bound is a non-profit organization committed to providing promising high school students from under-resourced backgrounds with the academic enrichment, social support and life skills needed to apply, matriculate and succeed in four-year colleges.

In only 19 weeks, College Bound rolled out Bridgit, an OutSystems application that enables high school counselors to gather information about students' college plans and apply that information to prioritize their actions. Bridgit utilizes the data-proven power of checklists to help its users "perform complex tasks consistently and correctly," thereby increasing college enrollment rates. The pilot launched this summer at seven high schools and two college access organizations. Over 40 counselors are participating in this pilot for which College Bound secured 4,000 student licenses.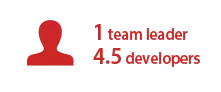 "We aim to make college a reality by preparing students to matriculate into and graduate from college, allowing them to positively contribute to society."
Challenge - Upon graduating from high school, college intending seniors face a plethora of complex tasks that must be completed during the summer in order to successfully matriculate to college in the fall. Tasks include loan acceptance, immunization reports, housing requests, registration, and orientation.
Despite earning acceptance into college, upwards of 40 percent of students from low-income families don't make it to campus. Some uncompleted task, or institutional barrier, derails their matriculation, costing our society billions in lost revenue and human capital. This churn, or "summer melt," is what College Bound attempts to mitigate.
Why OutSystems?
Sense Corp and College Bound selected OutSystems to custom build this solution because:
The application could be developed and deployed in the cloud, which would allow for instant elasticity and let developers scale from a few users to thousands.
High productivity and speed of delivery would enable a solution to be deployed in a short time period.
The application's easy UI would offer a quick learning curve, allowing teams to leverage their existing skill set and immediately make an impact on students' lives.


"It's so easy for counselors to coordinate their caseload, keep track of their students, and communicate instantly with them. This greatly reduces the risk of not enrolling. This is a game-changing technology!" 
"This is one of the most intuitive websites I've ever used in a school."
Solution - Working with an OutSystems partner, Sense Corp, College Bound used OutSystems to create Bridgit, an application that helps students navigate the complex path of college enrollment by automating task management and making communication easy.
Bridgit captures a student's progress via an algorithm-driven set of survey questions and then summarizes that information into easy-to-use and actionable use cases for students to task manage and for counselors to case manage.
"With this application, we are able to truly connect with students. It enables schools and access providers to offer better, faster and more efficient counseling."
The application also includes communication capabilities between counselors and students, and there is a detailed information library available to counselors and students to help troubleshoot and address expected barriers that occur over the summer college enrollment process.
The application is sleek and easy to use.
Solution Capabilities
Collaborative Task Lists for Students and Counselors
Integrated Mobile Messaging for Students and Counselors via Twilio
Students

Progress Dashboard
Tasks and Reminders
Messages

Counselors

Student Risk Scoring
Mass-text Messaging
Dynamic and Actionable Dashboards
Caseload Management
Tasks and Reminders
Student Profile
Student Activity Monitoring
Communication Log
Bridgit makes it so easy for me to coordinate my caseload and keep track of my students at risk of not enrolling. It's going to make my job so much easier this summer."

"For every one percent increase in college attainment in Memphis, we see a $1,000,000,000 impact (yes BILLION) on the Memphis economy."
Results - Bridgit creates value for students, families, counselors, schools, and college-access organizations. It provides clarity and support for completing complex, required college enrollment tasks. Bridgit provides an efficient and scalable solution for counselors to support students during the summer months leading to college enrollment. This keeps students on track for reaching their college dreams.
The Bridgit pilot has the capacity to affect 4,000 students in Kansas City, St. Louis and Ferguson-Florissant, MO as well as Memphis, TN. Seven schools and two college-access organizations are participating in the pilot, as are over 30 counselors.


First pilot 4,000 licenses
Students survey 15x faster
Student and counselor social collaboration
In just six days, 1200 students completed the Bridgit survey
Students now have clarity for the tasks they needed to complete
Huge time savings for the counselors freeing them to focus on problem solving
Survey multiple students at a time vs individual student interviews
Communicate with students via text