このWebサイトは日本語に翻訳されています。翻訳がないコンテンツは英語で提供されます。
Low-Code vs. No-Code Development
At first glance, it's easy to confuse low-code and no-code. They're both alternatives to traditional development designed to accelerate the software development process through functionality similar to visual programming. But they are not the same thing. From developer experience and targeted persona to use cases, there's a lot that distinguishes low-code from no-code.
In this article, we'll explore what low-code and no-code platforms are and what sets them apart, so you have information that can help you select the right technology for your business needs.
What Is Low-Code?
Low-code platforms are a type of technology that allows developers to design applications quickly and with minimum hand-coding by dragging and dropping visual blocks of code into a workflow to create applications.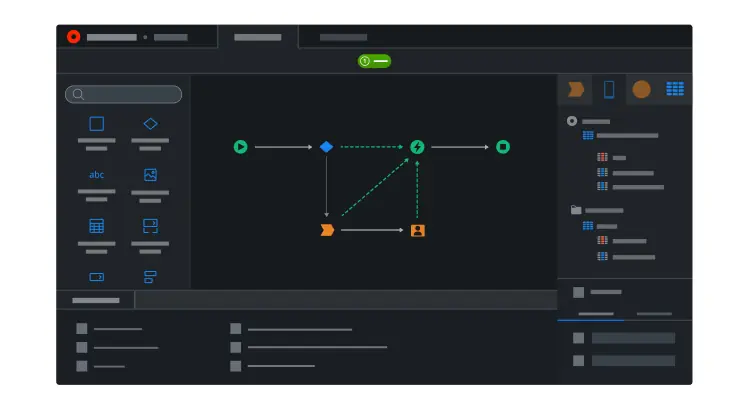 Although it might not sound like it, building software with low-code is the same as building software any other way. The difference is that low-code offers shortcuts to avoid repetitive and tedious tasks. So, rather than hand-coding a user management system, learning the latest programming framework, or writing 10 tests before a single line of your app's code, developers go straight to creating something new and valuable.
Low-code platforms are typically designed for professional developers and require development knowledge. Even though it is a drag-and-drop experience, developers can add traditional code to extend and customize their applications as needed and integrate them with pretty much any system of record.
However, some low-code platforms also offer no-code capabilities. These types of platforms can also be used by citizen developers. These users have no programming background or advanced coding knowledge but can use these platforms to create simple applications.
What Is No-Code?
Just like low-code, no-code solutions also feature drag-and-drop visual development but are designed to create more simple apps.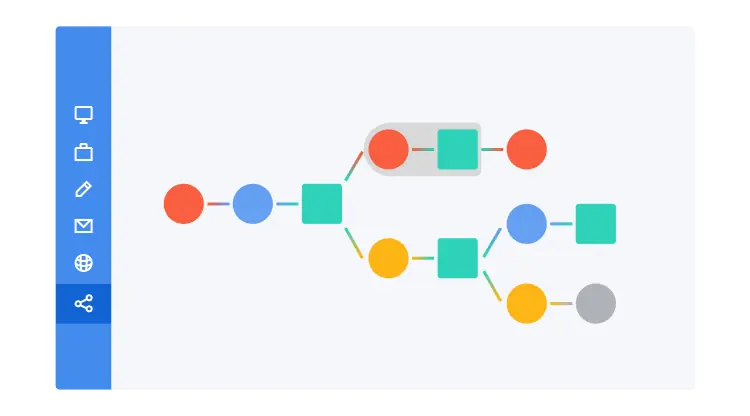 The purpose of no-code platforms is to let business users build their own applications, often for a very specific use case like an app that helps them increase the efficiency of their daily activities. This way, business users don't have to wait 3-6 months for IT to deliver the app they need, and IT doesn't get diverted from mission-critical development projects.
No-code platforms offer greater simplicity and ease-of-use so that anyone, regardless of their development experience, can create applications quickly.
The downside is that it can result in shadow IT, whereby people are developing apps without proper supervision or consideration. This can result in a proliferation of similar apps all over a company that do the same thing but can't interoperate, don't follow standards, or do not represent company style and brand. Predictably, the results can lead to security concerns, compliance issues, integration problems, apps that use more resources than necessary, and increased technical debt.
Low-Code vs. No-Code
The descriptions above already shed light on some of the differences between low-code and no-code platforms. Although both platforms focus on using visual development and drag-and-drop interfaces to create applications more efficiently, that's where the similarities end.
The following table showcases the main differences between low-code and no-code. Note that in the no-code and low-code buckets, not all platforms are equal. For example, in the case of low-code, some platforms are more suited to business process and case management solutions and not so much for modernizing legacy IT systems. The table below compares the features of a standard no-code platform versus a more advanced low-code platform.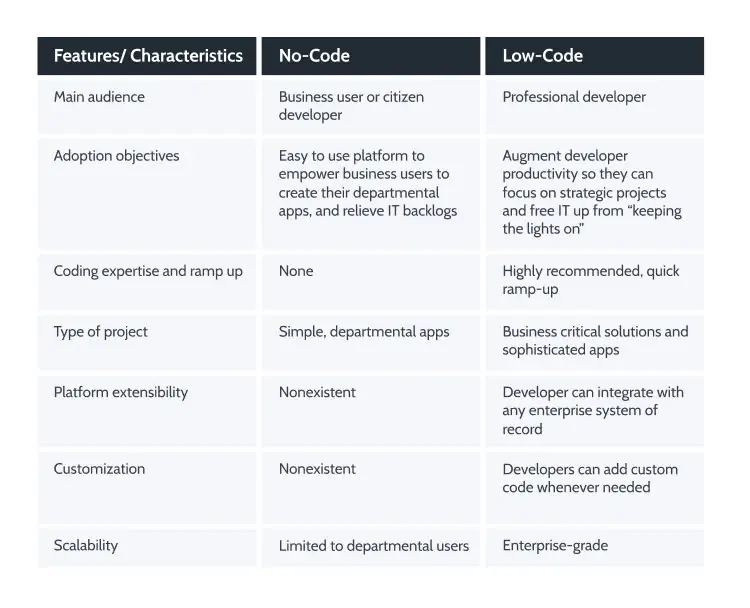 No-Code vs. Low-Code: When to Use What
No-code is a good solution if what you need is to develop simple applications that require little to no customization and are based on improving the efficiency of a simple workflow. An example is replacing a spreadsheet report with a dashboard that is easier to understand, improving employee efficiency.
Common use cases for no-code include:
Expense approval
Employee onboarding
Calendaring and scheduling
Order management
Vacation approval
Low-code, because it is more flexible than no-code and was made for pro-developers, is well-suited to enterprise use cases.
With the more advanced and modern low-code platforms (explore the different flavors of low-code in this blog post about the low-code market), developers can use the existing building blocks, such as pre-built patterns, screens, widgets, and even app templates. But, they can also customize and extend these components with traditional code. Or they can create components from scratch if they prefer.
In addition, the most modern low-code platforms, or what we're calling high-performance low-code, provide advanced security features and enterprise scalability. These platforms are well-suited to any enterprise use case, where you'd use traditional code but without the unnecessary complexity.
Plus, unlike no-code and the risk of shadow IT, low-code allows organizations to bridge the gap between IT and business. Because of its visual modeling characteristics, developers can work with stakeholders and UX in all stages of the development process, accelerating time-to-market exponentially.
Common low-code use cases include:
Customer and partner apps and portals
Internal business applications
Business process automation
Outdated and end-of-life application modernization.
Are Low-Code and No-Code the Future of App Development?
The short answer to this question is yes. The increasing pressure for organizations to accelerate their digital transformation journey has led to unpreceded tension for IT as their backlog continues to pile up, and qualified development talent is scarce. According to IDC, in 2021, there was already a shortage of 1.4 million developers for worldwide development needs. And this number is only expected to grow.
So, it's not surprising that big analyst firms like Gartner predict that by 2023, over 50% of medium-to-large enterprises will adopt low-code or no-code as one of their strategic application platforms, and that low-code will be responsible for more than 70% of application development activity by 2025.
The key to be successful in your low-code or no-code journey is finding the right platform that suits your business needs.
Finding the Right Platform for Digital Transformation
The OutSystems high-performance low-code platform radically accelerates application development and delivery by using low-code infused with AI to empower dev teams to develop serious applications that scale to reach hundreds of millions.
With OutSystems, organizations get the serious productivity they need to continuously innovate through software.