Engaging Experiences
Deliver the interactive, immersive, and smart experiences your customers and employees expect, across all touchpoints.
Develop Beautiful User Interfaces
Deliver at Any Touch Point
Create Immersive Experiences
Develop Beautiful User Interfaces
Start with OutSystems UI to speed development with 100+ responsive, visual components that reflect UX/UI industry best-practices.
Create any interaction by extending UI patterns with your own code or creating your own.
Ensure consistency with your brand guidelines using live style guides.
Create accessible applications that comply with WCAG 2.1 AA and Section 508 by setting styling, color contrast, HTML markup and ARIA roles easily using visual, model-driven development.
Test on a device or in a simulator and get instant previews to share.
Engaging Experiences at Any Touchpoint
Deliver to any app store with automated app packaging or deploy as a Progressive Web App (PWA).
Design complex UIs and deploy as reactive web apps and portals that run on any device.
Integrate with smart-home voice assistants or incorporate chatbots into your apps or 3rd party messaging platforms such as Facebook Messenger, Slack and WhatsApp.
"We perfected all aspects of the user experience because the speed of development provided by OutSystems made it much easier to rapidly iterate and fine-tune."
Guðný Herbertsdóttir
Managing Director of Digital, VÍS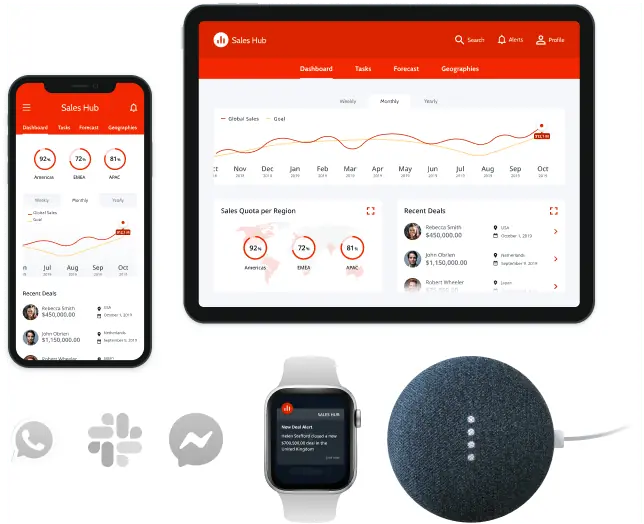 Create Immersive Experiences
Access any device-native capability without specialized coding skills.
Drag-and-drop AI/ML capabilities to deliver intelligence to your apps.
Incorporate AR/VR to create immersive experiences on mobile apps and wearables.
Take It Offline
Build reliable apps that run disconnected without data loss or experience degradation.
Manage data synchronization with configurable patterns and built-in security.
Model offline logic to create rich app experiences, even when disconnected.
"Innovation is at the heart of CZ, transcending the value and quality we demand from healthcare providers, and how we improve customer experience. Our policyholders deserve modern, convenient, and easy to use systems. OutSystems helps us deliver those faster and more cost-effectively."
Ton Van Rhijn
Director IT, IM and Data Science, CZ
Visit our Evaluation Guide to learn more about OutSystems