Agile Platform Version 5.1 introduces new IntelliWarp™ technology providing extreme productivity for application development teams
OutSystems, today the immediate availability of version 5.1 of the Agile Platform for enterprise web application development.

Version 5.1 was designed to address several key use case scenarios including:
Enable low cost custom application development for departments or small organizations;
Ability to quickly create departmental applications to centralize and secure dispersed data commonly housed in standard office spreadsheets; and
Swifter delivery of information-centric enterprise-class applications, reducing development time to days.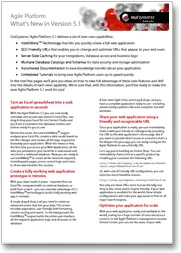 Introducing IntelliWarp™ Technology: This version provides new IntelliWarp technology that speeds up the delivery of web apps to 'warp' speed. In a matter of hours, application development teams can build a complete working web application without writing any code. The new context-aware, pattern-based technology allows developers to deliver high quality solutions with unprecedented speed. Early testing shows version 5.1 to help development teams deliver four to five times faster than the current version.
Additional Key Agile Platform 5.1 features:
Application Scalability: Version 5.1 has several scalability enhancements to support large enterprise web applications, including:
Support for multiple databases catalogs or schemas, advanced database security options and data isolation schemes providing advanced control of critical data sources;
Enhanced server-side caching of business logic, database queries and web services providing advanced tuning options to support heavy load web applications; and
Built-in support for search engine optimization (SEO) using smart URLs and other techniques for driving natural web traffic and increasing page rank.
Reduced Learning Curve: A new set of built in tutorials are also available to speed adoption across enterprise development teams. Tutorials use automated prompting technology to help new developers learn to use the Agile Platform in a day or less, by walking the developer through the delivery of a full enterprise application.
Auto Documentation: To assist project teams using either agile or other methods version 5.1 now supports the automatic generation of design documentation through new Agile Platform APIs. The free OutDoc component is available to all users of the Agile Platform.
Content you can't miss
Consider Intelligent Automation from OutSystems and AWS
Get more from your business process automation efforts.
Forum & Community Discussions | OutSystems
Find solutions, share knowledge, and get answers from OutSystems MVPs, experts, and the developer community. Ask your question & get a response quickly!
BaseLinked | OutSystems
A new digital HR experience for a new way of working. With over 25 years of HR technology and systems integration experience, we've been where you are now. One of the biggest failure points we've seen in digital HR transformations is the disconnect between HR and IT. In a market saturated with HR technology solutions, our approach is simple. We combine cutting-edge technologies with extensive HR industry experience to provide agile HR solutions that support a connected and empowered workforce now and into the future.
Journalists and analysts can contact us directly at pr@outsystems.com