OutSystems, provider of number one platform for low-code application development, powered by Microsoft Azure, is now available in the Microsoft Azure Marketplace. Azure customers can now purchase the OutSystems enterprise-grade, low-code application platform and take advantage of a pay-as-you-go pricing model or opt for a 30-day free trial.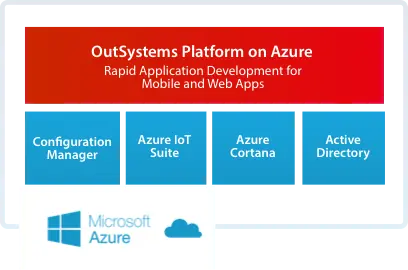 "By running OutSystems on Microsoft Azure, our customers benefit from the high standards, enterprise-grade security, and reliability they have come to know and trust from Azure, while developing web and mobile applications quickly on OutSystems," said Carlos Alves, vice president of field operations OutSystems. "With Azure, OutSystems can provide a variety of convenient transaction models that truly take advantage of the cloud platform. Offering OutSystems in the Azure Marketplace enables us to give new customers the opportunity to try our software before they buy, with the added benefit of a simplified activation process when they move to the pay-as-you-go model."
"Microsoft Azure provides the global scale and agility necessary to accelerate application development and continuous delivery," said Nicole Herskowitz, senior director of product marketing, Microsoft Azure, Microsoft Corp. "We are pleased to welcome OutSystems to the Azure Marketplace."
OutSystems is an award-winning platform that's applicable in a wide range of use case scenarios – from single developers creating a few apps, to complex enterprise IT organizations delivering robust application portfolios. OutSystems has something to offer to a wide variety of Azure customers.
OutSystems customers running on Azure get:
Cortana Intelligence Suite, which turns data into intelligent action. Cortana integration brings advanced analytics and perceptual intelligence to Azure customers.
Azure IoT Suite gives Azure customers a head start for using the Internet of Things to digitize their businesses.
Better tools, business processes, and workflows to enable customers to build applications the way their businesses operate most efficiently.
Access to any function on any phone running Windows Mobile, iOS, or Android platforms.
Azure Active Directory integration, which makes managing access and security much easier.
Easy-to-use, yet sophisticated tools for configuration management in the cloud.
OutSystems is available on the Azure Marketplace at the following link.
Thousands of customers worldwide trust OutSystems, the number one low-code platform for rapid application development. Engineers with an obsessive attention to detail crafted every aspect of the OutSystems to help organizations build enterprise-grade apps and transform their business faster. OutSystems is the only solution that combines the power of low-code development with advanced mobile capabilities, enabling visual development of entire application portfolios that easily integrate with existing systems. Visit us at www.outsystems.com, or follow us on Twitter @OutSystems or LinkedIn at www.linkedin.com/company/outsystems.
Content you can't miss
Top Application Development Trends in 2019
OutSystems Survey Report - The State of Application Development, 2019. Download your copy.
Field Service Modernization and the Benefits of No-Code/Low-Code Platforms
In this report, VDC Research identified key factors–both technical and operational–that directly influenced the success of mobile field service solutions, and some of the challenges facing field service solution decision-makers.
eBook: Low-code makes app dev faster, better, easier.
Low-code helps to solve common business problems like technical debt and process inefficiencies. OutSystems explains how.
Journalists and analysts can contact us directly at pr@outsystems.com or +1 404-994-2614