OutSystems today announced that it has been recognized as the "Best Midmarket Solution: Software" at the Vendor Excellence Awards. Sponsored by Boardroom Events, the Awards celebrate providers that solve business challenges that have a significant financial and overall business impact.
An established software solution, OutSystems was selected by attendees at the Midmarket CIO Forum to receive the award because it has been exemplary in meeting the midmarket's specific needs. In particular, attendees were impressed with how easy OutSystems is to use, its extensive integration capabilities, as well as speed at which it allows users to bring new applications to market.
"We're honored to have been recognized at the Vendor Excellence Awards," said Clark Swain, director of corporate accounts. "It's a significant achievement to us because we were chosen by conference attendees who represent a combination of our customers and prospects as well as companies that were learning about us for the very first time."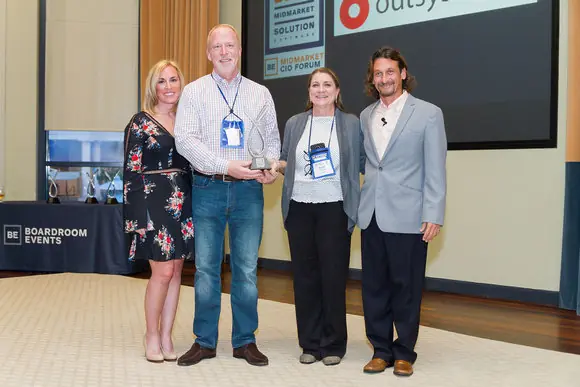 About OutSystems
Thousands of customers worldwide trust OutSystems, the number one low-code platform for rapid application development. Engineers with an obsessive attention to detail crafted every aspect of the OutSystems to help organizations build enterprise-grade apps and transform their business faster. OutSystems is the only solution that combines the power of low-code development with advanced mobile capabilities, enabling visual development of entire application portfolios that easily integrate with existing systems. Visit us at www.outsystems.com, or follow us on Twitter @OutSystems or LinkedIn.
Content you can't miss
Application Modernization Strategy by Gartner
Find out how to adopt a business-focused, multiplatform modernization strategy that maximizes value.
Gartner 2021 MQ for Enterprise Low-Code Application Platforms
The Gartner Magic Quadrant for LCAP evaluates top vendors for low-code application development. Learn why OutSystems is a Leader again.
How to Build a Business Case for Application Modernization
Gartner explores recommendations for applications and software engineering leaders struggling to build a business case for application modernization.
Journalists and analysts can contact us directly at pr@outsystems.com