OutSystems, provider of the industry leading Agile Platform application development environment, announced that the Agile Platform has been awarded the EdTech Digest 'Cool Tool Award' in the Green Solution category.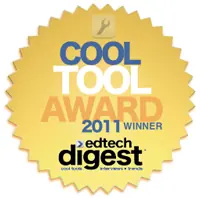 The EdTech Digest awards recognize companies for outstanding contributions in transforming education through technology. The winners chosen were those that have worked towards moving education forward into the 21st century through their innovation and commitment to technology in education. OutSystems received the award for an energy management application delivered at the University of Aveiro in concert with their implementation partner Contisystems.
The University was looking for a way to improve energy consumption across campus buildings and create a centralized location for management of energy consuming devices. Using OutSystems' Agile Platform and agile methodology, the SCORE system was built and deployed, incorporating integrations with over 1,000 different devices. The SCORE system aggregates information from all of the devices allowing its users to efficiently view, manage and control energy consumption. Through the SCORE system, the University of Aveiro is able to calculate energy costs more easily and is seeing energy savings of 25-30 percent.
Journalists and analysts can contact us directly at pr@outsystems.com or +1 404-994-2614