OutSystems announced the winners of its OutSystems Innovation Awards at NextStep Benelux 2016. The awards are given to companies in the Benelux region that have executed notable, high-profile digital transformation projects using OutSystems.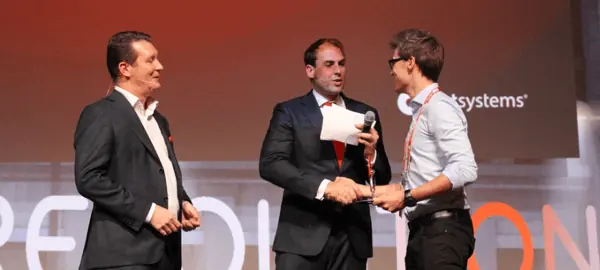 Five companies were recognized at the October event:
SPEED AWARD | Winner: Credit Agricole
MISSION-CRITICAL PROJECT AWARD | Winner: Frankort & Koning

SCALABILITY AWARD | Winner: RET

INNOVATION AWARD | Winner:  Vopak

BEST SKILLS AWARD | Winner:  Eneco
"The awards are a great way to bring attention to some of our best customers," says Willem van Enter, regional vice president of OutSystems in the Benelux region. "While OutSystems helps our customers build amazing applications in record time, it's the talented and creative OutSystems developers they employ who are the real game changers for the business. The companies we've recognized this year have done outstanding work and deserve our praise."
The awards were presented at NextStep Benelux 2016, a digital transformation conference for OutSystems customers held on Wednesday, October 12 in the Netherlands. With more than 500 attendees and 17 partners present, it was the biggest customer event in the company's history for the Benelux region.
See the photo gallery for more action from the NextStep Benelux 2016 event.
About OutSystems
Thousands of customers worldwide trust OutSystems, the number one low-code platform for rapid application development. Engineers with an obsessive attention to detail crafted every aspect of the OutSystems to help organizations build enterprise-grade apps and transform their business faster. OutSystems is the only solution that combines the power of low-code development with advanced mobile capabilities, enabling visual development of entire application portfolios that easily integrate with existing systems. Visit us at www.outsystems.com, or follow us on Twitter @OutSystems or LinkedIn at https://www.linkedin.com/company/outsystems.
Journalists and analysts can contact us directly at pr@outsystems.com or +1 404-994-2614