OutSystems, the enterprise Rapid Application Delivery (RAD) provider, today announced a new release of OutSystems Platform, making it dramatically simpler for companies to achieve their business needs through custom-developed applications. OutSystems Platform 9 Amsterdam enhances integration options, omnichannel experience, and app change capabilities, as well as advances core technology and enterprise-scale functionality.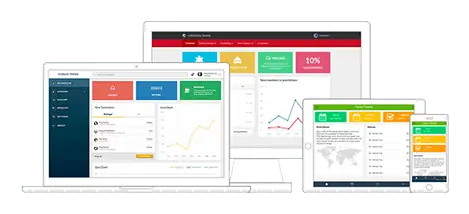 Organizations today are faced with a myriad of development demands within complex IT environments, such as high customer expectations for mobile applications, required back-end integration with numerous apps and data stores, increased capacity to deliver/deploy applications in the cloud, and greater need to control the entire application lifecycle. While many have leveraged point solutions to address each of these individual challenges, organizations quickly find that without a cohesive strategy, niche tools create more problems than they solve.
OutSystems Platform 9 Amsterdam helps enterprises manage complexity, regardless of the application being built, the architecture it leverages, where it is hosted, or its mobile requirements. New functionality includes:
Enterprise Scale - To support enterprise-scale deployments, OutSystems has enhanced portfolio governance from development through deployment. New functionality in OutSystems Platform helps enforce branding and architectural standards, allows for easy definition of federated policies and security rules, and leverages existing identity systems.
Integrate Everything - OutSystems Platform now supports the growing demand for composable apps that disconnect front-end from back-end and utilize a loosely coupled architecture to provide business agility. OutSystems applies comprehensive visual modeling capabilities (e.g. business process, visual logic, data manipulation) to the rapid creation of rich back-end microservices for standards-based (REST and SOAP) consumption both inside and outside the Platform.
Omnichannel Experience - OutSystems combines the best aspects of modern UI frameworks with rapid visual modeling to create Silk UI. This new framework plugs directly into the Platform, enabling users to create beautiful UI with enhanced drag and drop simplicity. In addition, it abstracts away the complexity and change of underlying technologies such as Javascript, HTML5 and CSS3, while providing the right levels of openness and extensibility.
Effortless Change - Further simplifying the app change process, OutSystems enhances the ability to capture context and user feedback directly, across all devices. The Platform now takes advantage of device capabilities and likely workflow of each device to capture user feedback within the operation of the apps.
No Lock-In - Further evolving the technologies that are leveraged by the Platform, OutSystems has updated several pieces of the technology stack, including SQL Server 2014, Oracle 12c, and Windows Phone support.
More Pre-built Template Apps - Four new template apps are available to help OutSystems customers further increase productivity. In addition, existing template apps are being refactored to improve their ability to expand and integrate.
"RAD tools have been plagued with a bad reputation, and in most cases, it's well deserved," said Paulo Rosado, CEO of OutSystems. "This market category is filled with incomplete offerings that are limited and don't properly handle the requirements of large organizations. With this release of OutSystems Platform, we are reinforcing our position as the only RAD platform that addresses the needs of the enterprise in terms of governance, scalability and security without compromising rapid delivery."
"OutSystems takes a lot of mundane work and challenges and streamlines it for development across all of our applications, regardless of their complexity or how they have to be delivered," said Nic Ladas, engineer at EMC Corporation. "OutSystems Platform provides significant time savings, easy integration with disparate data back-ends, and a rich mobile experience. With OutSystems, our existing team has improved efficiency, unified development across multiple teams and platforms, and greatly simplified the management of applications across the software lifecycle."
Content you can't miss
OutSystems Training and Certifications Playbook
Looking to ramp-up or upskill your team with OutSystems? Learn how in this playbook.
Gartner's Guide to App Modernization
Learn the best practices for application modernization with Gartner. Get the insights to move beyond legacy applications and maximize success.
AWS & OS Customer Facing Datasheet
Combining OutSystems with AWS enables your organization to reduce time, resources, and cost.
Journalists and analysts can contact us directly at pr@outsystems.com