New Initiative to Educate IT Professionals on the Changing Application Development Landscape and Low-Code Market
OutSystems, provider of the number one platform for low-code development, is launching a new initiative to educate IT professionals on the rapidly changing market for application development technologies.
The series kicks off on June 21 and June 22 with webinars featuring Forrester Research to discuss the benefits of low-code development and how it fits into a company's application development strategy.
The webinar, titled Why Low-Code, Why Now? Experts Answer the Top 5 Questions About Low-Code Development, will feature guest speaker Jeffrey Hammond from Forrester, Sanjay Shitole, VP of IT for Banco Popular, and Miguel Lopes, OutSystems vice president.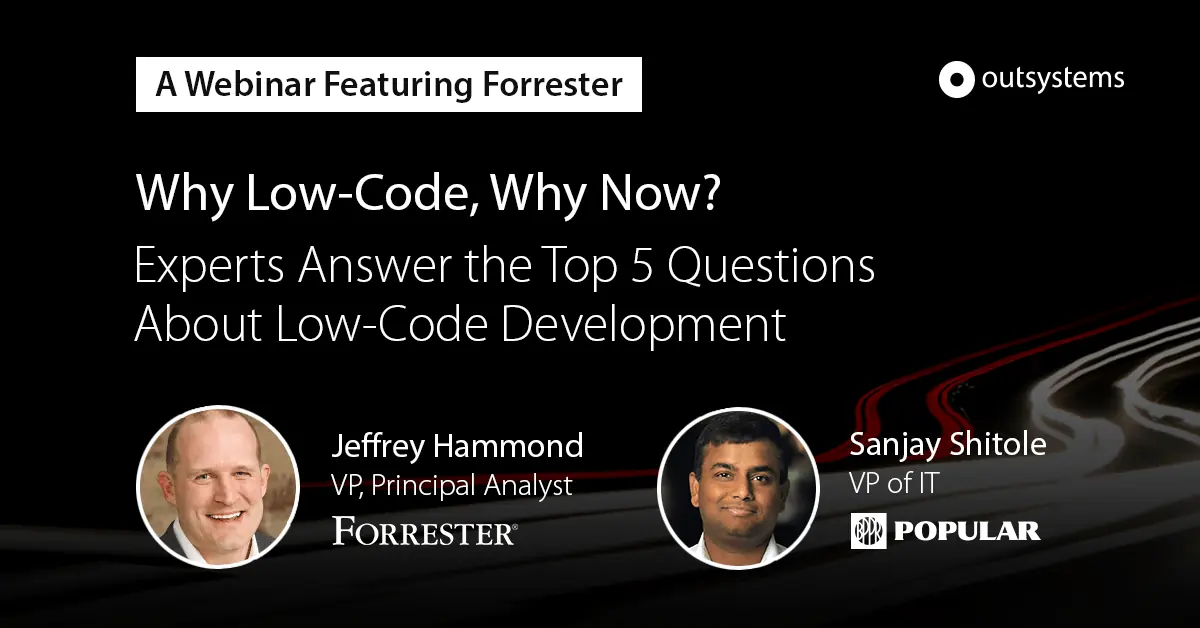 These three industry leaders will discuss:
The overall state of the low-code development market and how low-code compares to traditional app dev tools like mobile platforms and BPM
How low-code cuts application development time in half for customer-facing applications and optimizing internal operations
Best practices for rolling out low-code development with existing teams and processes
The webinar will be held on Wednesday, June 21 at 2:00 p.m. EDT and Thursday, June 22 at 2:00 p.m. SGT and 2:00 p.m. GMT. For more information and to register to attend, please click here.
"There is a new paradigm in application development called "low-code" that is helping CIOs dramatically accelerate their digital transformation initiatives," said Miguel Lopes. "Our goal with this new series is to help IT leaders understand the overall changes in the app dev landscape and how low-code platforms can be used for a wide range of use cases."
The Low-Code Leadership Series will also make available a wide range of educational content for IT leaders including:
Original research report featuring insights from 3200 application development professionals from 40 countries across 28 industries
Industry reports from leading analysts like Gartner, Forrester and IDC
Webinars
About OutSystems
Thousands of customers worldwide trust OutSystems, the number one low-code platform for rapid application development. Engineers with an obsessive attention to detail crafted every aspect of the OutSystems to help organizations build enterprise-grade apps and transform their business faster. OutSystems is the only solution that combines the power of low-code development with advanced mobile capabilities, enabling visual development of entire application portfolios that easily integrate with existing systems. Visit us at www.outsystems.com, or follow us on Twitter @OutSystems or LinkedIn.
Content you can't miss
Consider Intelligent Automation from OutSystems and AWS
Get more from your business process automation efforts.
Forum & Community Discussions | OutSystems
Find solutions, share knowledge, and get answers from OutSystems MVPs, experts, and the developer community. Ask your question & get a response quickly!
BaseLinked | OutSystems
A new digital HR experience for a new way of working. With over 25 years of HR technology and systems integration experience, we've been where you are now. One of the biggest failure points we've seen in digital HR transformations is the disconnect between HR and IT. In a market saturated with HR technology solutions, our approach is simple. We combine cutting-edge technologies with extensive HR industry experience to provide agile HR solutions that support a connected and empowered workforce now and into the future.
Journalists and analysts can contact us directly at pr@outsystems.com