OutSystems today announced general availability of its cloud application platform as a service (PaaS). OutSystems Platform is the only PaaS available as a cloud, on-premises or hybrid solution that generates standard Java and .NET applications with fully automated DevOps support. By extending its popular on-premises platform to the cloud, OutSystems is raising the bar for the PaaS market, making it exceedingly easy for IT organizations to build, deploy and manage enterprise-class web and mobile applications in any environment.
"We have delivered highly complex and scalable enterprise web and mobile applications faster than we ever thought possible," said Rogério Campos Henriques, CIO of Fidelidade, the largest insurance operator in Portugal.
"The platform as a service (PaaS) offering from OutSystems will be an amazingly powerful solution for companies that need to deploy and maintain enterprise-class applications more effectively. And the ability to bring the platform back on-premises or deploy a hybrid approach avoids the cloud lock-in."
OutSystems Platform, which has more than 36,000 installations across 22 industries in 24 countries, is acclaimed for the rapid delivery of native .NET and JBoss applications, and virtually eliminating change request backlogs. With Version 8.0, OutSystems Platform now brings that extraordinary ease and performance to Oracle WebLogic Server.
"Using the cloud shouldn't mean giving up control of your data, processes and systems in order to gain high productivity," said Paulo Rosado, founder and CEO of OutSystems."Companies are wary of the 'cloud lock-in' that comes with solutions like force.com. Whatever you build in their cloud stays in their cloud. Our customers are looking for options - start in the cloud, move to on-premises, embrace hybrid models, extend applications using the languages they use today. With OutSystems Platform, the application development community now has an enterprise-capable PaaS that will scale, port and extend any way they wish."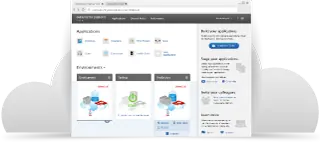 OutSystems Platform addresses major underlying weaknesses found in competitive PaaS offerings such as lack of portability, minimal developer control, cloud lock-in, and cumbersome DevOps processes.
Platform Portability
OutSystems Platform is portable and open, eliminating any risk of cloud lock-in.
Public Cloud - OutSystems Platform is available as a public cloud service. OutSystems has chosen Amazon as its cloud service provider. Customers can also provision OutSystems Platform with any public cloud service provider of their choice.
Private Cloud – OutSystems Platform can reside in a private cloud provisioned by a third-party service provider or in a private cloud within the customer's datacenter.
On-Premises – Customers continue to have the option to run OutSystems Platform as an on-premises solution.
Hybrid – Customers can build and test in the public cloud then deploy in a private cloud or in an on-premises environment - or any combination desired. Application components can be designed and deployed across public, private or on-premises environments, leveraging the unique benefits of each based on the functional requirements of the application.
Enterprise-Grade - From Design through Change Management
Customers can deliver scalable, complex applications that are simple to change and that easily integrate with any existing systems. One-click publish, automated DevOps capabilities, and integrity checks within and across applications dramatically simplify getting applications into production.
Extensibility, Flexibility and Control
Generating standard Java or .NET code with support for Red Hat JBoss, Oracle WebLogic, and Microsoft IIS/Windows Server, OutSystems Platform is an open application delivery platform where developers can get "under the hood" when needed.
Active, Growing Developer Community
The OutSystems Community forum for developers currently has over 15,000 members. In the Community, developers share tips and techniques, answer questions, and contribute to the OutSystems Forge. The OutSystems Forge is a repository of reusable applications modules, connectors and components that speed application delivery.
A free 30-day trial of OutSystems Platform is available at: https://www.outsystems.com/try/ .
Content you can't miss
Application Modernization Strategy by Gartner
Find out how to adopt a business-focused, multiplatform modernization strategy that maximizes value.
Gartner 2021 MQ for Enterprise Low-Code Application Platforms
The Gartner Magic Quadrant for LCAP evaluates top vendors for low-code application development. Learn why OutSystems is a Leader again.
How to Build a Business Case for Application Modernization
Gartner explores recommendations for applications and software engineering leaders struggling to build a business case for application modernization.
Journalists and analysts can contact us directly at pr@outsystems.com