OutSystems, the enterprise Rapid Application Delivery (RAD) platform provider, has named COOLProfs 'Partner of the Year.' This award recognizes their commitment to the global delivery of enterprise applications using OutSystems® Platform.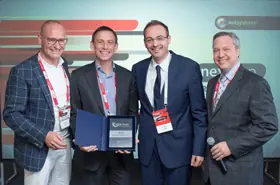 COOLProfs, a leading consultancy company focused on the development of customized information systems, was named 'OutSystems Partner of the Year' after the company achieved the highest sales volume of OutSystems Platform licenses, worldwide. COOLProfs is an OutPartner Premier, the highest level of the OutSystems Partner Program, and focuses on developing solutions with OutSystems technology since 2009.
COOLProfs offers consulting services, based on OutSystems Platform, to deliver innovative custom-built, mission critical applications. The team includes qualified and experienced professionals that have obtained OutSystems certifications, which contribute to their high quality and successfully delivered projects.
Some of the customers where COOLProfs delivered beautiful mobile and web apps in record time using OutSystems Platform include G4S, RET, WASCO, GVB Amsterdam, Gemeente Leidschendam – Voorburg, ABN AMRO Bank, TNT, and Gemeente Den Haag.
"After an intense study of the market, we selected OutSystems in 2009 as our rapid application development (RAD) platform," said Eric ten Harkel, Director of COOLProfs. "As one of the first OutSystems partners in the Netherlands, we have successfully worked together to grow the market and deliver innovative applications using OutSystems Platform. In 2014, we delivered more than 20 successful applications and grew more than 50 percent. This award reflects that success, and we are extremely proud to have received it."
Content you can't miss
Consider Intelligent Automation from OutSystems and AWS
Get more from your business process automation efforts.
Forum & Community Discussions | OutSystems
Find solutions, share knowledge, and get answers from OutSystems MVPs, experts, and the developer community. Ask your question & get a response quickly!
BaseLinked | OutSystems
A new digital HR experience for a new way of working. With over 25 years of HR technology and systems integration experience, we've been where you are now. One of the biggest failure points we've seen in digital HR transformations is the disconnect between HR and IT. In a market saturated with HR technology solutions, our approach is simple. We combine cutting-edge technologies with extensive HR industry experience to provide agile HR solutions that support a connected and empowered workforce now and into the future.
Journalists and analysts can contact us directly at pr@outsystems.com