OutSystems, provider of the industry-leading Agile Platform application development tool, announced today enhanced support for the Oracle database and middleware ecosystem. The extended support includes the Agile Platform achieving Oracle Exadata Ready status through the Oracle PartnerNetwork (OPN) and the full support for application deployment and management via Oracle Fusion Middleware.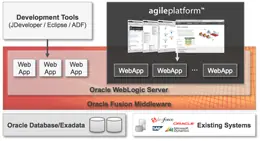 Exadata Ready
Achieving Exadata Ready status demonstrates that OutSystems has fully tested and supports Agile Platform 7.0 on Oracle Exadata Database Machines. OutSystems customers requiring extreme database performance now have the assurance that applications built with the Agile Platform can take full advantage of Oracle's high performance database machines.
Oracle Exadata Ready is part of the Oracle Exastack Ready program, which allows partners, such as OutSystems to be recognized by Oracle for developing, testing and supporting their applications on Oracle Exadata Database Machine solutions.
Fusion Middleware Support
Additionally, OutSystems will now offer full support for Oracle Fusion Middleware, allowing customers to deploy and manage applications in both WebLogic Server (WLS) 11g and 12c. With WLS, OutSystems customers will be able to deliver Java-based solutions on top of the industry leading Java application server, simplifying the build, test and deploy cycle for custom web and mobile development projects.
OutSystems' Oracle Fusion Middleware beta program will begin in October with general availability targeted for the first quarter of 2013.
Content you can't miss
Application Modernization Strategy by Gartner
Find out how to adopt a business-focused, multiplatform modernization strategy that maximizes value.
Gartner 2021 MQ for Enterprise Low-Code Application Platforms
The Gartner Magic Quadrant for LCAP evaluates top vendors for low-code application development. Learn why OutSystems is a Leader again.
How to Build a Business Case for Application Modernization
Gartner explores recommendations for applications and software engineering leaders struggling to build a business case for application modernization.
Journalists and analysts can contact us directly at pr@outsystems.com