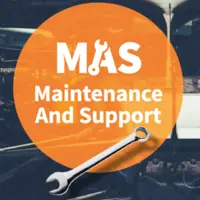 All Industries | Other use cases
Solution Overview
Maintenance And Support (MAS) is a service for applications built with the OutSystems Platform. Continuity is important to ensure the accessibility of your software application environment. MAS decreases the risc of a defective system significantly. The solution contains: MAS Assessment, Corrective maintenance, Improvement measures, Evolutive maintenance.
View Demo
Key Features
The Quick Scan reflects all matters for maintaining your business-critical applications in an OutSystems developer's environment. The result of this survey reflects the quality of your applications, based on best practices. It will also map the necessarily maintenance activities to avoid possible risks for your organization. The Quick Scan goes beyond software issues. It will take the used processes, available maintenance people and the organization structure itself into account, all based . Eventually, the Quick Scan tool generates an overview of all matters in a Microsoft Word document, which guarantees a carefree and risk-free maintenance future. The Quick Scan outcome is a blueprint to make a solid Maintenance And Support program for your organization.
The Quick Scan conducts a technical quality check on your processes and sources and if the result is not meeting the quality level you have defined, an upgrade path for improving your application system will be proposed.
Briefly, the benefits performing an Quick Scan:
make sure that all possible risks are clear for both parties in case of outsourcing
have an overview of all maintenance and support issues to avoid surprises.
make sure that expertise is available to achieve the desired quality level.
understand your overall needs concerning Maintenance and Support.
Supporting your governance model
Implementing MAS
After the Quick Scan all possible issues are clear for both parties. An improvement process is proposed and carried out. The quality level will be part of the maintenance package we agreed upon  This complete document represents your expectations in order to have an executable contract and will enhance your customer satisfaction.
MAS services into practice
Our organization is internally organized based on the ASL (Application Support Library) method. This consists of the following priority areas: contract-, planning-, quality-, financial- and supplier-management. 
The customer will have his own portal linked with our helpdesk and can monitor all certain priority areas. A dashboard is available to show the status of: outstanding incidents, change requests and  support questions overall. For incidents we will follow the procedure as agreed in the contract. Every incident will be assessed on urgency and impact. For regular maintenance every stakeholder has the possibility to request for a software change (RFC). Depending on the priority and the classification, given by the stakeholders, the RFC will be assigned to the backlog in a certain (scrum) sprint. At fixed times we will report about the overall state of progress at operational level. Evaluation of the delivered performance on a management level can be scheduled at each desired moment. 
Key Benefits
Anchor your development quality.  Every application that is put into maintenance is quality-tested beforehand on various aspects, including architecture, infrastructure and naming conventions. We will helps you to anchor these aspects in your organization.
Stimulate innovation. Application maintenance is inevitable but time-consuming. Outsourcing gives you more time, allowing you to focus on the core priorities of your business.
Optimizing continuity. Maintenance prevents problems. We all know this, we have our cars regularly checked with vehicle inspections. Do you know what the risks are concerning your business? With a MAS contract we are ready to help you in any circumstances, 24 hours a day.
Controlling and monitoring costs. Maintenance extends the lifetime of your software. Software is a business asset - every extended year equals pure profit. The MAS contract is a fixed-amount subscription that can be cancelled on a monthly basis.
Secure software investment. Securing your software investment is simple with a Maintenance and Support subscription.